(Business Lounge Journal – Art)
Wildlife Photographer of the Year 2022 baru saja mengumumkan foto-foto hasil bidikan para fotografer jenius yang berhasil memenangkan penghargaan tahunan tersebut.
Foto-foto yang sangat luar biasa yang diambil dengan berbagai upaya yang juga luar biasa. Para fotografer hebat ini benar-benar berhasil mengabadikan berbagai moment langka yang dapat dikatakan terjadi sekali seumur hidup.
Wildlife Photographer of the Year 2022 dikembangkan dan diproduksi oleh Natural History Museum, London. Ada 38.575 gambar yang masuk dari 93 negara. Foto-foto yang terbaik kemudian akan dipajang di Natural History Museum di London mulai 14 Oktober lalu hingga 2 Juli 2023.
Dua pemenang Grand Title—Wildlife Photographer of the Year and Young Wildlife Photographer of the Year—dipilih dari 19 pemenang kategori.
Salah satunya adalah foto dengan tema "The Big Buzz" oleh Karine Aigner, AS | Pemenang: Invertebrata.
Fotografer Amerika Karine Aigner memenangkan hadiah utama untuk fotonya tentang bola lebah kaktus jantan yang sedang bersaing sengit untuk mendapatkan pasangan. Sambil mengagumi foto pemenang itu, orang mungkin tidak pernah menyadari bahwa untuk menjepretnya, si fotografer harus berbaring di atas pasir panas sebuah peternakan di Texas Selatan.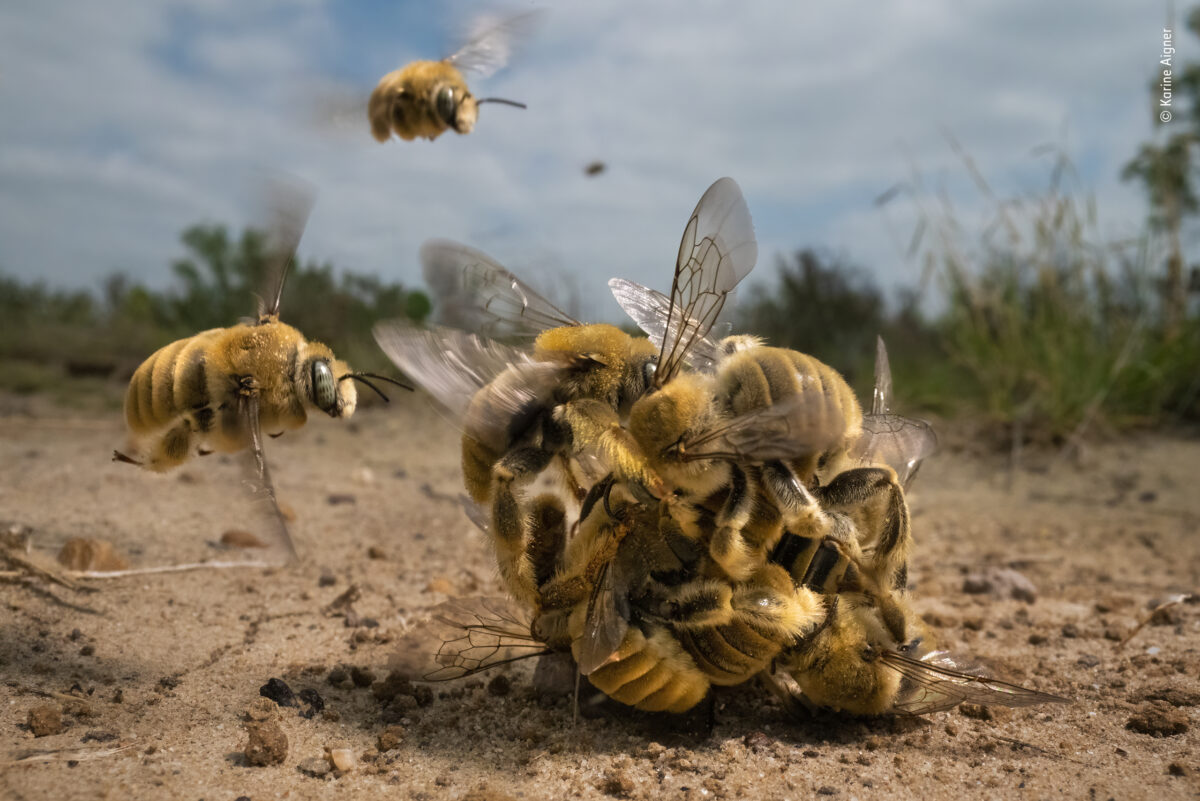 Pemenang lainnya adalah "The Beauty of Baleen" oleh Katanyou Wuttichaitanakorn, Thailand | Pemenang: 15-17 tahun. Foto ini diambil oleh seorang anak laki-laki berusia 16 tahun dari Thailand. Katanyou Wuttichaitanakorn memenangkan hadiah utama untuk Young Wildlife Photographer of the Year 2022 untuk gambar mulut ikan paus Bryde.
Dengan tekstur seperti sikat yang aneh, rahang atas paus seluruhnya tertutup balin, sistem makan yang terbuat dari keratin yang digunakan paus untuk menyaring mangsanya. Untuk mengabadikan gambar yang menakjubkan ini, fotografer remaja ini harus memantapkan tangannya saat perahu wisata yang ditumpanginya bergoyang di tengah ombak. Usahanya terbukti berhasil.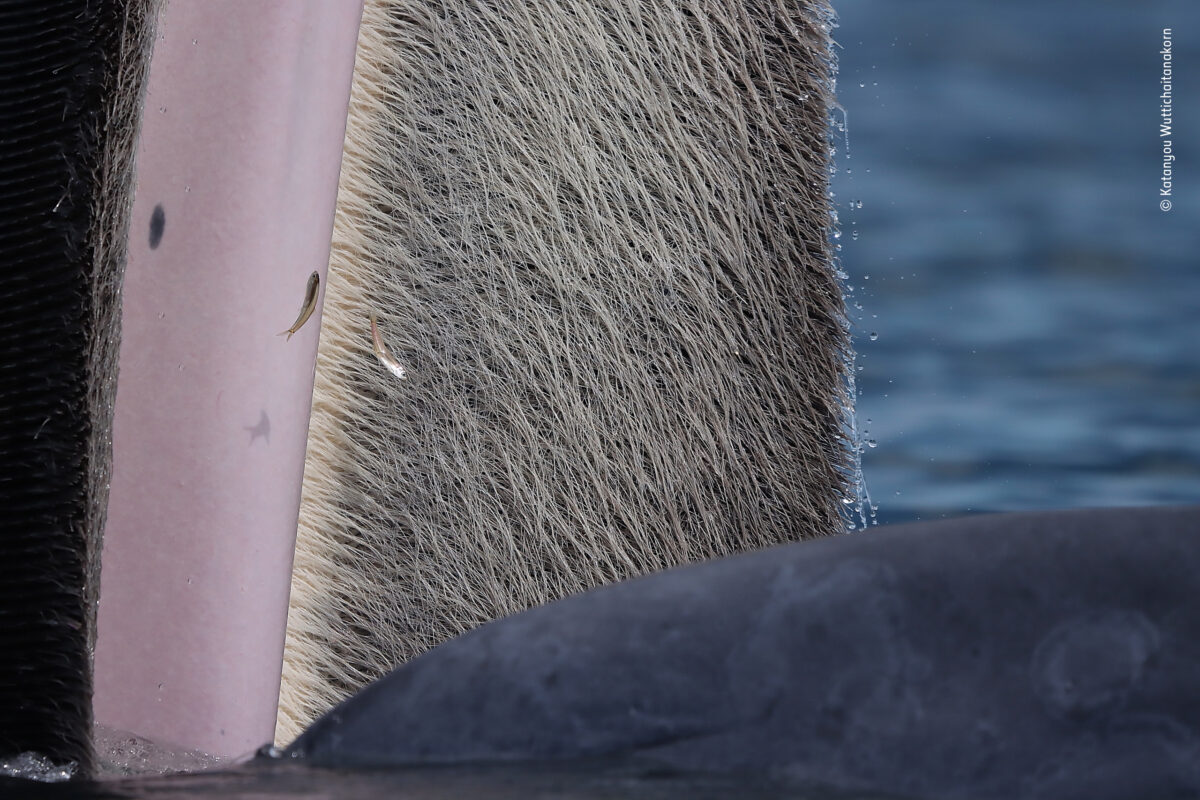 Foto lainnya adalah "Ndakasi's Passing" oleh Brent Stirton, Afrika Selatan | Pemenang: Foto jurnalistik.
Sebuah foto yang penuh dengan emosi menunjukkan kisah gorila gunung yang diselamatkan yang sangat dicintai bernama Ndakasi. Fotografer Brent Stirton mengenang kematian gorila ini saat gorila ini berbaring di pelukan si penyelamat dan pengasuhnya yang telah merawatnya selama 13 tahun, ranger Andre Bauma.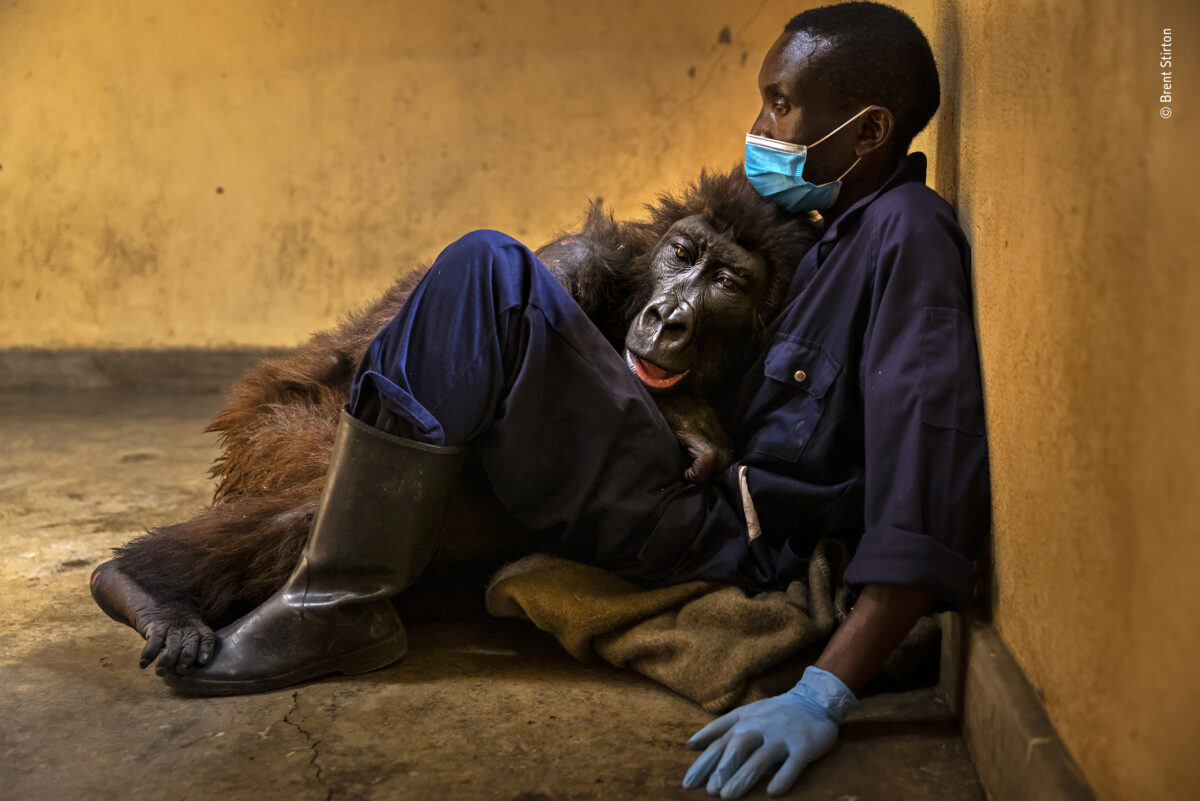 "Heavenly Flamingos" oleh Junji Takasago, Jepang | Pemenang: Kesenian Alami
Jauh tinggi di Andes, fotografer artistik Jepang Junji Takasago berjuang melawan penyakit ketinggian untuk mencapai citranya yang indah tentang sekelompok flamingo Chili. Di ketinggian Andes, Salar de Uyuni adalah tempat garam terbesar di dunia. Itu juga salah satu tambang lithium terbesar di Bolivia, yang mengancam masa depan flamingo ini, menurut siaran pers Natural History Museum.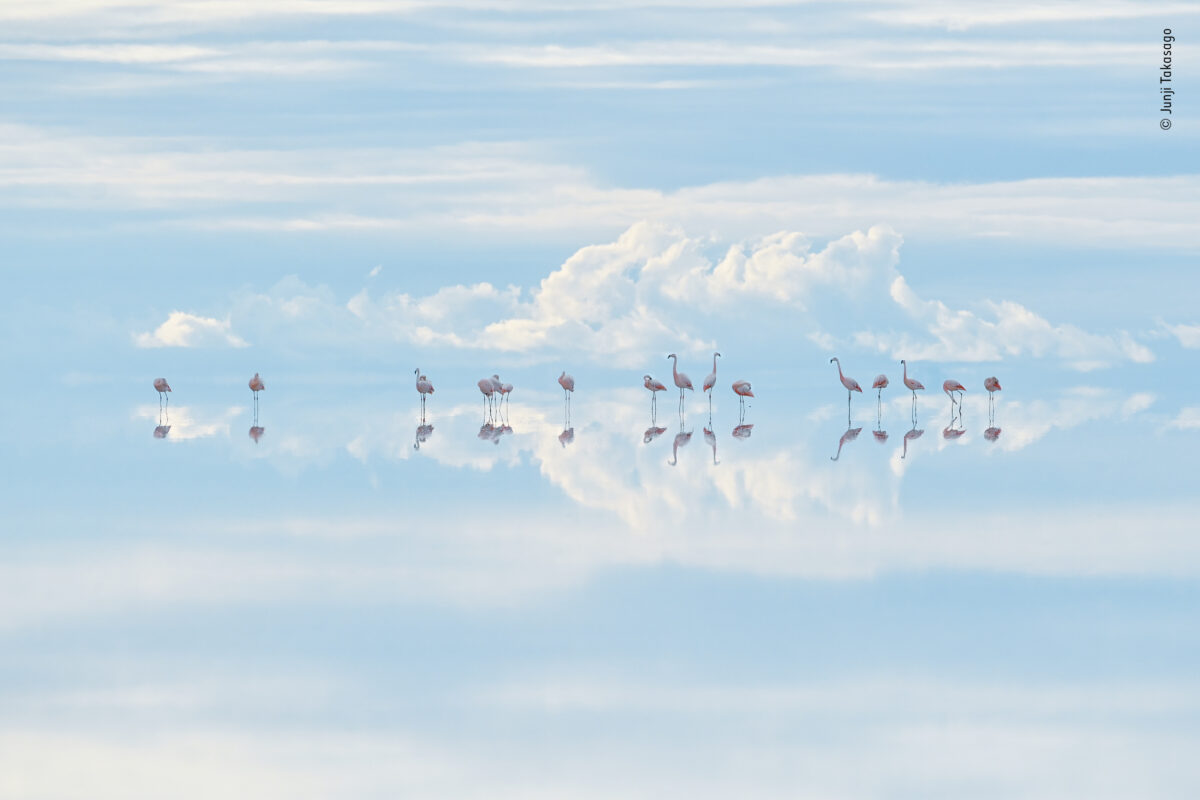 "Under Antarctic Ice" oleh Laurent Ballesta, Prancis | Pemenang: Penghargaan Portofolio – Piramida Kehidupan
Fotografer bawah air dan ahli biologi Laurent Ballesta berani menyelam di bawah titik beku untuk mengungkap tontonan dunia lain dari kehidupan laut yang aneh, lebih dari 100 kaki di dasar laut Antartika.
Foto luar biasa menunjukkan spons berbentuk pohon yang dibungkus dengan cacing pita raksasa dan bintang laut.
"Shooting Star" oleh Tony Wu, AS/Jepang | Pemenang: Bawah air
Fotografer Tony Wu mendapati dirinya terjebak di sebuah teluk kecil yang tertutup, air di sekitarnya dipenuhi sperma dan telur dari bintang laut raksasa saat dia bekerja untuk memotret tarian "menggemparkan" makhluk itu. Itu adalah sebuah keadaan yang menekan, tetapi sepadan, membawa Wu pada hadiah utama dalam kategori bawah air.
Adegan mirip galaksi menunjukkan "postur menari" bintang laut untuk membantu melepaskan telur dan sperma di dalam air.
"A Theatre of Birds" oleh Mateusz Piesiak, Polandia | Pemenang: Penghargaan Portofolio Bintang Baru
Pemenang Rising Star Portfolio Award, Mateusz Piesiak, yang saat masih remaja menjelajahi lanskap kota lokalnya selama pembatasan saat pandemi, mengambil foto burung lokal yang luar biasa.
Dia meletakkan kamera jarak jauhnya di atas lumpur alang-alang dan mengabadikan momen ketika elang peregrine yang lewat menyebabkan beberapa dunlin terbang.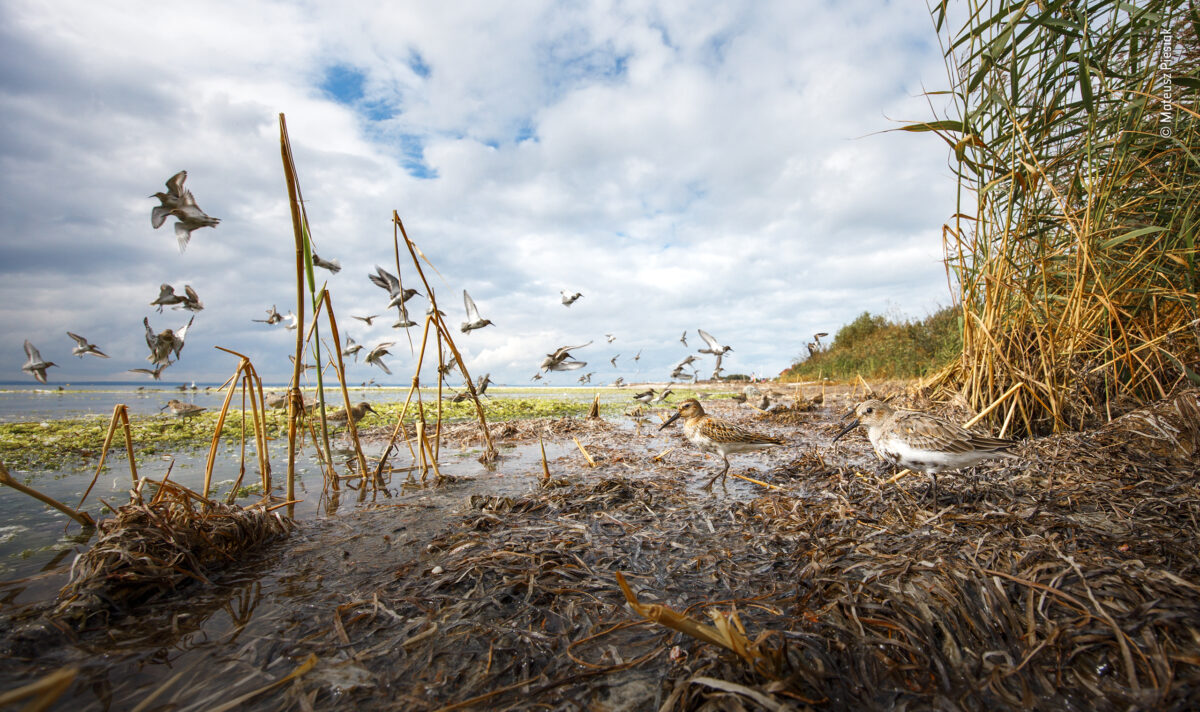 "The Great Cliff Chase" oleh Anand Nambiar, India | Pemenang: Perilaku – Mamalia
Fotografer India Anand Nambiar mengabadikan momen cemerlang ketika seekor macan tutul salju menyerbu kawanan ibex Himalaya menuju tepian yang curam. Foto diambil di Suaka Margasatwa Kibber, Himachal Pradesh, India.