(Business Lounge Journal – Interview Session)
ArtSociates sedang bersiap untuk sebuah perhelatan seni besar yang akan diadakan bulan depan. Demikian yang kami tangkap ketika berbincang secara daring dengan Andonowati selaku direktur ArtSociates. Namun di sela-sela kesibukannya, Andonowati yang lebih akrab disapa Aan tetap bersemangat menceritakan banyak hal yang ada di benaknya. ArtSociates bukanlah hanya sebuah galeri yang memamerkan hasil karya para Seniman Indonesia. Lebih tepatnya adalah sebuah art and artist management enterprise yang me-manage beberapa seniman untuk dapat terus berkarya.
Menempati Lawangwangi Creative Space, Aan mencoba menjelaskan keterkaitan antara ArtSociates dan Lawangwangi Creative Space. "Kalau ArtSociates adalah software, maka Lawangwangi adalah hardware-nya," demikian Aan berujar.
Adapun seni yang diusung ArtSociates adalah contemporary art. Tidak seperti modern art yang lebih mengutamakan visual composition, warna, dan sebagainya, maka contemporary art lebih berbicara bagaikan sebuah arsip (archive) dari contemporary issue atau sejarah yang relevan pada saat itu. Aan pun memberikan contoh, bagaimana contemporary art menggambarkan tentang politik, social unrest, conflict of religion, atau collapse of the government, dan sebagainya.
Ketika ditanyakan siapakah yang menjadi target market ArtSociates, maka Aan menjawab established collector menjadi yang paling penting, selain institusi dan museum. Namun patut diakui bahwa established collector ini sangat sedikit sekali, dapat menjadi tidak seimbang dengan banyaknya seniman. Sehingga Aan pun menyusun strateginya untuk menyasar young collector melalui print exchange dan kaligrafi. Kedua hal ini diharapkan dapat menjadi pancingan bagi young collector untuk mulai berdekatan dengan seni rupa.
Strategi lainnya adalah dengan tidak memungut biaya bagi para pengunjung galeri. Siapa saja boleh datang. Aan pun mengungkapkan bahwa ia tidak terlalu pusing dengan banyaknya pengunjung muda yang ber-selfie ria di depan karya seni yang dipamerkannya. Menurut Aan ini merupakan first education for people to appreciate the art.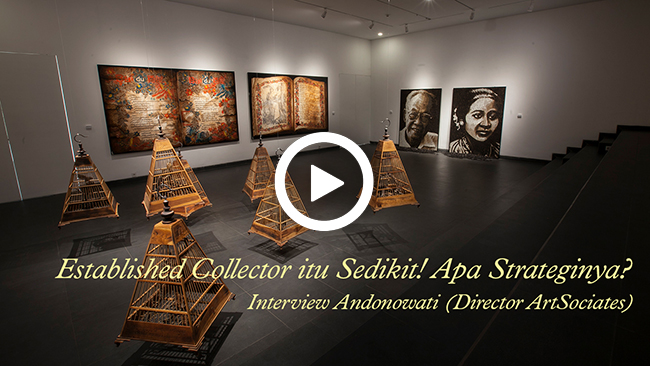 Strateginya untuk mendekati anak-anak muda kelihatannya berhasil. Sebab saat ini para millennial, mereka yang berusia 20-30 tahun sudah mulai membeli karya seni. Kelompok ini pun kini harus diperhitungkan. "Kalau dulu kan very established business people yang memberi karya seni," demikian dikatakan Aan sebagai pembanding. "Nah sekarang tidak nih! Anak-anak muda sudah mulai memiliki karya seni."
Hal ini bukan karena mereka sudah memiliki uang banyak, tetapi mereka merasa bahwa berkesenian telah memberikan sophistication bagi hidup mereka. Ketika seseorang menjadi puas ketika memiliki koleksi tertentu, ketika membeli karya seni tertentu, atau ketika menjadi bagian dari perhelatan seni terentu. "I am sophisticated!" ujar Aan.
Sekarang ArtSociates sedang bersiap untuk mengikuti Art Jakarta yang akan berlangsung pada 26-28 Agustus 2022. Mengambil lokasi di Jakarta Convention Center (JCC), Aan mengatakan bahwa ini adalah bagian yang penting bagi ArtSociates. Bahkan "super penting" ujarnya.
Aan menjelaskan bahwa Art Jakarta merupakan sebuah platform yang bagus sekali untuk galer seperti Art Sociates dapat ikut berpartisipasi. Sebuah art fair memiliki kemampuan untuk mendatangkan mulai dari peminat seni, kolektor, appreciator, dan kurator dari segala rupa. Seperti sebuah melting pot dari semua stakeholder of the art community.
Persiapan ArtSociates sudah hampir rampung dan Aan berharap mendapatkan pengalaman yang baik pada Art Jakarta 2022.