(Business Lounge Journal – Interview Session)
British sculptor Jason deCaires uses his diving and sculpting skill to save the ocean – by creating a series of underwater sculptures, often enormous in size, that serves as artificial reefs for the preservation of marine wildlife. Jason deCaires has sculpted two thousands underwater sculptures around the world, from Canary Island, Mexico, Indonesia and many more.
Here is our interview with Jason deCaires Taylor.
BLJ: Business Lounge Journal
Jason: Jason deCaires Taylor
BLJ: Can you tell us a little about your background?
Jason: I was quite fortunate. My parents used to teach English around the world. I lived in many different places, and when I was quite young, I lived in Malaysia for some years. It was very good because I got to explore all the different islands in Malaysia. I went to Thailand and Sumatera when I was about 10 years old.

I was very lucky to spend some of my childhood growing up in Asia. I got to see lots of different coral reefs before there was tourism, especially in Thailand. I went to Koh Samui before it had all the big developments and big hotels. I think that's where I first saw and fell in love with the sea.

I went to the London Institute of Arts and studied sculpture. After that, I started to be involved in Scuba Diving. I got some work in Australia on the Great Barrier Reef. I started working as a scuba diving teacher in Australia. Then I thought it would be interesting to combine my education about sculpture with diving, and to use the sculptures as a way of conservation.
BLJ : How do you start to combine the art of sculpture and the sea?
Jason: When I started working in the Caribbean, I came out with an idea to use sculptures to create artificial reefs. I built these artificial reefs that keep tourists away from the fragile natural reefs to help protect the coral and marine life. Since then, I've been working in different places around the world. I'm now based in England and operate from here.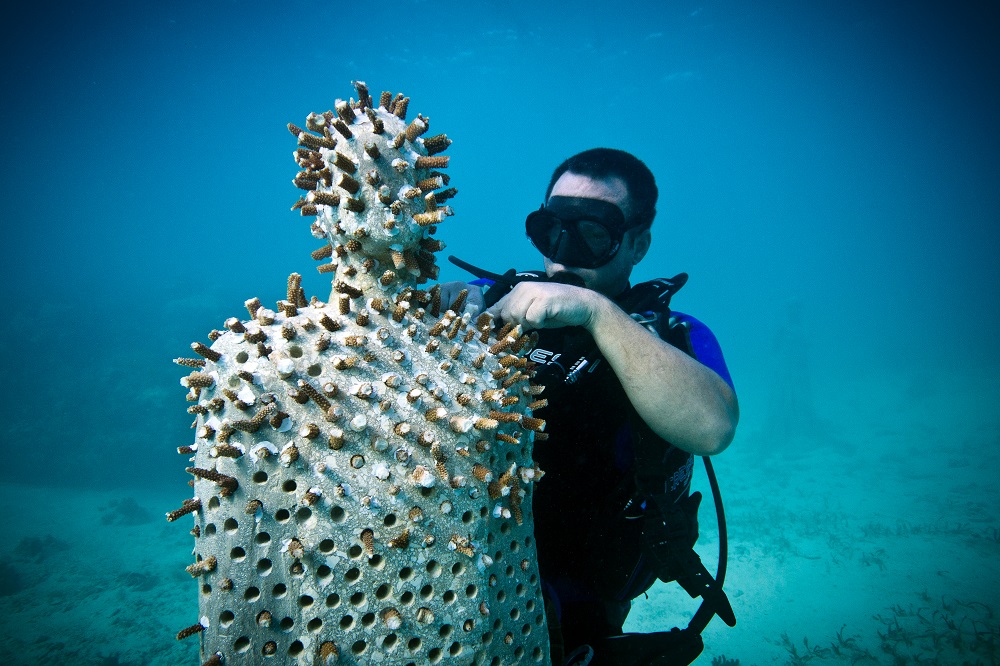 BLJ:  So, the first time you learn about sculpture doesn't mean that you want to preserve the marine environment, because you want to be a sculpture. Tell us more about this, please.
Jason: I started as a sculptor. When I realized that these sculptures were usable for sea conservation, I got more involved in it. It used to be more of a hobby, but it turned out to be a profession. In 2006, I decided to combined sculpture and preserving the marine environment. I started in Grenada in the West Indies, Caribbean.
BLJ: In your opinion, what is the most challenging part about being a sculptor that preserves the marine environment?
Jason: There are a lot of challenges there. It's very challenging to work making the sculptors. It has to be very big and very heavy to be sturdy enough to withstand the elements of the sea. They also have to be quite large in scale, because tourists who want to visit.  So, Yes, it's challenging. I have made 2,000 sculptures so far.  It's quite a challenge to make sure that everything is made of the right materials, to get the permits, to raise finance for projects, and to install the artworks underwater.
BLJ: What has been your most memorable experience? And why?
Jason: I have so many experiences. One of my first projects in Mexico was quite interesting. It was just a huge sandy area underwater with no life. It was completely barren. At the end of the project when I went back, there were thousands of fish and turtles and corals and marine life. It was a valuable experience for me. Something I haven't forgotten.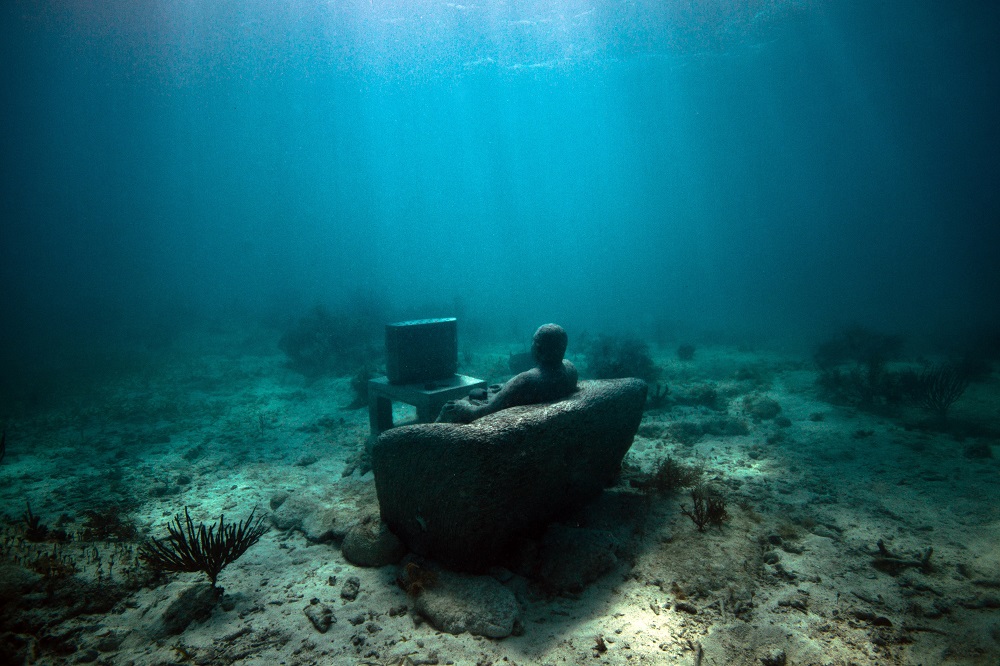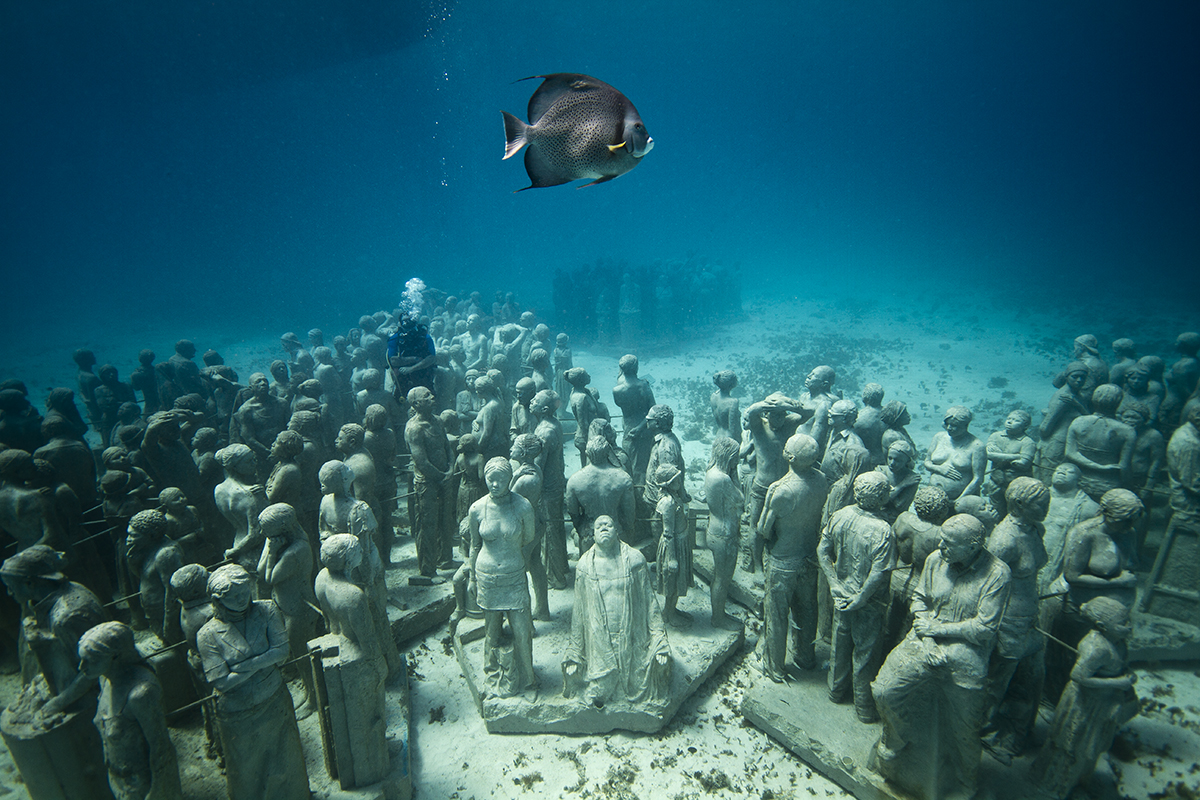 BLJ: Can you share with us about your favorite sculpture? And which one for you is the most well-known sculpture?
Jason:  I think the one in the Atlantic Ocean, in the Canary Islands, Spain. I like it because the color of the sea there is a beautiful blue color, and it reminds me of a dream. It even feels quite unreal.

The most well-known… I think it may be the first one, which was like a circle of people. Maybe that one is the most well-known. It's one of the first I made.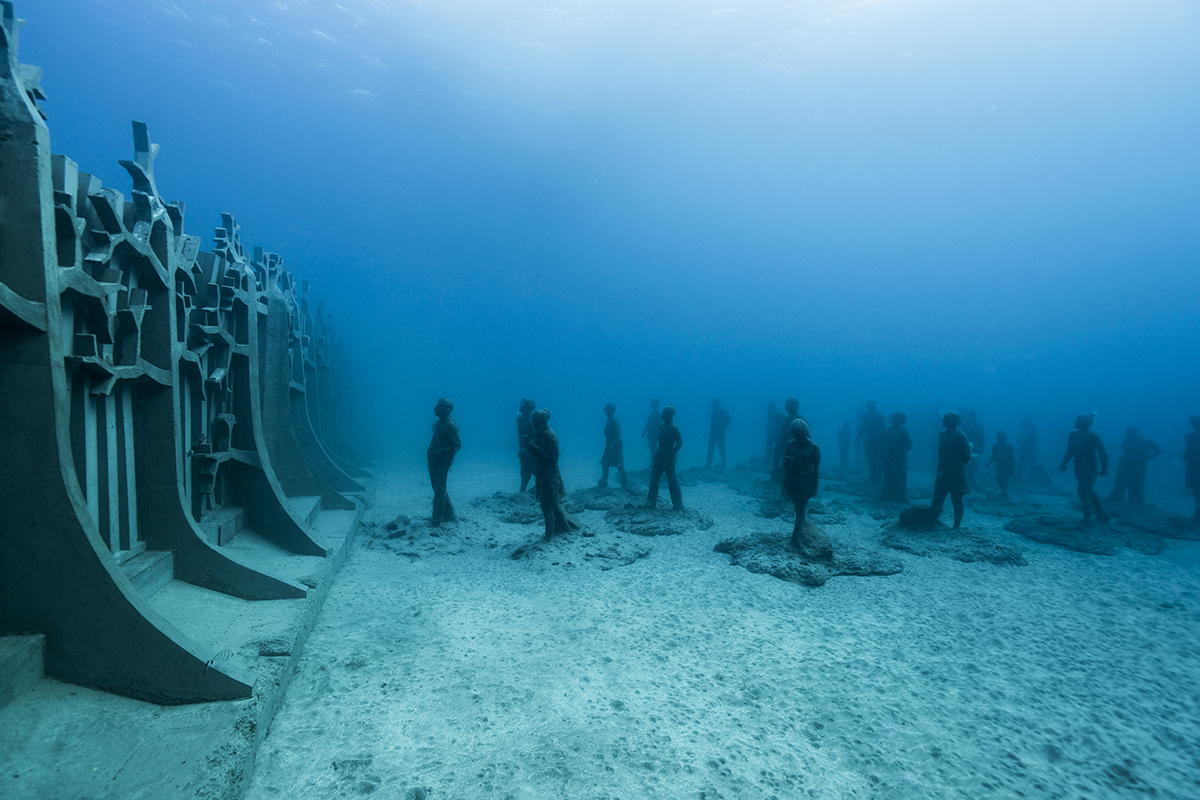 BLJ: How about the one in Indonesia, in Gili? Is it also one of your favorites?
Jason: Yes. that one is interesting. One of the most well-known sculptures to be visited because the water is very shallow, only 2 meters deep. Travelers come to Gili every day, hundreds and hundreds of different people going there.

But The Pacific Ocean is so much more than other places. That diversity is much greater. There are so many more species and also different varieties of corals. It's a beautiful place to work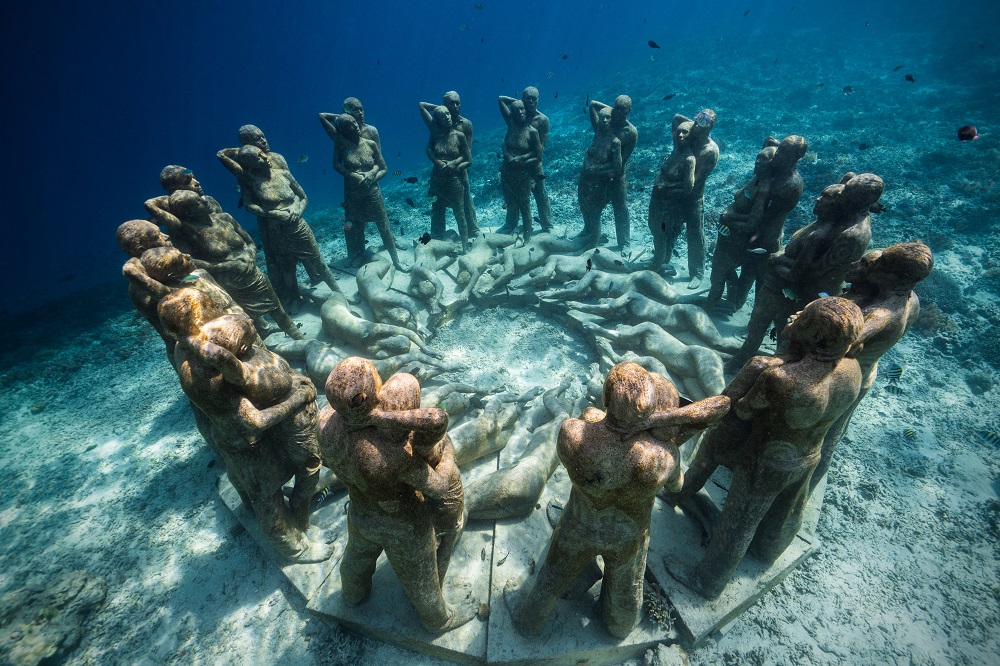 BLJ: Jason, tell us what will you do when you are about to start a new project?
Jason: Sure. There is a pretty complicated process. First of all, you have to find the right site underwater, the right conditions, the best depth, think about the marine life, and make sure that it doesn't cause any damage to the natural surroundings. I always think about the sculpture itself, what's the meaning of the sculpture and how the sculpture meaning relates to the local community. There's a lot of research I always do. I'm also thinking about the objectives of the project. Is it to create coral reefs? Is it to attract tourist? Is it to make a statement? There are lots of lots of things and lots of factors to consider.

We have to learn about the local culture. That's a big part of it, talking with the local community, understanding their relationship to the sea, their relationship with their coastlines, their history, and also how they see themselves in the future.

But I am also very interested in environmental concerns. Also, what are the issues that people are facing? Maybe there are any coral bleaching, or maybe overfishing, or is it too much tourism? There are many different factors. It's also crucial to understand the environmental challenges there.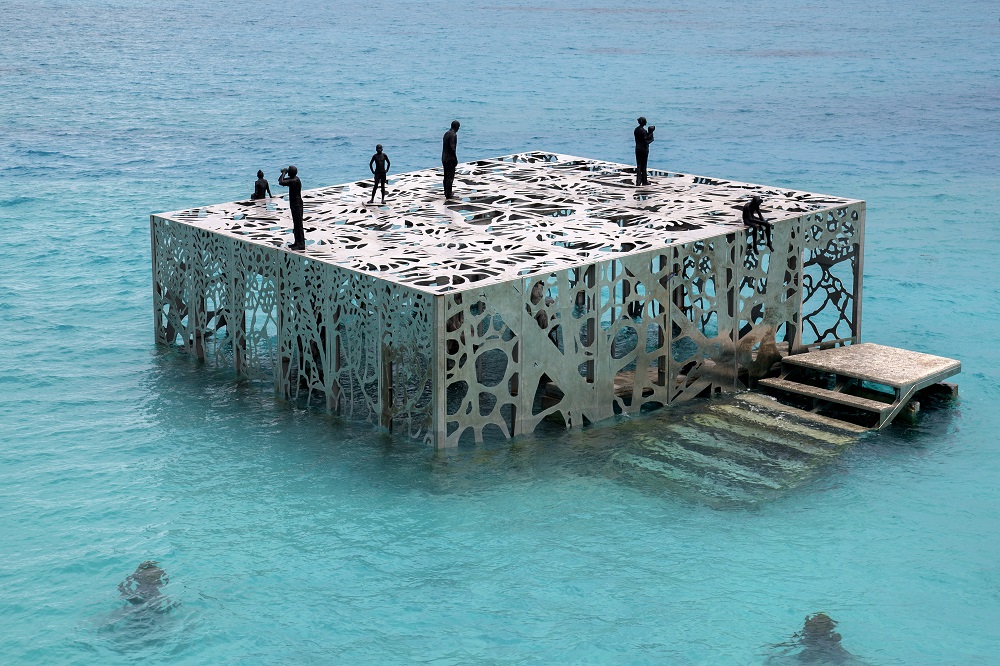 Projects can start within one year, but it depends on the project. Normally we start with sculpting. Sometimes in a large project, I live the country and move there with my family and team. I lived in Mexico, the Caribbean, and the Canary Islands. But now my family is a little bit tired, and there will be no more moving. In smaller project, I don't move. I will just come and spend some time there. 
BLJ: Do you have a favorite sculptor? And how did they influence you?
Jason: Yes, I am always visiting exhibitions and looking at how other artists interpret the world.  Christo and Jeanne-Claude had a big influence on me when I was young, they completed large ambitious projects in different parts of the world. There's another artist called Hubert Duprat that makes artworks using Caddisfly larvae, it's a collaboration with nature. Agnes Denes was also a pioneer of environmental art.
BLJ: Weather conditions are also a crucial aspect when you build the project. How do you handle such unpredictable factors?
Jason: The important thing is to talk to local people, local fishermen, local divers, and local communities. They've seen the weather for a long time, so they understand which areas are best to build the sculpture. Then, of course, we also do scientific studies and engineering to ensure that things are stable.

The important thing about working in Asia and the Caribbean is to anticipate the Cyclones, Typhoons, and Hurricanes. It's Important to make sure that everything is well-designed for that worst-case scenario.

We have a team of marine biologists, engineers, artists, mold makers, and people that handle the permit applications. The size of the team is dependent on how big the project is.
BLJ: Tell us about your experience in discussing and negotiating with local people in your project.
Jason: Each project is very different. Many of my projects are commissions by the Government, which has a good connection with communities and processors. I also have someone I work with on the project that consults with different people. Each project is different, some are privately financed and the others are through charities or NGOs. Each country has very different processes and cultural ways of doing things. So it's necessary to have a local connection because the projects are impossible if you come with a foreign mentality. It's so important to understand the local people and the local environment. A lot of the time, the Government is the one who gives the permit to work underwater. So you have to have a good relationship.
BLJ: Tell us about the countries that you want to visit. Tell us also about your dream.
Jason: I've never done anything in Malaysia and Thailand or areas around Singapore. Anything in that region will be interesting. I've also never done anything in Japan. I've always wanted to work in Japan, and also in Antarctica, in cold water areas that have lots of marine life, but there's a real risk of being exploited. I like the challenge of new environments.

I'm interested in building underwater buildings at the moment. Architecture pieces. I'm looking at building a little underwater city and doing a large-scale coral restoration.
BLJ: Is there anything you want to share to close this interview? Maybe anything that you want to add about you and your dreams?
Jason: I want more people to pay attention to what is happening underwater. I think a lot of people forget that we live on a blue planet. Two-thirds of our planet is just water, but it's not well understood. Everything is changing rapidly. So many species are becoming extinct underwater. The corals are at risk. There are a lot of things happening that are not so good. I hope that my work draws attention to these things then we can start trying to reverse some of the damage we've done to the Sea.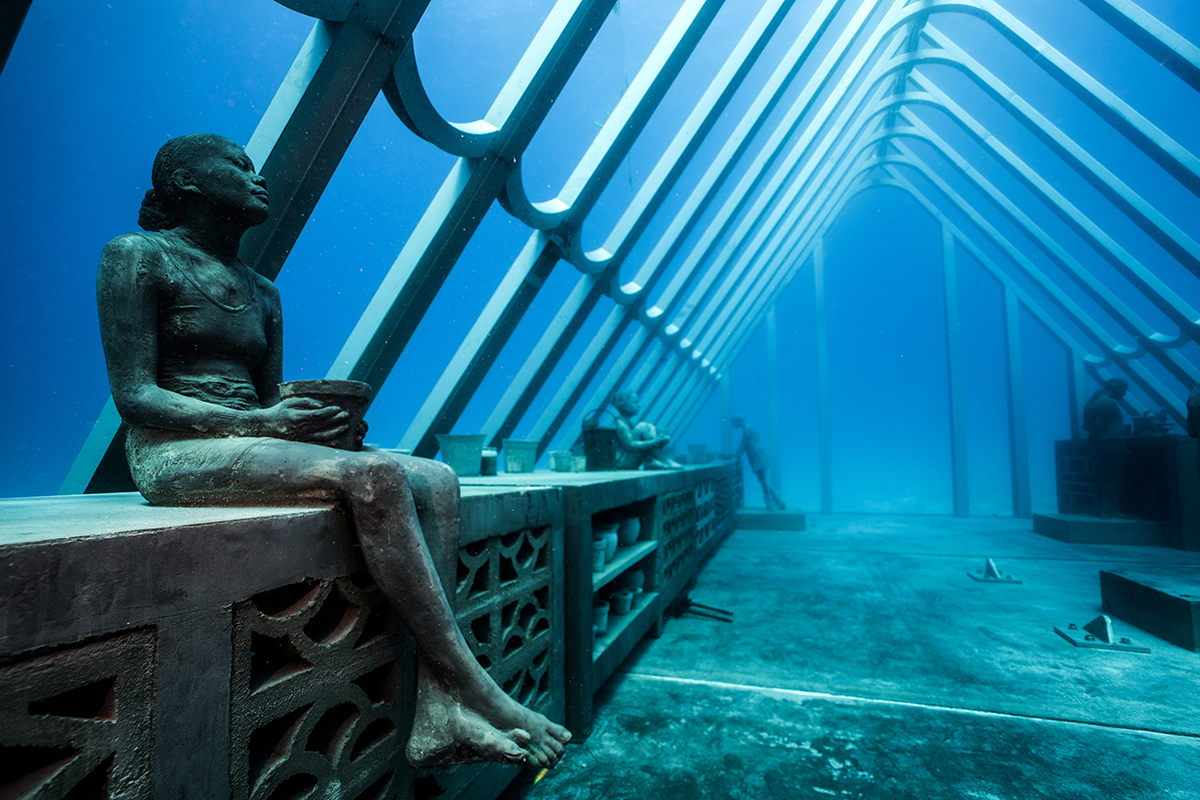 Interviewers: Ruth Berliana – Iin Caratri
Script: Ruth Berliana – Christopher Kevin
Picts: Jason deCaires Taylor