(Business Lounge Journal – News and Insight)
Tahun 2020 telah menjadi sebuah tahun pembelajaran bagi banyak orang. Sebab jika ditanyakan di awal, apa yang harus dilakukan pada waktu pandemi, maka saya yakin semua akan menjawab tidak tahu. Sebab memang demikianlah kenyataannya. Tidak seorang pun pada generasi yang hidup sekarang ini pernah mengalami pandemi.
Jadi jika bisa disimpulkan apa yang positif yang dapat kita ingat dari tahun 2020, adalah tahun belajar dan beradaptasi dengan cepat. Hal ini pun ternyata telah menjadi denyut nadi organisasi atau perusahaan. Mereka yang mau menggunakan kesempatan pandemi ini untuk belajar pasti akan memperoleh keuntungan yang banyak juga. Tercermin dari Workplace Learning Report 2021 yang baru saja dikeluarkan oleh LinkedIn dengan 59% perusahaan sebagai responden memberikan prioritas pada learning and development dengan fokus pada upskilling dan reskilling (59%) diikuti dengan leadership and management(53%) dan virtual onboarding (33%).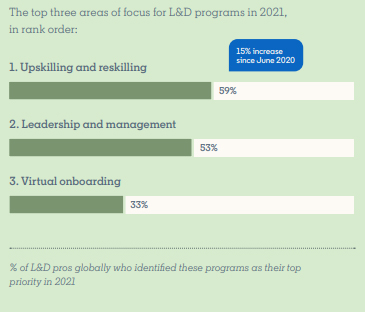 Nampaknya, masalah pembelajaran juga harus menjadi strategi wajib dari perusahaan untuk dapat mengembangkan bisnisnya sekaligus mempertahankan karyawannya. Sebanyak dua per tiga responden (66%) setuju bahwa Learning and Development perusahaan mereka harus fokus pada rebuilding and reshaping their organizations pada tahun ini dan itu dimulai dari adanya pembelajaran di lingkungan kerja. Bahkan sebanyak 64% mengatakan bahwa Learning and Development bukan lagi yang "nice to have" tetapi "need to have".
Gen Z – Sukses dengan belajar
Menyoroti Generasi Z yang menjadi responden pada pelaporan ini, bahwa 76% dari mereka berkeyakinan pembelajaran adalah kunci kemajuan mereka. Rasa haus akan pengetahuan telah menciptakan keunggulan kompetitif yang signifikan bagi Gen Z. LinkedIn mencatat bahwa sepanjang tahun 2020, jumlah jam para Gen Z menonton online course meningkat 50%, lebih banyak dibandingkan generasi lain. Mereka disimpulkan merasa betah di rumah dan senang mempelajari keterampilan yang baru. Meskipun pendatang baru di dunia profesional — Gen-Zer tertua saat ini baru berusia 25 tahun — Gen-Z sangat termotivasi untuk mengembangkan karier mereka.
Dua keterampilan wajib saat ini
LinkedIn mensurvei para pemimpin Learning and Development pada perusahaan-perusahan di banyak negara dan menemukan ada 2 keterampilan penting yang dibutuhkan, yaitu resilience dan digital fluency. Resilience bila kita gambarkan dapat mencakup ketangguhan, ketahanan, kelenturan, atau fleksibilitas seseorang dalam menghadapi satu masalah. Ini mencakup kemampuan untuk beradaptasi pada kondisi yang kurang menguntungkan dan sangat terkait dengan keinginan untuk belajar.
Tidak dapat dipungkiri bahwa keunggulan Gen-Z yang lahir pada era teknologi digital (1995 – 2010) telah membuat kebiasaan belajar menjadi salah satu ciri mereka. Sehingga para pemimpin harus menyadari bahwa kebiasaan ini jugalah yang harus disuguhkan di dunia kerja untuk memenangkan hati mereka. Tidak hanya itu, era teknologi yang melahirkan banyak startup juga telah menumbuhkan jiwa wirausaha mereka. Sebanyak 72% generasi senior Gen-Z pada survei  ini berkeinginan untuk memulai bisnis mereka dan untuk itu mereka yakin bahwa pembelajaran seumur hidup menjadi kunci yang sangat penting.