(Business Lounge Journal – Human Resources)
Saya rasa semua perusahaan yang telah menyusun HR Budget untuk tahun 2020 pada akhir tahun 2019, telah melewati pengalaman yang sama ketika kemudian harus melakukan penyesuaian pada budget yang telah disusun oleh karena pandemi yang melanda pada tahun ini. Sekarang setiap perusahaan pun harus kembali melakukan penyusunan budget untuk tahun 2021. Tentu saja dengan perhitungan yang berbeda dengan apa yang telah disusun pada tahun yang lalu.
Hal pertama yang penting untuk dilakukan sebelum memfinalkan budget 2021 adalah memastikan bahwa Anda sudah mengaudit HR Budget vs Actual untuk tahun 2020. Hal ini akan sangat menolong untuk mencermati komponen apa yang berkurang atau bertambah pada masa pandemi ini. Sebab tidak ada satu pun dari kita yang pernah mengalami pandemi sebelumnya dan kita pun tidak dapat memastikan bahwa pada awal tahun 2021, pandemi akan segera berlalu – walaupun kita semua pastilah mengharapkannya.
Secara teori, HR budget yang kita susun akan mencakup:
Compensation and Benefits
* Hiring and Onboarding
* Training and Development
* Employee Relations
* Health and Safety
* Performance Management
* Employee Experience and Retention
* Operations and Technology
Namun dengan mengaudit actual pengeluaran pada tahun 2020, Anda dapat dengan tajam melihat bagian manakah yang secara significant harus mengalami penyesuaian budget pada tahun 2021. Selain itu Anda juga dapat melakukan penyederhanaan budget dari 8 fungsi di atas.
Pada kesempatan ini, saya ingin memberikan contoh tabel rencana kerja yang meliputi 4 fungsi HR&GA dan mengidentifikasi apakah fungsi tersebut perlu atau tidak perlu mendapatkan prioritas dalam penyusunan budget HR&GA tahun 2021.
Rencana Kerja HR&GA Normatif VS Rencana Kerja HR&GA yang efektif: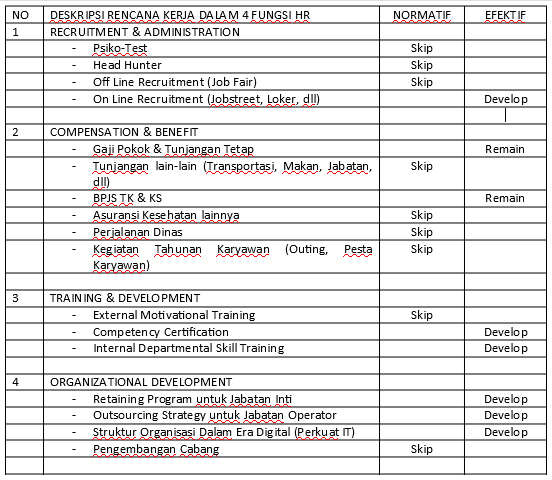 Dari tabel di atas, kita mendapatkan gambaran apa yang perlu kita hilangkan (sementara waktu) dan apa yang perlu kita kembangkan. Contoh saja:
Prioritaskan Internal Promotion/Promosi dari dalam: kembangkanlah karyawan yang bagus yang ada saat ini untuk kepentingan promosi dari dalam dengan perbandingan 80:20 (80% promosi dari dalam dan 20% promosi dari luar/rekrutmen.
Tingkatkan kualitas: "Train the Trainer": untuk memenuhi kebutuhan Trainer/Pelatih utamakan dengan meningkatkan kualitas ketrampilan dan pengetahuan karyawan yang dinilai berprestasi termasuk mengupayakan sertifikasi kompetensi karyawan, agar selanjutnya dapat difungsikan untuk melatih karyawan yang lainnya. Lebih efektif mengeluarkan biaya untuk pengembangan satu atau beberapa karyawan terpilih.
Kita percaya bahwa karyawan adalah juga asset perusahaan yang perlu untuk dikembangkan dan ditingkatkan selaras dengan usaha pencapaian target perusahaan ditengah ketatnya persaingan bisnis saat ini.
Melsi Mike/BLJ/Contributor