(Business Lounge Journal – News and Insight)
Natal segera tiba! Salah satu hidangan wajib saat menyambut natal di Inggris adalah English Fruitcake. Ini sudah menjadi tradisi sejak sebelum Perang Dunia kedua. Sebuah kue yang berisi berbagai buah kering dengan aroma khas kayu manis yang sangat menggugah selera. Dijamin, tidak perlu menunggu 100 tahun, kue ini akan lenyap tak berbekas.
Seratus tahun?
Sekitar 3 tahun yang lalu, sekelompok peneliti menemukan fruitcake yang telah berusia lebih dari 100 tahun di Antartika. Waw…Bertambah terkejut karena ternyata kue tersebut ditemukan dalam keadaan masih layak makan. Fruitcake itu dibungkus dengan kertas dan kotak berbahan dasar logam campuran timah. Berselimutkan es yang tebal yang sudah tertumpuk selama satu abad dengan kemasan yang tetap utuh.
Penasaran siapa pemilik fruitcake ini? Jika melihat satu abad ke belakang, maka diketahui bahwa pada tahun 1910, Robert Falcon Scott, penjelajah asal Inggris menginjakkan kaki di Antartika bersama dengan para anggota dari The British Antarctic Expedition yang juga dikenal sebagai Terra Nova. Mereka melakukan ekspedisi selama tahun 1910 hingga 1913. Oleh karena itu, para peneliti yang berasal dari Antarctic Heritage Trust meyakini fruitcake lezat tersebut adalah bekal milik Robert Falcon Scott.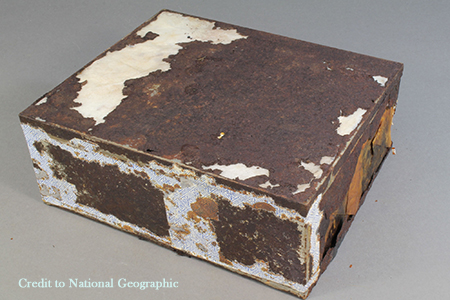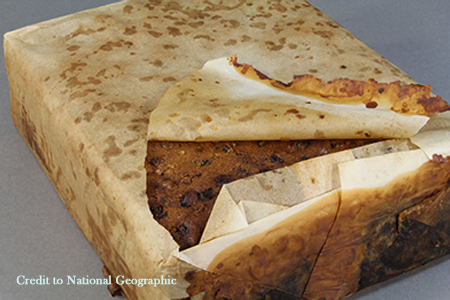 Fruitcake yang bermerk Huntley & Palmers tersebut ditemukan di dalam sebuah bangunan tertua di Antartika, sebuah gubuk di Cape Adare yang didirikan oleh penjelajah Norwegia pada tahun 1899. Jika benar demikian, maka fruitcake buatan perusahaan biskuit asal Inggris itu sudah tinggal di kutub selama lebih dari 106 tahun ketika ditemukan. "Kondisi saat cake ditemukan bisa dibilang sangat bagus dan aromanya menunjukkan bahwa roti itu masih bisa dimakan," jelas manajer program dari Antarctic Heritage Trust, Lizzie Meek seperti dilansir dari National Geographic. Meek juga menjelaskan kemungkin para penjelajah membawa bekal fruitcake menuju tempat paling dingin di muka bumi ini karena fruitcake amat populer dan dikenal kaya dengan energi.
"Fruitcake adalah pemasok energi yang ideal dalam kondisi dingin seperti di Antartika dan masih jadi makanan favorit untuk menemani kita minum teh sampai sekarang," demikian dikatakan Meek. Setelah fruitcake sarat sejarah itu ditemukan, kue tersebut segera diterbangkan ke Christchurch, Selandia Baru untuk diteliti lebih lanjut di laboratorium The Canterbury Museum. Sejak penelitian dimulai pada Mei 2016 hingga Juli 2017, telah ditemukan 1500 artefak dan fruitcake berselubung salju adalah satunya.
Apakah Anda berniat untuk mencoba membuat Fruitcake untuk menyambut Natal tahun ini?
RB/VMN/BLJ