(Business Lounge Journal – Tech)
Apple memperbarui emoji "Face with Medical Mask" yang telah ada pada iPhone iOS. Sebuah emoji yang menggunakan masker kesehatan ini memang sudah ada sejak tahun 2008. Namun kali ini emoji tersebut terlihat tetap tersenyum.
Sebelumnya emoji ini digunakan untuk menyiratkan kondisi yang sedang sakit atau sedang tidak enak badan. Tetapi sejak tahun 2020, emoji yang menjadi paling popular di twitter ini memberikan arti yang berbeda, bagaimana semua orang harus memiliki kesadaran untuk mengikuti protokol kesehatan guna menjaga keamanan masing-masing. Namun permasalahannya mengapa emoji itu terlihat sangat sedih?
Karena itu Apple mengubah karakter kecil itu, dengan membuatnya terlihat senang memakai masker meskipun senyum emoji tidak nampak karena tertutup. Bagi mereka yang gemar menggunakan emoji maka akan sangat akrab dengan wajah kuning bermasker dengan sepasang alis yang terlihat turun memberikan kesan wajah yang lesu.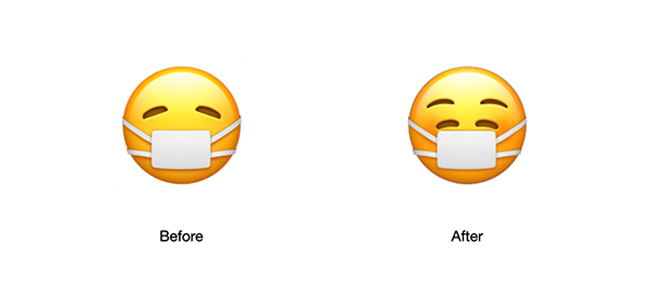 Versi baru emoji bermasker ini akan keluar seiring pembaruan iOS berikutnya yang diprediksi akan dirilis pada akhir Oktober tahun ini, demikian menurut Emojipedia. Emoji yang baru akan menggunakan alis serta pipi kemerahan yang menyiratkan bahwa ia sedang tersenyum walaupun sedang mengenakan masker. Sebenarnya hampir sama dengan emoji "Smiling Face" namun dengan menggunakan masker kesehatan.

Nama resmi emoji ini adalah " Face with Medical Mask ". Langkah Apple mengubah simbol tersebut mengikuti Samsung yang memberi penggunanya emoji masker wajah yang lebih bahagia pada bulan Maret.  
Untuk sementara emoji ini baru tersedia di pengguna iPhone yang sudah melakukan update iOS 14.2 Beta 2.

RB/VMN/BLJ