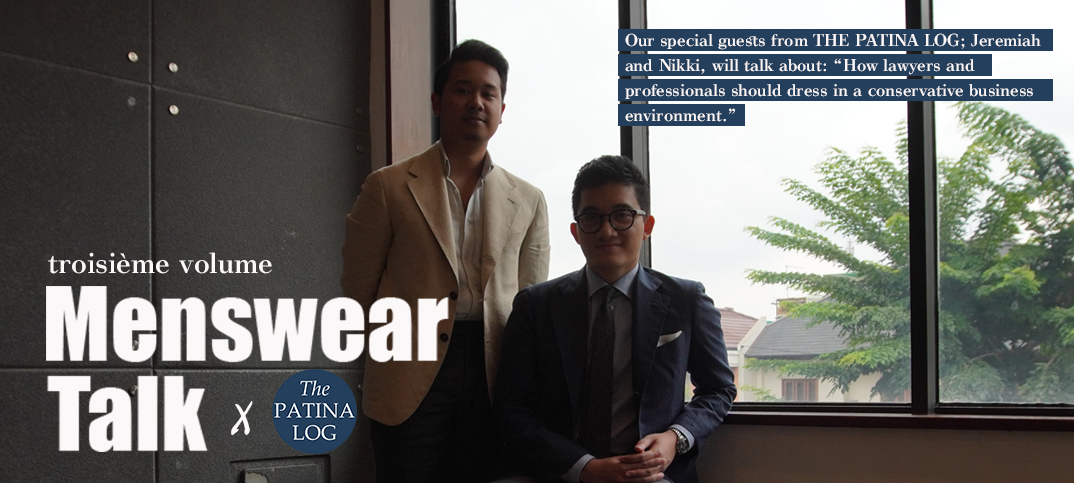 (Business Lounge Journal – Etiquette Directory)
Dalam bagian ketiga di Menswear Talk kali ini, kami mewawancarai Jeremiah Purba dan Nikki Krisadtyo dari THE PATINA LOG, blog menswear yang didirikan oleh Jeremy dan Nikki sebagai proyek sampingan bersama yang berawal dari kesukaan mereka terhadap arloji.
Berprofesi sebagai pengacara di Kawasan SCBD Jakarta, Jeremiah dan Nikki menceritakan tentang pengalaman mereka; bagaimana mereka bertemu sebagai sesama mahasiswa di Fakultas Hukum Universitas Indonesia, menemukan hobi yang sama dan terus berteman sampai pada akhirnya mereka bekerja bersama di Kawasan SCBD; walaupun di perusahaan yang berbeda. THE PATINA LOG yang berawal sebagai hobi arloji pun berkembang ke pembahasan yang lebih dalam seputar classic menswear yang pastinya kontra fast-fashion; mulai dari jas, jaket, sepatu, dan berbagai hal lainnya yang disukai oleh pria modern dan professional.
Di edisi spesial Menswear Talk kali ini, Jeremiah dan Nikki akan memberikan petunjuk singkat bagaimana pengacara dan professional sebaiknya memilih pakaian untuk suasana kerja yang konservatif.
Michael Judah Sumbayak adalah pengajar di Vibiz LearningCenter (VbLC) untuk entrepreneurship dan branding. Seorang penggemar jas dan kopi hitam. Follow instagram nya di @michaeljudahsumbek