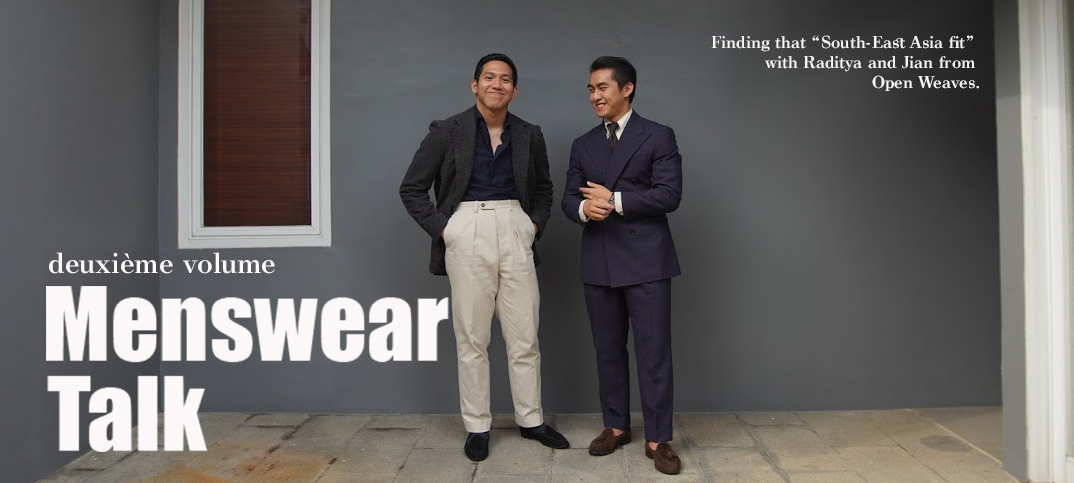 (Business Lounge Journal – Etiquette Directory, Style Directory, Video)
Open Weaves is established by the duo Raditya Prabawa and Jian Yap as one of the youngest sartorial house that called South-East Asia its home. Specializing in suiting and jacketing solution for South-East Asia tropical heat, Open Weaves quickly become one of the rising tailoring brand not just in Indonesia and Malaysia, where Radit and Jian respectively comes from, but they also find demands for their elegant – yet voluminous, relaxed and meticulously detailed bespoke suit and jacket from the neighbouring Singapore, Thailand and Australia – specifically Melbourne, where the idea first hatched. With both Raditya and Jian an observably staunch absolutist when it comes to the smallest of details; from Milanese buttonhole, curved patch pocket, various shoulder styles including the Neapolitan spalla camicia, handmade patchstitching and so on, Open Weaves can pride themselves as a brand with a burning passion.
Watch our editor Michael Judah hosting the interviewed the owners of this highly-anticipated newcomer in our newest volume of Menswear Talk.
Michael Judah Sumbayak adalah pengajar di Vibiz LearningCenter (VbLC) untuk entrepreneurship dan branding. Seorang penggemar jas dan kopi hitam. Follow instagram nya di @michaeljudahsumbek