(Business Lounge Journal – Event)
Untuk kedua kalinya DealStreetAsia menyelenggarakan PE-VC Summit (Private Equity – Venture Capital Summit 2020) di Indonesia pada Rabu, 15 Januari 2020. Bertempat di hotel Westin, acara ini mengusung tema "Unravelling opportunities in Southeast Asia's maximum market" serta dihadiri oleh 400 delegasi dari Indonesia dan berbagai negara seperti Jepang, India, Korea, Malaysia, Brunei Singapore, dan Hongkong.
DealStreetAsia merupakan sebuah platform berita online yang fokus pada investasi, merger dan akusisi, private equity, venture capital, investment banking dan startup di kawasan asia. Joji Thoms Philip selaku founder  & Editor in Chief DealStreetAsia, memberikan kata-kata pembuka untuk mengawali 41 pembicara kompeten yang akan membagikan pandangannya mengenai beberapa hal.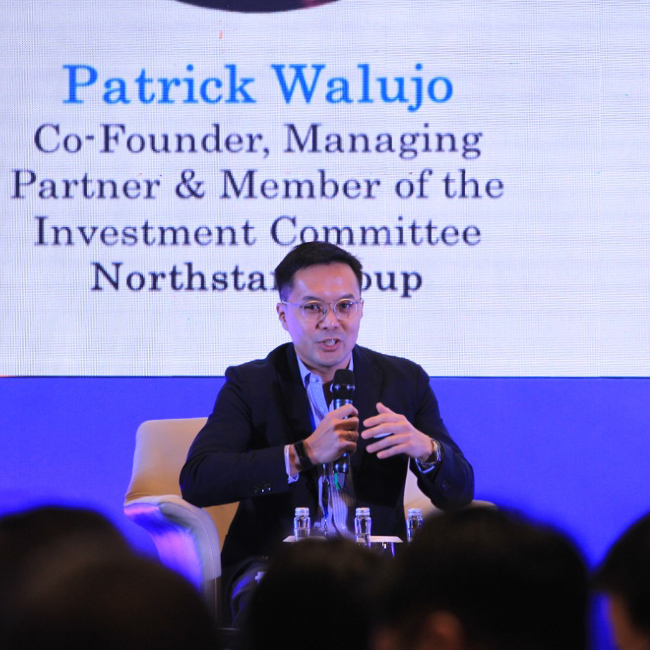 Patrick Walujo, Co-Founder, Managing Partner & Member of the Investment Committee Northstar Group, salah satunya. Hadir sebagai keynote speaker dengan topik pembahasan "Growing Appetite for Tech and Non-Tech Deals: Southeast Asia and Indonesia Opportunity for PE", Patrick menekankan bahwa Good Business Model and Good Founder adalah modal untuk kesuksesan suatu usaha untuk mencari investor yang dapat membantu pendanaannya. Good founder akan menentukan kesuksesan ketika situasi berubah dari apa yang dirancangkan di awal mendirikan usaha. Patrick juga menjelaskan bahwa ada 3 situasi pendanaan yang memerlukan banyak uang, pertama adalah kondisi yang banyak pilihan, yang kedua kondisi yang seimbang dan kondisi ketiga adalah perlu perjuangan untuk mendapatkan pendanaan.  Investor memiliki pilihan untuk memilih yang mana yang akan didanai  sedangkan semua startup bercita-cita  untuk menjadi unicorn. Bagi Venture Capital yang terpenting adalah mendapatkan maximum return dari investasi tersebut. Bagi perusahaan pemberi dana bila dapat memilih tentunya akan memilih local entrepreneur dibandingkan yang asing. Local entrepreneur lebih dinantikan oleh pasar lokal.  Perusahaan kecil sekalipun dapat berkembang menjadi besar dengan bantuan teknologi dewasa ini. Di Indonesia potensi startup dapat berkembang sangat besar.
Beberapa topik menarik lainnya juga disajikan seperti The case for Indonesia in 2020 and beyond, The emergence of growth funds in Southeast Asia, Beyond ride-hailing- Are food hailing & payments key to Gojek's sustainability?, dan beberapa lainnya.
Hendrik Susanto – Chief Investment Officer Traveloka, Winston Utomo – Founder & CEO IDN Media, Ashish Saboo – Managing Director and Head of Indonesia General Atlantic, Jeffrey Yuwono – Co-founder & CEO Sorabel dan Melisa Irene, Partner dari East Ventures selaku moderator pada panel "staying local or going regional – the road ahead for Indonesia startups" membahas mengenai start-up yang sukses di market Indonesia, apakah investor dan para start-up melihat bahwa memaksimalkan keuntungan geografis di Indonesia lebih baik daripada ekspansi ke pasar internasional.
Indonesia PE-VC Summit akan diselanggarakan setiap tahun karena telah menarik minat banyak investor asing dan juga domestik yang kebanyakan pengusaha-pengusaha muda Indonesia. Setelah Indonesia PE-VC Summit, pada September 2020 juga akan di selanggarakan Asia PE-VC Summit 2020 di Singapura untuk segmen yang lebih luas, yaitu kawasan asia.

Business Lounge Journal/VMN/BLJ