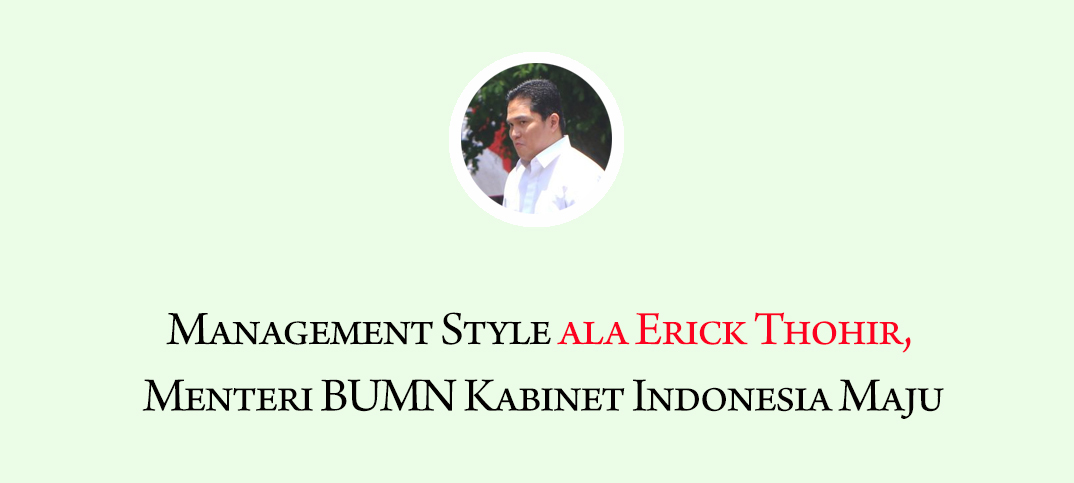 (Business Lounge Journal – General Management)
Erick Thohir telah resmi dilantik sebagai Menteri BUMN pada 23 Oktober 2019, sebagai bagian dari Kabinet Indonesia Maju. Pada hari yang sama, Erick pun telah melakukan rapat di jajaran Kementrian BUMN, di Jakarta dan memberikan enam arahan yang penting.
Memiliki KPI yang jelas
"Satu, saya datang untuk tidak pernah gagal. Harus jelas KPI. Harus dicapai, kalau rugi memang sudah diketahui akan rugi sebagai fungsi BUMN. Ingat kita disorot masyarakat sebagai agent of change."
Erick yakin bahwa sesuatu yang memang telah dilakukan sesuai dengan Key Performance Indicator (KPI), maka akan dapat dicapai. Hal inilah yang perlu diperhatikan ketika hendak menjadi agent of change.
Accessible
"Dua, terbuka, silahkan Sesmen share nomor hp, wa, telegram saya untuk para direksi. Namun harus ada courtesy, tidak menjelekkan pejabat terdahulu, tidak menjelekkan sesama direksi, ingat tidak ada manusia yang sempurna, tidak menjelekkan BUMN lainnya, jangan wa complaint melulu, beri solusi."
Erick membuka kesempatan sebesar-besarnya untuk dihubungi oleh siapa saja. Namun demikian ia telah mengatakan sejak awal bahwa ia tidak mau menerima hal-hal yang bersifat menjelek-jelekkan atau complain yang terus menerus.
No Kolusi
"Tiga, saya datang sebagai profesional. Bukan orang partai, perusahaan, dsb. Jadi tidak ada titip-titipan, begitu pula kalian tidak ada titipan si anu."
Hal yang penting untuk diperhatikan, bagaimana Erick menjaga dirinya tetap independen. Ia telah mengatakan bahwa ia bekerja secara professional dan tidak akan meladeni semua "titipan".
Belajar
"Empat, beri saya waktu untuk belajar."
Dalam hal ini, Erick tidak malu untuk mengakui bahwa ia membutuhkan waktu untuk belajar dan ini adalah sebuah kesempatan yang memang dibutuhkannya saat memasuki sebuah dunia yang baru baginya.
No Ceremony
"Lima, selama 3 bulan ke depan, saya jangan diundang acara seremoni-seremoni. Saya tidak akan datang."
Bagi Erick, seremoni bukanlah sesuatu yang menjadi prioritas baginya, sehingga ia menyatakan bahwa ia tidak bersedia untuk hadir dalam acara seremoni yang diadakan dalam 3 bualn ke depan.
Work-life balance
"Enam, saya tidak akan mengganggu waktu Sabtu dan Minggu, itu untuk keluarga, kecuali ada yang urgent sehingga harus dipanggil bertemu saya."
Sebuah kesepakatan juga telah dibuat Erick di depan bahwa Sabtu dan Minggu adalah waktu untuk keluarga. Tidak hanya untuk dirinya, tetapi juga untuk semua bagian dari kementerian. Namun, tetap ada disclaimer, "yaitu jika ada yang mendesak, ia dapat memanggil siapa saja. Hal ini menunjukkan bahwa pekerjaan dan keluarga menjadi dua hal yang berimbang yang harus diperhatikan oleh seluruh jajaran kementerian BUMN.
Selamat bekerja Erick Thohir!
Ruth Berliana/VMN/BL/Managing Partner Human Capital Development