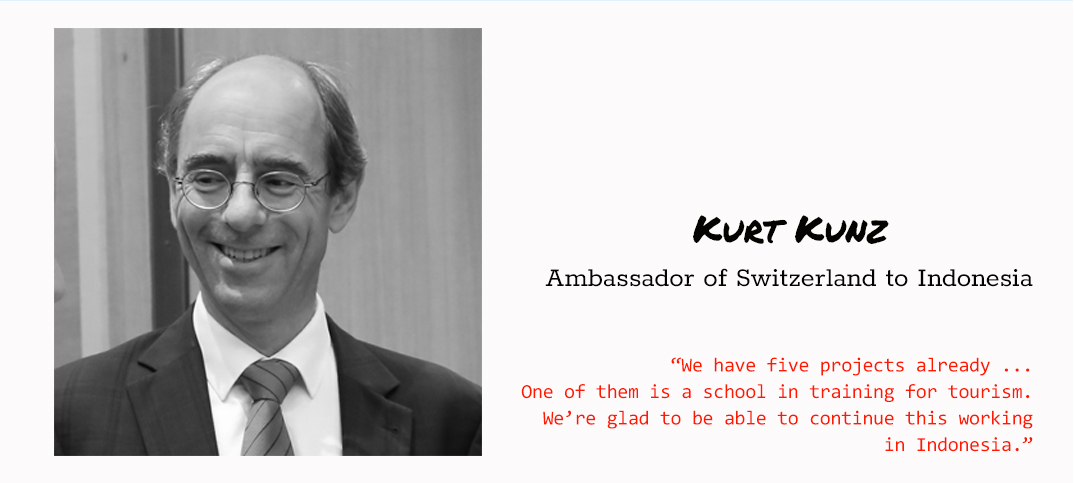 (Business Lounge Journal – News and Insight)
Kurt Kunz, duta besar Swiss untuk Indonesia menyampaikan bahwa Swiss sangat memahami bahwa Presiden Jokowi sedang memprioritaskan pengembangan Sumber Daya Manusia dalam lima tahun ke depan sehingga pendidikan dan pelatihan vokasi akan sangat dibutuhkan dalam meningkatkan kapasitas Sumber Daya Manusia Indonesia. "Karena itu dengan gembira kami menghadirkan Program of Economic Cooperation di Indonesia yang mempromosikan pendidikan dan pelatihan vokasi," demikian disampaikan Duta Besar Kunz. "Hal ini telah berjalan dan akan terus berlanjut hingga beberapa tahun ke depan. Salah satunya adalah pelatihan dalam bidang pariwisata," demikian dilanjutkan Duta Besar Kunz.
Duta Besar Kunz pun menyampaikan bahwa di Swiss, pendidikan dan pelatihan vokasi adalah sesuatu yang sangat menyenangkan dan mayoritas diikuti oleh generasi muda. Biasanya mereka telah bekerja pada perusahaan selama 3-4 tahun untuk belajar berbisnis, tetapi kemudian mereka pun mengikuti pelatihan vokasi dalam 1-2 hari seminggu.
"Kami yakin bahwa sistem pendidikan dan pelatihan vokasi akan sangat membantu dalam mengurangi angka pengangguran dan juga akan sangat membantu semua individu dalam mengembangkan talentanya di masyarakat. Kami sangat gembira bila kami dapat melanjutkan kerjasama kami dengan Indonesia," tutur Duta Besar Kunz.
Ruth Berliana/VMN/BLJ