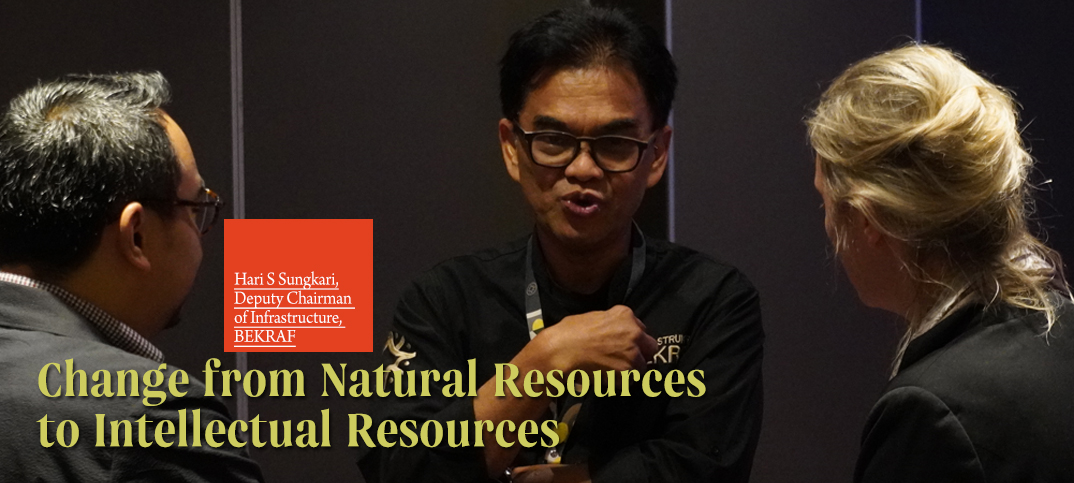 (Business Lounge Journal – Entrepreneurship)
Dalam Grand Finale AETP (The Asia Entrepreneurship Training Program) yang berlangsung pada 10 Oktober 2019, hadir Hari Santosa Sungkari selaku Deputi Infrastruktur BEKRAF (Badan Ekonomi Kreatif Republik Indonesia). Dalam sambutannya Hari mengatakan bahwa Jakarta akan menjadi salah satu global startup ecosystem of the world sejak tahun ini, berkompetisi dengan Tokyp, Melbourne, dan Seoul. Bagi Hari, hal ini merupakan sebuah tantangan untuk terus dapat melakukan inovasi dan kreatifitas.
Hari menyadari bahwa Kota Jakarta sebenarnya termasuk yang "tertinggal" dibandingkan kota-kota besar dunia lainnya, hal ini disebabkan kebiasaan hidup masyarakat Indonesia yang sangat bergantung pada sumber daya alam yang sangat mudah dijual. "Tetapi ini saatnya untuk berubah!" demikian dikatakan Hari. "Berubah dari kertergantungan terhadap sumber daya alam menjadi sumber daya intelektual. Di sinilah masa depan para startup," terang Hari.
Selain itu, Hari pun mengingatkan para startup yang menjadi finalis AETP untuk menjadikan kegagalan sebagai sebuah pembelajaran yang mahal. Dalam penjelasannya Hari pun memaparkan bagaimana sejumah 62% kegagalan startup disebabkan oleh karena founder conflicts dan hal ini sangat penting untuk mendapatkan perhatian. "Pada waktu memulai bisnis, maka tidak akan ada konflik sebab Anda belum memiliki profit apa pun. Tetapi ketika Anda mulai mendapatkan profit, maka satu dengan yang lain akan mulai berargumen bahwa saya harus mendapatkan lebih banyak dari Anda. Inilah yang membuat 62% startup mengalami kegagalan ketika mulai berkembang, sebab tidak ada agreement sejak awal," jelas Hari.
Namun apakah dengan demikian lebih baik memulai bisnis seorang diri? Hari membagikan pengalamannya bahwa adalah lebih baik memulai bisnis dengan paling tidak ada dua orang yang bersepakat, sebab dengan demikian akan dapat saling beragumen.
"You can reduce the risk at the early stage. Not later," demikian diucapkan Hari. Selain dengan membuat kesepakatan di antara founder, maka penting untuk memastikan bahwa produk yang dimiliki sesuai dengan kebutuhan pasar. Namun bila tidak, jangan ragu untuk mundur sejenal dan melakukan analisa untuk mendapatkan produk atau bisnis lainnya yang sesuai dengan kebutuhan pasar.
Ingat, bukan bisnis model yang dapat menyebabkan startup gagal, melainkan founder.
Pada akhir sambutannya, Hari juga mengingatkan bahwa startup haruslah menyelesaikan masalah dan oleh karena Indonesia memiliki banyak masalah, itulah sebabnya Indonesia pun membutuhkan banyak startup.

Ruth Berliana/VMN/BLJ