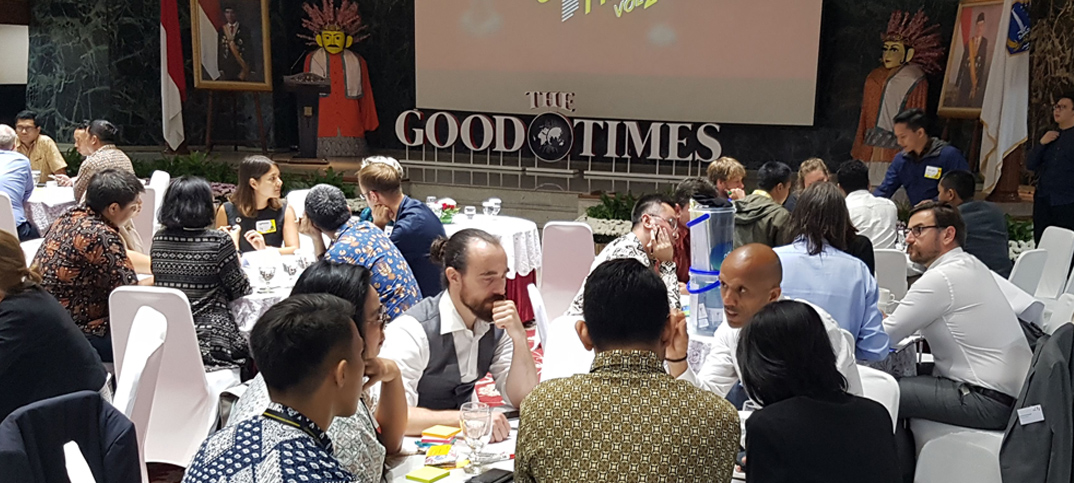 (Business Lounge Journal – Event)
Kemitraan sister city telah bertaut antara Jakarta dan Berlin sejak 25 tahun yang lalu. Untuk mempereratnya, para pemerintah kedua kota pun mengumpulkan para startup dalam acara tahunan Startup Asia Berlin di Balai Kota pada Kamis, 1 Agustus 2019. Dalam acara ini para startup dibagi ke dalam kelompok-kelompok dan diminta untuk mendikusikan hal-hal apa yang dapat dikerjakan bersama antar dua negara. Ada 10 topik yang menjadi pembahasan, seperti:
How to make the Low Carbon Development Initiative (LCDI) real for the people of Indonesia?
Waste Management
Access to (Drinking) Water
Seamless urban mobility
Traceability of transportation, Real time data
Open data
Smart collaboration with citizens between the smart city unit and the startup community, open innovation
Smart collaboration
Future collaboration between Berlin and Jakarta
Ideas for the Jakarta-Berlin Accelerator
Dalam interview singkat dengan Business Lounge Journal, Duta Besar Republik Federal Jerman untuk Indonesia, Dr. Peter Schoof menyampaikan bahwa beberapa yang menjadi permasalahan di Ibu kota tercinta ini sama dengan permasalahan yang dihadapi di Belin, seperti masalah transportasi umum yang ramah lingkungan atau permasalahan dalam pengelolaan air. Melihat bagaimana para startup muda dari beberapa negara berkumpul bersama untuk dapat memecahkan permasalahan yang ada, juga membuat kegairahan di hatinya. "Kerja sama ekonomi yang dibangun secara global akan menjadi sangat penting dari yang saya pikirkan jika dua yang penting yaitu Berlin dan Jakarta dapat bergandengan tangan dan melakukan suatu kerjasama dalam merumuskan solusi dari permasalahan kedua kota," demikian diungkapkan Dr. Peter Schoof. "Juga sangat luar biasa ketika sesi generasi muda kreatif seperti ini dilakukan di Indonesia, saya sangat senang," demikian dilanjutkannya.
Ikut serta menyelenggarakan acara yang bertajuk "The Good Idea Jam" ini adalah Enpact (sebuah organisasi nirlaba di Berlin yang memberikan program bimbingan kepada para wirausahawan). Bertindak selaku Director Asia Enpact, Oleksandra Kovbasko menyampaikan bahwa Startup Asia Berlin merupakan sebuah multilateral network yang dapat dimanfaatkan para startup yang ingin mencari kesempatan memasuki pasar di negara lain. Melalui Startup Asia Berlin diharapkan para startup dapat bertemu dengan investor maupun potential partner. Oleksandra berharap melalui Startup Asia Berlin ini dapat ditemukan sebuah kolaborasi yang dapat direalisasikan.
Selain itu, Hi-Indonesia Consulting juga turut serta menjadi penyelenggara acara ini. Sebuah platform yang membangun ekosistem startup secara internasional ini didirikan oleh Daniel Tumewu yang sangat menyadari bahwa ekosistem entrepreneurship di Indonesia sedang berkembang dan ada begitu banyak kesempatan yang dapat ditemukan di sini. Hanya dibutuhkan pengetahuan, kreativitas, dan profesionalisme. Itulah sebabnya dibutuhkan sebuah ekosistem yang dapat mengakomodir kolaborasi antara 2 negara. HI Indonesia mengambil peranan untuk membantu para startup Indonesia untuk dapat berkembang dan memasuki pasar yang tepat.
Business Lounge Journal/VMN/BLJ