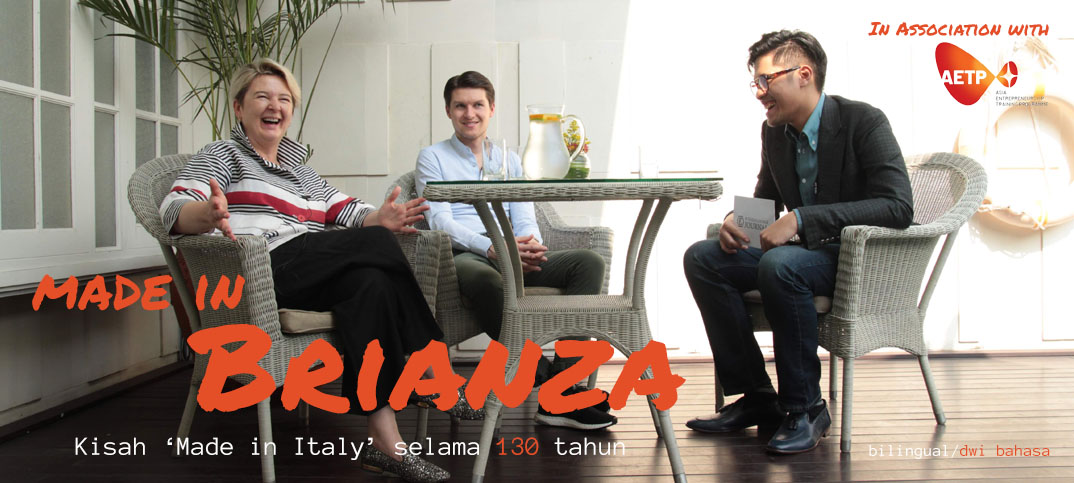 Didirikan di tahun 1889, perusahaan mebel Bonacina1889 telah melalui berbagai cobaan waktu dan kejadian yang mampu membuat perusahaan biasa ketakutan. Selalu dijalankan di satu keluarga; keluarga Bonacina, perusahaan yang didirikan oleh Giovanni di Brianza, Itali ini telah bertahan melewati dua kali Perang Dunia dan sekarang telah tiba di tangan generasinya yang keempat, Elia Bonacina. Masih menggunakan rotan Indonesia sebagai bahan baku utama, sejak Giovanni mengenal rotan dari kolonial Belanda di Indonesia bertahun-tahun yang lalu, Bonacina1889 telah mengolah rotan – material yang dianggap mukjizat pada masa itu karena fleksibilitasnya – menjadi berbagai mebel gaya Eropa, yang bahkan beberapa darinya dipajang di museum-museum ternama seperti MoMA di New York, Vitra di Weil am Rhein, dan Triennale di Milan.
Apa rahasia dari perusahaan ini; bagaimana perusahaan ini bertahan, bagaimana warisannya diwariskan, dan apa masa depan yang menanti? Kami mewawancarai Elia beserta ibunya Antonia Bonacina untuk Special Report kali ini.
Established in 1889, the Bonacina1889 furniture company has endured numerous test of times and events that would make common companies squirm. Always runs in one family; the Bonacina family, this company that is established by Giovanni in Brianza, Italy has endured two World Wars and continued today in the hand of its fourth generation, Elia Bonacina. Still using mainly Indonesian rattan as its main raw material since Giovanni discovered it from the Dutch colonists in Indonesia all those years ago, Bonacina1889 has been turning rattan – considered a miraculous material for its flexibility at that time – into delicate furnitures of European likings, and even some of the pieces found themselves in exhibits of numerous prestigious museums, such as MoMA in New York, Vitra Design Museum in Weil am Rhein and Triennale in Milan.
What is the secret of the company; how does it endure, how does its legacy passed and what is the future that awaits the family? We interviewed Elia and his mother, Antonia Bonacina for this Special Report.
Part 1: Melewati Dua Perang Dunia/ Through two World Wars
Part 2: Rotan Terbaik dari Indonesia/ Best Rattan from Indonesia
Part 3: Tips untuk Bisnis Keluarga yang bertahan 130 tahun / Tips for an enduring 130 years of Family Business
Michael Judah Sumbayak adalah pengajar di Vibiz LearningCenter (VbLC) untuk entrepreneurship dan branding. Seorang penggemar jas dan kopi hitam. Follow instagram nya di @michaeljudahsumbek