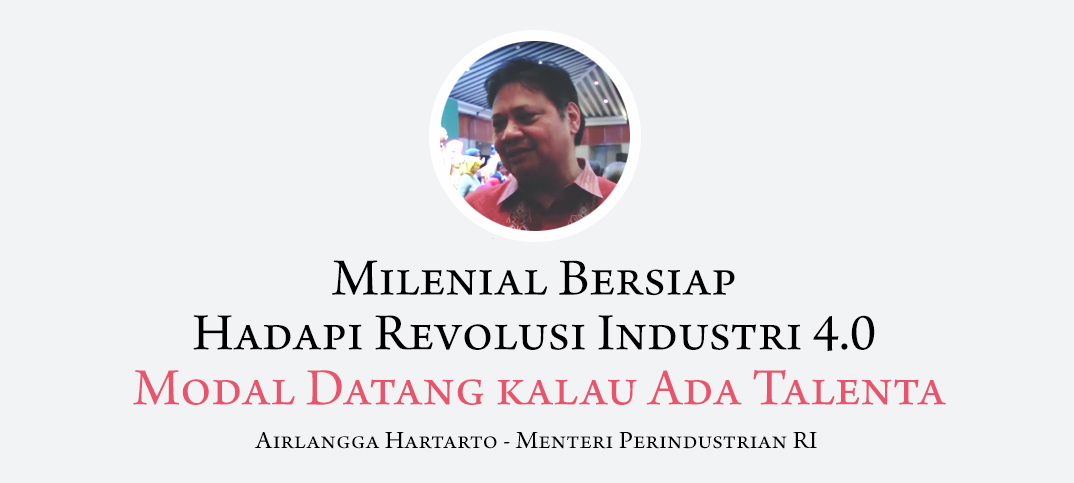 (Business Lounge Journal – Wise Man Says)
Kepada Business Lounge Journal, Menteri Perindustrian Republik Indonesia mengatakan bagaimana milenial harus bersiap menghadapi Revolusi Industri 4.0 dan memanfaatkan kesempatan ini untuk mengembangkan diri.
"Kepada milenial, ini adalah kesempatan untuk meniti karir juga untuk membuat perekonomian yang melibatkan banyak masyarakat," demikian diungkapkan Airlangga Hartarto. Namun tidak hanya itu, bagi Airlangga ini adalah kesempatan para pengusaha kecil dan menengah untuk menjadi champion di bidangnya masing-masing. Sehingga adalah menguntungkan untuk dapat memanfaatkan kesempatan yang berharga ini.
"Kita tahu dengan industri 4.0, economic of scope – Small and Medium Enterprise atau usaha kecil dan menengah, bisa menjadi champion, di bidangnya masing-masing," demikian dijelaskan Airlangga. "Jadi manfaatkanlah Revolusi Industri ke-4, karena ini akan membuat kesempatan dan dengan digital ekonomi, maka modal datang. Namun hal yang paling penting talenta para milenial akan tumbuh dan berkembang," lanjut Airlangga.
Ruth Berliana/VMN/BLJ