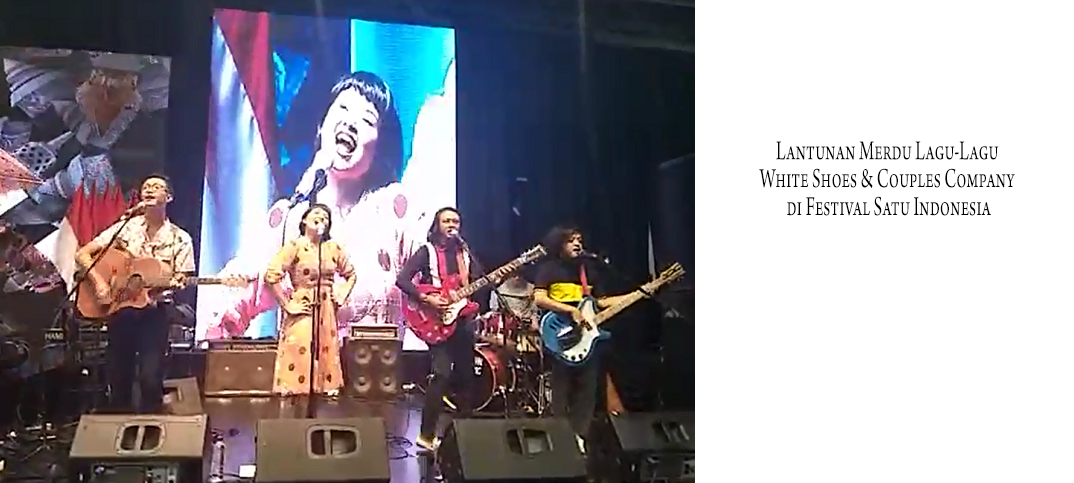 (Business Lounge Journal – News and Insight)
Festival Satu Indonesia yang digelar hari ini di Istora Senayan, Jakarta Selatan, Minggu (10/3/2019), marak dihadiri para musisi muda kenamaan tanah air seperti White Shoes and The Couples Company, Elephant Kind, Polka Wars, Brisia Jodie, Sandhy Sundoro, Dira Sugandi hingga Afgan Syahreza.
Acara Festival Indonesia Satu ini memang dikhususkan bagi para millennial yang bahkan sudah membeli tiket masuk jauh hari sebelumnya. Dari sederet pemusik dan pelantun lagu kenamaan di Indonesia, salah satunya adalah White Shoes & Couples Company (WSATCC), group band Indonesia dengan tema 80-an yang populer di kalangan anak muda Indonesia.
Kelompok anak muda yang tergabung dalam White Shoes & Couples Company ini terdiri dari Ricky Virgana, Saleh, Aprilia Apsari, Yusmario Farabi, John Navid dan Aprimela Prawidyanti Virgana, mereka dikenal sebagai group band anak muda bergenre pop, funk dan jazz.
White Shoes & Couples Company (WSATCC) malam ini menampilkan beberapa lagu menarik, salah satunya dari album mereka yang berjudul 'Vakansi'. Lagu "Melangkah Keseberang" ciptaan Fariz RM mereka lantunkan dengan indah dan memukau kaum muda yang hadir.
Lagu-lagu dari album 'Menyanyikan Lagu-lagu Daerah' tak lupa mereka persembahkan kepada para pengunjung Festival Satu Indonesia.. Salah satunya adalah lagu 'Cangkurileung' dari Jawa Barat yang merupakan salah satu lagu yang membawa group ini menjadi tenar.
Lirik lagu Cangkurileung terinspirasi dari nama burung, namun digubah isinya bercerita tentang kerinduan kepada sahabat-sahabat di kampung halaman. Demikian menurut penjelasan Sari – vokalis dari band tersebut. Selanjutnya White Shoes & Couples Company melanjutkan membawakan lagu dari Maluku.
Sesuai dengan rencana panitia penyelenggara, acara Festival Satu Indonesia digelar untuk menghadirkan performance dari berbagai musisi lintas genre, agar anak-anak muda bisa mengetahui politik melalui musik. Karena musik adalah sebuah bahasa yang sangat universal maka akan bisa dengan mudah diterima oleh semua orang. Tentu harapannya, melalui event ini anak-anak muda mendapat inspirasi untuk terus menjaga optimisme dan tanggung jawabnya terhadap masa depan bangsa Indonesia.

Emy Trimahanani/VMN/BL/Partner for Wealth Management Vibiz Consulting