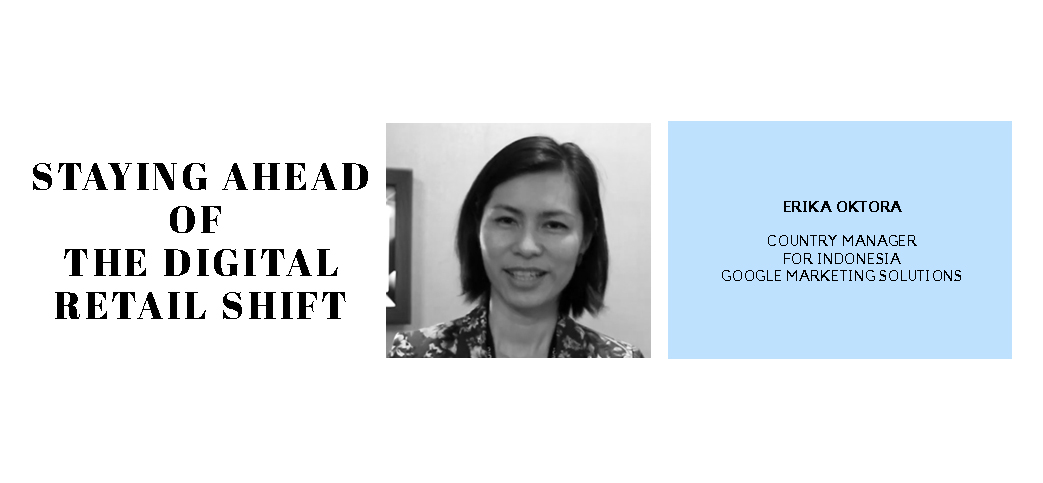 (Business Lounge Journal – Global News)
"Walaupun pembeliannya masih offline tetapi berbagai research yang kita lihat, contohnya seperti mobile searches untuk near me, itu meningkat dengan luar biasa. Termasuk melakukan pencarian toko yang paling dekat, juga meningkat dengan luar biasa serta berbagai pencarian sebagainya."
Google terus berkomitmen untuk memudahkan penggunanya di dalam berbisnis. Itulah yang diungkapakan Erika Oktora selaku Country Manager for Indonesia – Google Customer Solutions. Erika mengungkapkan bahwa dengan perkembangan internet dan smartphone sekarang ini maka data sudah sangat mudah didapat jika kita bandingkan pada masa-masa yang lalu.
"Pengguna internet Indonesia akan semakin meningkat dan kita itu sangat mobile centrist. Karena itu consumer seperti yang kita lihat sekarang ini adalah lebih empowered, karena akses informasinya sangat tersedia kapan saja," demikian Erika menyampaikan penjelasannya.
Erika pun menjelaskan bagaimana saat ini, konsumen memiliki sebuah kebiasaan untuk lebih banyak melakukan research sebelum memutuskan untuk membeli sesuatu. "Walaupun pembeliannya masih offline tetapi berbagai research yang kita lihat, contohnya seperti mobile searches untuk near me, itu meningkat dengan luar biasa. Termasuk melakukan pencarian toko yang paling dekat, juga meningkat dengan luar biasa serta berbagai pencarian sebagainya," demikian dijelaskan Erika.
Bagi Erika, hal yang dianggap penting untuk business adalah bagaimana sebuah proses pencarian dapat dilakukan secara online. Hal ini dapat menjadi sebuah bagian dalam rangkaian bisnis sehingga konsumen dapat memperoleh pilihan. Dengan melakukan pencarian, setiap konsumen akan mendapatkan satu atau dua brands yang kemudian dapat dipertimbangkan sebelum proses pencarian diakhiri dengan sebuah transaksi. Bagi Erika, akan sangat disayangkan jika konsumen melewatkan proses pencarian secara online sebelum membeli sesuatu.
Dalam mendukung konsumen untuk mendapatkan yang terbaik, maka Google pun siap untuk memberikan dukungan. Namun tidak hanya kepada konsumen, Google pun siap mendukung para pelaku bisnis dalam melakukan bisnisnya. "Banyak sekali cara Google bisa membantu. Contohnya kalau misalnya kita ada toko retail offline, maka Google My Business atau Google bisnisku adalah platform gratis yang dapat dimanfaatkan. Ini adalah tahap pertama yang mungkin paling gampang untuk mulai." Demikian Erika menjelaskan bagaimana Google menyediakan platform untuk mendukung pelaku bisnis dalam memulai usahanya. Setelah itu, Google pun akan membantu memastikan bagaimana toko retail offline yang dimiliki pelaku usaha untuk dapat ditemukan oleh para konsumen yang mencarinya.
Sebagai contoh, Erika mengatakan bahwa para pengguna Google dapat dengan mudah mencari laundri terdekat, restoran di Sudirman, dan sebagainya. Tetapi tidak sampai di situ saja, untuk lebih advance, Google memiliki platform seperti google marketing platform. "Jadi all of the advertising platform dari Google yang dapat membantu berbagai bisnis diharapakan akan lebih banyak mendorong offline dan online sales. Namun hal ini juga akan bergantung pada segmen bisnis masing-masing. Pelaku bisnis dapat menghubungi call center Google. The team can help to navigate thru a lot of that. Tergantung kebutuhan masing-masing Google menyediakan berbagai solusi tapi it needs to be tailored by the different need of the businesses," demikian penjelasan Erika.
Ruth Berliana/VMN/BL/Partner in Management and Technology Services, Vibiz Consulting Group