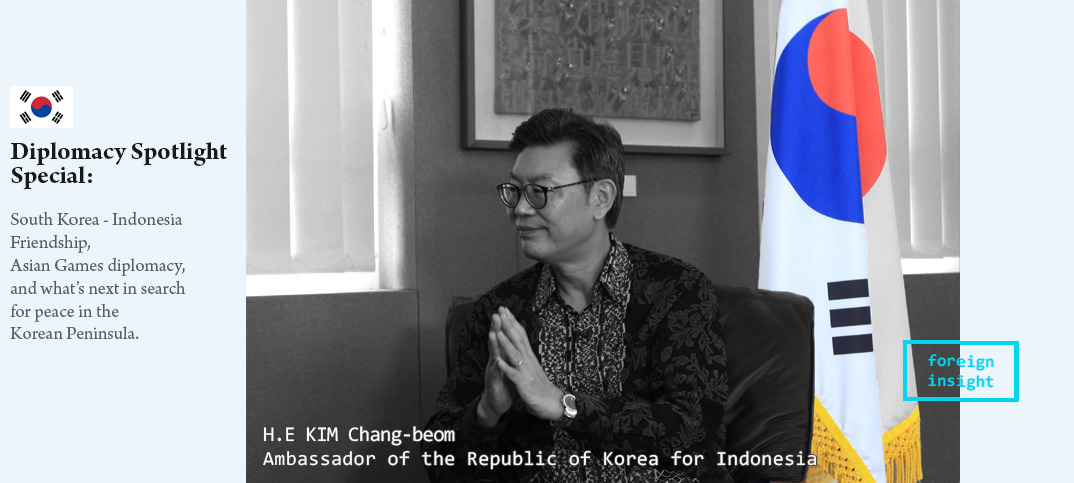 (Business Lounge Journal – Foreign Insight)
[alert type=white ]We do enjoy special strategic partnership between Indonesia and Korea. Indonesia is one and only country out of 10 ASEAN members state that are being labeled as a special strategic partner of South Korea. That shows how important, how valuable the strategic partnership between Indonesia and South Korea are being perceived by the people and government of South Korea.[/alert]
On this episode of FOREIGN INSIGHT, Business Lounge Journal interviewed H. E KIM Chang-beom, Ambassador of Republic of Korea to Indonesia. We'll talk about Diplomacy Spotlight Special: South Korea – Indonesia Friendship, Asian Games diplomacy, and what's next in search for peace in the Korean Peninsula.
BL: Business Lounge Journal
KC: KIM Chang-Beom
BL: Mr. Ambassador, thank you very much for receiving me today. It's such a great pleasure to have this wonderful opportunity. Of course, I have my close friend to really prepped me for this moment. I have a lot of Korean influence back when I was in college. My headmaster in college is a Korean.
KC: Really?
BL: And, I have to say that although he appeared quite strict person at first to me …
KC: Stressing on the discipline?
BL: Yes, discipline, but I ended up learning a lot from him. You know, he doesn't take the usual excuse that we Indonesian usually given when our head is on the line, but I really learnt about discipline, so it's been quite an interesting ride back then. I'm going to ask you a couple of question first.
BL: The bilateral relationship between Indonesia and South Korea has been formed since more than 45 years ago. This longstanding relationship has grown even stronger without any resistance issues from both countries. How do you see this relationship prospect toward the upcoming fifth decade period and beyond? What will be the factors to tie up the bond even better?
KC: Thank you so much, thank you for having me at this prestigious channel, I'm very delighted to be back to Indonesia personally, because I've been serving at The Korean Embassy in Jakarta from 2003 To 2005, so for me it's more like a "pulang kampong ke Indonesia". I've been spending my two years in the early part of 2000. And after 13 years time, I'm coming back to my second home Indonesia, together with my wife and we're very glad that during this my absence of 13 years, Indonesia has been transforming itself quite tremendously and I can feel more dynamism, more of the robustness in the economy and also much more sense of pride on the part of the people of Indonesia, so I do congratulate you and all the people of Indonesia on making a big rise, making Indonesia greater.

As for the bilateral relationship between Indonesia and Korea, just like you said we are sharing common values, values upholding democracy, market economy, plural law, and also more importantly, values that are binding together: families and friends. So those are the common elements that are binding the two countries very tight.

We do enjoy special strategic partnership between Indonesia and Korea. Indonesia is one and only country out of 10 ASEAN members state that are being labeled as a special strategic partner of South Korea. That shows how important, how valuable the strategic partnership between Indonesia and South Korea are being perceived by the people and government of South Korea.

Now we're looking back upon the last 45 years of our diplomatic relations, and also the coming years to come, what we're feeling at this moment is how to substantiate, how to make this quite important close partnership a  bit more substantive, much more forward looking, and also addressing the issues that will confronts both countries together in the future to come.

One of the challenges is how to embrace all the fluctuations that comes from International financial sector and world trading system and also how to protect democracy and freedom in each part of the world, and also how to promote people to people exchange. Those are the challenges that we'll overcome, especially with a sense of "gotong royong".
BL: South Korea definitely is one of the four largest country investors in Indonesia. Even in the latest data, during the first quarter of 2018 South Korea has realized investment in total of US$940 million, rank number three among other foreign investors. Actually, how do the Korean industrialists and businessmen perceive the future of the Indonesia economic potentials?
KC: You rightly touch the upon the fact that Korean investment into Indonesia is growing in comparison with last year, we have a significant growth in our investment to Indonesia. As a whole, business in Korea is growing towards Indonesia potential, potential in Industrial economy, potential in bio industry and potential in lifestyle products. And I think Indonesia has been performing very well in economic currently. We do appreciate quite a consistent and coherent policies made by President Jokowi towards more reform and more de-regulations and hopefully that will also lead us to more interest, more elevated on the part of Korean business community. In the past, Korea economic presence has been more or less focus upon labor-intensive industry like garment, textile, footwear, but now, it has move to capital-intensive industry like steel, petrochemical, electronics, and others. Now it is moving once again to new frontiers of economy, which is related with digital economy, lifestyle products, creative industry, contest industries, food, and healthcare industry. So, I think the competition of Korea's business with Indonesia is getting more diverse, richer.
BL: Is it a sign that we Indonesian are receptive to Korean products?
KC: Yes, because Korean brands and Korean related things are familiar to Indonesian friends, especially the so-called millennial. The young generations are very much in love with K-Pop, K-Drama and K-things. So, I think that is boosting our brand power. And at the same time, Indonesia and Korea are not facing any difficulties issues; no sense of contempt, no sense of conflicts, so I think that gave us extra point for both of our countries.
[alert type=white ]So not just buying foreign jet fighters and foreign military equipment, but at the end of the day Indonesia should be able to develop, and produce and export its own jet fighters, that's where this whole project is now laying in. So Indonesia and Korea joined hands together and come up with new next-generation jet fighters to be produced and to be exported by the people of Indonesia.[/alert]
BL: We knew there is a joint South Korean and Indonesian program to develop an advanced multi role fighter jet KF-X /IF-X. Some of us actually hope that it would compete with latest American jet like Lockheed Martin F-35 or Chinese jet, J-20. What was the program background and how is the progress so far?
KC: KF-X/ IF-X project is a future-oriented late generation firefighter co-development project, which is on the way between the government of Indonesia and the Government of Korea. It's a G to G cooperation project and it's very symbolic because (Indonesia and South Korea) it aims at joining hands together in addressing future challenges to come especially in the adversaries.

We're hoping that this project will be leading us to see the first piloted next-generation jet fighters to be produced in 2021 and then full commercialized production will be starting around 2026. It is very meaningful since that not just sales and purchase, but this is a co-designed, co-development, and co-production, and at the end of the day, we'll see Indonesian PTDI will be able to produce its own jet fighters and hopefully to export it to other foreign countries. So this is a very symbolically, meaningful, important project that we are now working together and we are very much hopeful that this project will make great contributions to the reinforcement of the air force power of Indonesia and elevate the partnership Indonesia and Korea as well.
BL: Beside being symbolic, this is also quite an interesting project, because from what information that we gather, it's a next-generation fighters, in par with Lockheed Martin F-35, so this quite a step forward, don't you think?
KC: Yes it is, I'm not an expert in the whole jet fighters, but I think Indonesia is now aiming at; kind of beefing up its reliance in defense Industries. So not just buying foreign jet fighters and foreign military equipment, but at the end of the day Indonesia should be able to develop, and produce and export its own jet fighters, that's where this whole project is now laying in. So Indonesia and Korea joined hands together and come up with new next-generation jet fighters to be produced and to be exported by the people of Indonesia.
BL: With the recent series progressive peace talks that has been held with; not just North and South Korea, but with the United States and China too, what can we expect next in the quest for peace in the Korean Peninsula
KC: The momentum for peace and prosperity on the Korean Peninsula is now in motion, as you have said from January this year, we have quite a significant transformation in our relations with North Korea, and at the same time, relation between United States and North Korea.

In April we have witnessed the first inter-Korean summit. Meeting between President Moon of South Korea and Chairman Kim Jon Un of North Korea in 11 years time. The last summit was in 2007 and in the last 11 years we don't have any summit meeting between the leader of two Korea. In April and May we have another follow up summit meeting between South and North Korea, then on June 12th there's a historic meeting between President Trump and Chairman Kim Jong Un, took place in Singapore, in Sentosa Island.

And so this series of inter-Korean between US and DPRK summit meeting are paving the way in the Korean Peninsula toward stable and permanent peace. Of course there are still some obstacles still remaining ahead of us; the road is not gonna be easy as we'd expect, the road might be a bit bumpy. The key element that we have to recognize is that we have quite constant and quite frequent exchange and communication among those countries concern, especially North Korea. So what we are expecting at this moment is that we have to engage North Korea in a serious manner also to keep North Korea be at the dialogue table with more seriousness and also help North Korea make substantive and concrete actions toward de-nuclearization. Getting rid of nuclear stockpiles, material, and weapons in the soil of North Korea. And at the same time to anticipate the US – DPRK dialogue to go smoothly so the de-nuclearization process would be going on as we'd expect. At the same time, we do expect these relations among the nations surrounding the Korean peninsula such as China, Japan, and Russia would have been much more constructive dialogue with North Korea as well
BL: So what you're saying that in the future we're going to expect a lot of soft-power policies and negotiation on the table, would you say?
KC: Next month in September, we're expecting President Moon of South Korea to visit Pyongyang, the capital of North Korea to had a meeting with the leader of North Korea and we're also hopeful that the secretary state of United State, Mike Pompeii would be visiting Pyongyang soon, to make a concrete steps towards de-nuclearization of North Korea.
BL: So this will be a really exciting moment for both Koreas
KC: Very dynamic
BL: yes
[alert type=white ]there's a strong bond of friendship, very high level of mutual understanding of each other's culture and lifestyle, very important elements in further cementing; strengthening the ties of cooperation between 2 people, especially through sms, social media, and Youtube… So what's important is to link heart to heart…"hati ke hati" diplomacy which is important in our diplomacy.[/alert]
BL: The millennial generation in Korea will, sooner or later, take part in both governmental and private sector leadership. Do you see any changes that will come with this generational transition? Do you think this might somehow change the pattern of Indonesia – South Korea long ties of partnership?
KC: I think the emergence of millennial in the major play, whether on private sector or public sector is already kind of…given things. I think it's something that we have to take into a very serious account when we're charting out policies related to reaching out to the people in foreign countries. Especially between Indonesia and Korea, there's a strong bond of friendship, very high level of mutual understanding of each other's culture and lifestyle, very important elements in further cementing; strengthening the ties of cooperation between 2 people, especially through sms, social media, and Youtube, I think Korea and Indonesia youngsters kind of…living in their own lives in kind of one hemisphere…one global village. So instantly if they found good artist, they can instantly share their comments and preferences in the social media. And I think that's a affecting diplomatic arena as well. So conventionally, diplomats has been focus upon government official and business leaders, but nowadays we are ambassador and diplomats were asked to meet people on the street, on the campus, at the café, at the theater, at the stadium. Those are the kind of new phenomenon that we are witnessing in our diplomacy. So what's important is to link heart to heart…"hati ke hati" diplomacy which is important in our diplomacy.
BL: Couple of days earlier during the Asian Games we witnessed the Unified Korea team walking together hand by hand. And is that you who's holding hand with the North Korean official?
KC: It's not me, it's  prime minister of South Korea with deputy PM of North Korea, they're both invited by President Jokowi to attend the opening ceremony of Asian Games, so they're both next to the President Jokowi and vice President Jusuf Kalla in the royal box of the Gelora Bung Karno stadium. I was watching the whole joint march by the North and South Korea, marching together into the stadium, and it's very touching – moment of emotional kind of joy, because it's a symbolic, it illustrate how the Asian Games can be portrayed as the festival for peace and harmony.

In Jakarta, there's a women basketball game that is participating by one united single team, composed by both North and South Korea team together, so we hope to see them play in the final match of the women's basketball match. And there's also two other sport events that are now played by one single united Korea team, which is canoe dragon boat and rowing boat, those two games are being held in Palembang. So I will fly to Palembang to cheer them up.
BL: What do you think about Indonesia and what are you favorite things about Indonesia or Indonesian?
KC: As I said earlier I decided to come back to my second home, Indonesia because me and my wife fell in love with Indonesia when we're here on 2003 to 2005. So I still recall some of the good memories when I visited Bali, Jogjakarta. And most importantly, the most important memory that I cherished all my life when I visited Banda Aceh when tsunami hit the place. I was here in Jakarta in December 2004 when tsunami hit the northern part of Sumatra. I was the kind of the coordinator to link all the rescue and recovery team of Korea to be dispatched to Banda Aceh, even I flew up to Banda Aceh and stayed there for about several days to coordinate the recovery and rescue efforts on the site. I still recall some of the very devastating scene that I witnesses in Banda Aceh. I heard the whole area now very … and fully rehabilitated; so I'm very glad to hear that. I'm looking to visit those areas in the near future.

So one thing that I really love from my experience in Indonesia is the sweet smiles of the people of Indonesia. Whenever I'm having difficulties, they just kind of keep the smile on their face and so it's kind of the positive way of thinking, enduring difficulties, challenges. So during my new service here in Indonesia this time; I'll also find new discoveries including Indonesia culinary taste, travel destination and meet new friends. Mudah-mudahan?
BL: So what would be your most favorite dish?
KC: Well, I usually order some udang sriwedari, there's also other dish that I enjoyed; multi-flavored sate, I eat nasi padang, nasi ledik from Bali, I also love the semur and rending and whatever dish.
BL: That's almost everything.
KC: Yeah, normally I'll go out for lunch or dinner with my wife over the weekend, trying to find new tastes.
BL: What do you think needs changing from Indonesia and/or Indonesian?
KC: Indonesia is a country of huge potential, I think people right now witnessing their potential. Their power – power to become greater. And the leadership, especially under President Jokowi; that speed has been re-kindled, now it's time for more actions, more actions, and more joint actions, joint endeavors from every sectors of the country. Not only from governmental sector, but from private sector, academia, specific communities. I think Indonesia has a very good tradition of gotong royong, I think there's one thing that I may suggest; maybe you can rejuvenate, reactivate the speed of gotong royong at the local level, because now there's a very rapid pace of organizations is on the way in every big cities. So I think in order to address social inequalities, the disparaties between well and underdeveloped area, you'll  need to have the kind of sense of collaboration and cooperation on the local level.
BL: So gotong royong has been our tradition for so long, but according to your opinion, do you think it's started to deteriorate at some point?
KC: No, I think it's should to be more promoted. There's a speed that has been kept in the genes of Indonesian people, that should be really pulled out, re-kindled and re-juvenated.
Michael Judah Sumbayak adalah pengajar di Vibiz LearningCenter (VbLC) untuk entrepreneurship dan branding. Seorang penggemar jas dan kopi hitam. Follow instagram nya di @michaeljudahsumbek