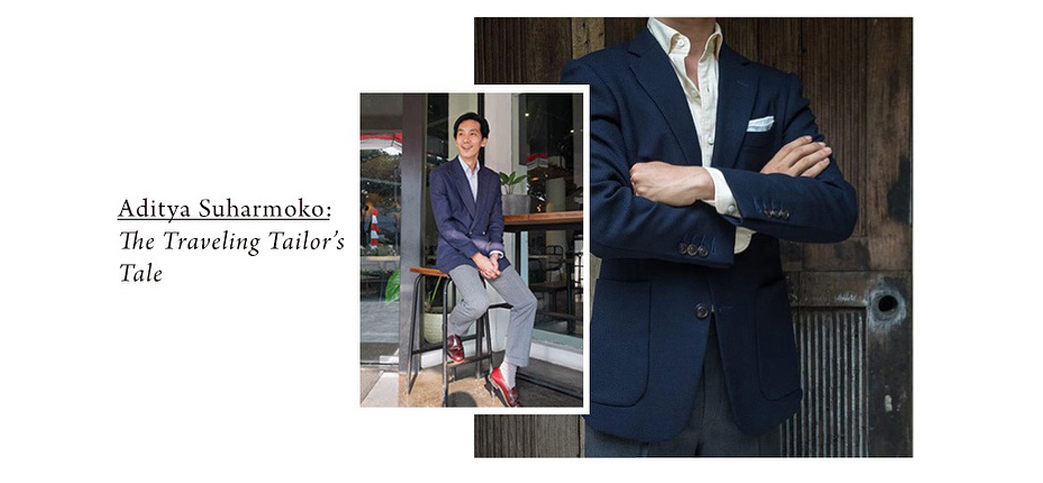 (Business Lounge Journal – Etiquette Directory)
Might be a word that is either lost or perverted in today's industrialized spree, but thank God, not for some.
"I quit my job three years ago because I wanted to do this".
Aditya Suharmoko, finance journalist for Jakarta Post, one of the most prominent news outlet who were aimed for English-speaker natives and expatriate in Indonesia, and later on Reuters, decided to drop what he's been doing for long so he can pursue his dream.
"I discovered my love for fine menswear tailoring when I was staying in London for a year with my wife; she received a scholarship to study there."
The British Charm.
London, is indubitably one of the world's most celebrated Capital of classic menswear. Prominent brands such as Gieves & Hawkes, Chester Barrie, and Mark Powell are some few of many tailoring artisan of indisputable repute that nestled along the famous Saville Row and beyond. The nation itself is famous for producing high-quality wool fabrics with specific area has specific characteristic that differ from one another. Either it's the image of the British Royal Family members in a three-piece suit standing in a regal manner; or the movie embodiment of world-famous secret agent from Ian Fleming's books, all suited up in black tuxedo with a license to kill, the British tailoring charm has continue to bewitch the world, and Aditya.
"My wife hesitant the first time I want to do this" he laughed. "She told me that I don't have any clue about tailoring…which is true."
The Allure of "Soft-Tailoring"
Deeply fascinated by the legendary Anderson & Sheppard, Adit desire to bring about the art of "soft-tailoring" home. "Soft-tailoring", simply put – is an exquisite method of tailoring that highlights the importance of lightness, comfort and ease of movement in men's jacket. The chest and shoulder area of soft-tailored jackets would have to be non-restrictive to the wearer; which can be very challenging to make. This kind of tailoring is famous in Europe, especially in England and Napoli. Aditya self-taught himself from the internet as many as he could, and absorb as much as he could. He established the A&E tailor and dive into the world unknown to him after a time of much learning. Established his workshop in a busy West Jakarta area but haven't claimed a boutique of his own, Aditya live his new life; from financial analysis – to a travelling tailor. Always constantly on the road, fulfilling client's appointment, one call at a time.
And as he reminiscing the story of how he gets into this tailoring business, he recalls some of the difficulties and hardships that he faced.
Learning fast.
First problem are the cutters.
"The fabric cutters in Indonesia are hell-bent on the old pattern which they already know of, it's difficult to ask them to change."
It takes a lot of time, but he managed to get what he wants.
Second, the market preferences.
"Save for special occasions, Indonesian rarely wear suit or sport jacket."
During one of Indonesia's biggest wedding fair, Aditya learnt that he lack in tricks up his sleeves, when it comes to competing with other longer-standing brands.
"I put my mannequin there, hoping for people to respond. I think to myself that whoever attracted would stop by. I was mistaken."
He learnt on the first day that he has to take a more active role, so he printed a stack of flyers overnight and walks around handing it the day after. It works. But the lesson didn't stop there.
"Then, I learnt again that you shouldn't approach the groom, you should approach the bride…And after that people would ask for a bundle, which I didn't even prepare myself at all." He laughed. "Other brands seems already knew about these, except me!"
Learning fast, he managed to captivate and sell to a number of people.
"We do not put limitations for our customers…I would say that we never ask for a fortune – we are relatively affordable. People are more than welcome to try what A&E has to offer. That being said…we keep on working to improve our qualities, avoiding stagnation at all cost."
Adit saw a bright future in the elegant menswear business. According to him, the perception in the market has gradually change. People are getting more and more receptive towards his brand.
Business Lounge Journal/VMN/Aditya Suharmoko