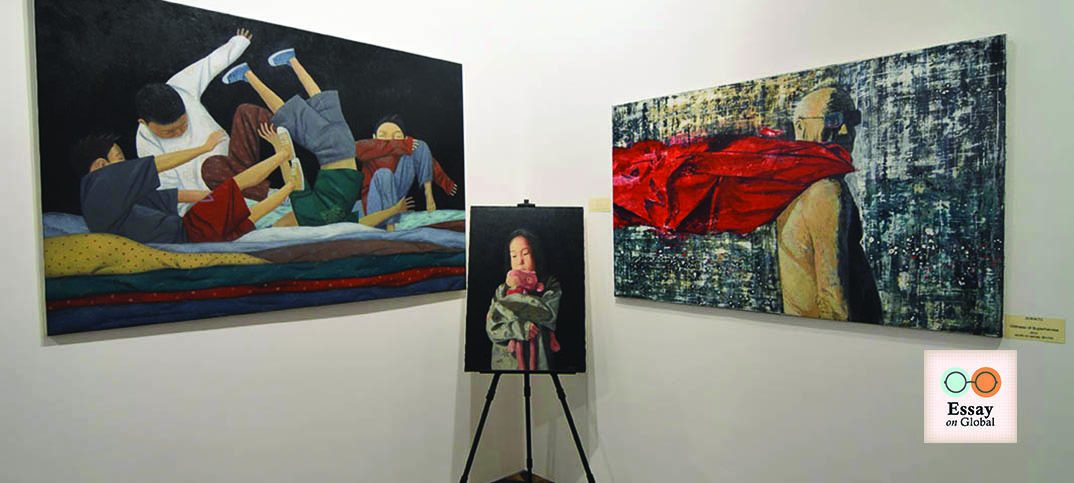 Art sells. That we all know very well.  But how much does Indonesia really measure the value of art and culture? Although we acknowledge its significance, and quoting my interview with Dr. Georg Witschel, His Excellency Ambassador of Federal Republic of Germany in 2016; '(Indonesian) People are very good in turning almost everything, every metal or wood into art. People are very good simply to get together, sing a song, do a dance and do that in a way, which is really remarkable', one would not argue on how art has greatly contributed to national identity and pride.
Although it's a matter of a scholarly debate whether we're currently experiencing an "art boom" today and whether Jakarta will soon be one of the world's art capital, one thing is certain: art has begun to take a greater spotlight. The first Art Stage Jakarta in August last year released a positive report of 'strong turnout and sales', with more than 15.000 visitors having viewed its range of artworks from local and foreign galleries who participated in the fair over three days.
Quoting Agus Suwage on Griffith Review, 'It used to be that parents cried when their children said they wanted to be artists, well not anymore,' as local artists gain more recognition worldwide and some even score big at Christie's. Indonesia's art scene has transformed itself today as we witness the national gallery and a number of private galleries knocking down traditional barriers that cast art in obscurity for decades…by making it affordable to enter – or as a non-profit organization.
The policy of non-profit or affordable entry is not a new thing; In Great Britain for example, anyone could view the great works of Mondrian, Mark Rothko, and Wilhelm Sasnal for free at Tate Mod. The non-profit nature of this policy creates greater accessibility, thus allowed anyone to appreciate art better. But if there were no sales involved, how are these organizations contributing to national growth? And how significant are they? One should not be obsessed about tabulation and measurement when it comes to art, as it can appear peculiar or even outrageously inappropriate, but on public's behalf; especially the future generations, the value of art must be demonstrated.
The Arts and Economic Prosperity
Art has received growing attention from respected economists such as the celebrated economist William Jack Baumol, the author of Performing Arts: The Economic Dilemma, alongside others such as the British economist Mark Blaug and Edwin G. West. But maybe it's the American for the Arts organization who's truly dedicated for the non-profit art study. Annually, this organization releases a report of the economic impact of non-profit arts and culture organizations and their audiences. Utilizing a tool called 'The Arts and Economic Prosperity Calculator', it estimates the impact of non-profit arts and culture organizations to employment, surrounding residence, and to the state and local government represented and proves that it can be calculated. In the 2016 report, the direct economic impact of expenditures was measured during the fiscal year of 2010 for the State of Delaware, a state with a population roughly equivalent with West Jakarta: Delaware spent a total expenditure of $142.3 million. Calculating the impact of this disbursement with said tool, has resulted in: 3,868 full-time equivalent (FTE) jobs, $112,3 million in resident household income; this number shows how much local resident-owned business around said establishment such as restaurants, cafes, hotels, souvenir, gift shops, and others could benefit from non-profit establishments. Finally, there are revenues of $1,7millionfor the local government and$8,2 million for the state government through licences, fees and taxes.
This calculation demonstrates how much non-profit organization could benefit and enhance the income in its surrounding area and local government simply by existing. Although it seems like a stretch for Indonesia, it has been proven that the field of art and culture is capable of supporting state's growth in the United States.
What about Indonesia?
'This is a country of musician, this is a country of guitar players, this is a country where everyone sings, this is the country where everyone dances, and maybe for many years this has been seen as distraction from development. There was always an idea where people shouldn't be dancing, people shouldn't be singing. They should be working in the paddy field, they should be working in the field, and they should be working in the factory. But the world has change', said His Excellency Mr. Patrick Herman, current Ambassador of the Kingdom of Belgium for Indonesia.
Emotion is a powerful thing. Whether to soothe or provoke, to bring forth calm or calamity, one cannot argue that every piece of art, every score, motion and all, contains the emotion of its artists, channelled to bewitch its audiences. And one who travels Indonesia from east to west would say without doubt, that Indonesia indeed is 'a nation of artists'. But how much exactly would art benefit our economic growth?
Renitasari Adrian, program director at Bakti Budaya Djarum Foundation, a non-profit organization that established the edutainment public space Galeri Indonesia Kaya in 2013, which introduces Indonesian cultural tradition with a modern approach, equipped with digital technology and an amphitheatre auditorium, in which all facilities can be visited and used – for free, explained that within 10 years, the foundation are planning to keep the interest of the people growing first, so that traditional culture and performing arts can be a part of their lifestyle. She mentioned about the importance of establishing the market, as well as prevailing buying power, or else; having an art centre would be a redundancy. According to her, right now the foundation is still trying to create the awareness, slowly and methodically. According to Nin Djani, an independent curator and communication manager at Suar Art Space, here in Jakarta, small non-profit movements and institutions has begun to pop everywhere, and are doing art at grass-roots level for non-profit objectives, for example: Ruang Rupa, an organisation of artists who usually conduct mural projects in kampung and organize activities at their (new) base in Gudang Sarinah, Pancoran. There's also Kelas Pagi, run by the celebrated photographer Anton Ismael, where he and his team offers free photography lessons.
Those who works at financial Industry, however still sounds their scepticism, mainly because the people's interest on art is not yet big enough for those non-profit organizations to be lucrative.  'Bank would consider art (object) as an investment…once the artist is dead. You can't even put it as collateral unless you sold it first at auction. Our generation is not educated enough to have the curiosities necessary to explore art.' Said Raka Siga Panji Prasmudji, a banker at South Jakarta.
But despite all the pros and cons, huge efforts were still made, and optimism is still felt. 'It is better for them to be the 'followers' first and go to watch the show, then afterwards we can take the time to build the notion of performing arts as part of their lifestyle…Like K-pop for instance has been around in Korea for 30 years before its popularity, and the same process happened in other countries like Singapore, Australia, and many more.' Said Renitasari Adrian.
During an interview with Business Lounge Journal, Lorenzo Rudolf, founder and president of Art Stage Singapore and Art Stage Indonesia makes a comment regarding the growing interest toward art in Indonesian millennial from the 'selfie culture'. He said, 'I tell you…if somebody takes a selfie in front of artwork that means already; he wants the artwork in his back and it means there's already an interest in art. And that means already okay, it's a first step towards art…we have to build it from the zero – up. Clearly, nobody came or was born in this world as an expert in art.'
Welcoming this optimism, a new museum called The Museum of Modern and Contemporary Art in Nusantara, or Museum MACAN for short, at West Jakarta will soon be open at November this year with affordable entry concept, and hopefully others would follow its path.
So now, with the opportunity still here, what needs to be done? 'Government, non-profit organization, private organisations, media and public need to cooperate together to support and develop this industry.' Said Renita Adrian. So with joint efforts from the government to provide proper data availability, and private organizations to provide investments and keep building up the interest towards art to the generation today; give it some time, and the appeal of art industry from the non-profit organization – and art as a whole, as economic growth would be in a greater spotlight.
Michael Judah Sumbayak adalah pengajar di Vibiz LearningCenter (VbLC) untuk entrepreneurship dan branding. Seorang penggemar jas dan kopi hitam. Follow instagram nya di @michaeljudahsumbek