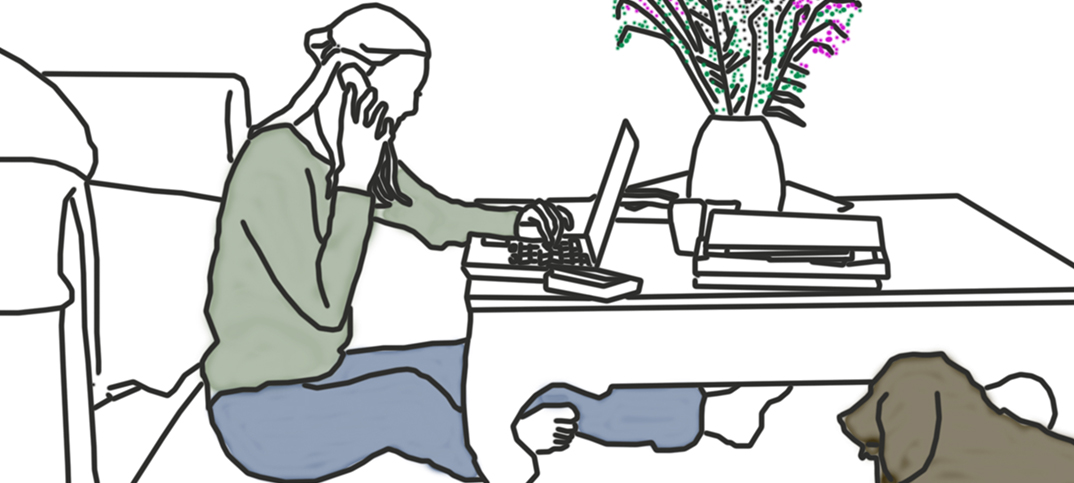 (Business Lounge Journal – General Management) Betapa asyiknya bila bisa bekerja dari rumah, terbayang bangun dengan mengenakan piyama dan belum menggosok gigi, tapi sudah memegang notebook. Sementara sarapan terhidang dan suasana nampak tenang di rumah jauh dari hiruk pikuk kemacetan menuju kantor. Sesekali mungkin saat bosan, dapat saja pergi keluar dan bermain dengan hewan peliharaan. Banyak orang berpikir bahwa dengan suasana kerja seperti itu apakah masih bisa berkonsentrasi bekerja? Apakah saya masih bisa memiliki kinerja sebaik apabila saya bekerja di kantor? Saya sendiri belum punya pengalaman tentang hal ini.
Beberapa artikel yang saya baca tentang bagaimana sukses bekerja dari rumah, memberikan wawasan bagaimana sukses bekerja dari rumah.  Beberapa hal yang harus diperhatikan agar kinerja tetap terjaga adalah:
Office dress at home
Kiat sukses bekerja dari rumah sederhana sekali, kenakanlah pakaian kantor sekalipun bekerja dari rumah. Sering kali karena suasana kerja tidak berbeda dengan kehidupan sehari-hari, maka cenderung akan menggunakan pakaian yang santai pada saat bekerja dari rumah. Hal ini patut dihindari, sekalipun bekerja dari rumah, tetaplah menggunakan pakaian seperti bekerja di kantor.
Have office room at home
Rumah yang juga kantor perlu menyediakan ruangan yang khusus tempat bekerja. Usahakan tetap ada ruangan yang formal, jangan bekerja di sembarang tempat. Ruangan ini memberikan suasana dan disiplin kerja terjaga, ubahlah beberapa ruangan anda untuk nyaman bekerja.
Be discipline
Hal yang tidak kalah penting adalah mengatur waktu kerja secara regular, tetaplah masuk ruangan kerja pada jam kantor. Kebiasaan ini patut dipelihara agar memanfaatkan waktu dengan teratur. Hindari kebiasaan terlambat dalam memulai kerja, semuanya perlu berjalan sesuai skedul.
Don't forget to break
Selain keteraturan dalam pola waktu yang ada, diperlukan juga keteraturan dalam memberi waktu untuk beristirahat. Istirahat lakukan secara teratur pada jam makan siang. Jangan juga berlebihan dalam beristirahat dan jangan tidak beristirahat sama sekali.
Keep Clean
Bekerja dari rumah cenderung tidak memperhatikan kebersihan diri, mungkin bisa belum mandi sudah mulai bekerja " Toh tidak bertemu dengan orang lain!" begitu anggapan banyak orang. Hal ini harus dihindari, sebab bisa menimbulkan kebiasaan yang jorok dan tentu saja membuat turunnya semangat dalam bekerja.
Walaupun beberapa hal perlu diperhatikan dalam bekerja di rumah, namun applikasinya tergantung juga jenis pekerjaan yang dipegang. Kalau pekerjaan sebagai konsultan, pembicara manajemen praktis memang memerlukan  standar kebiasaan kerja yang formal harus tetap ditegakkan sekalipun dari rumah. Sebaliknya bila jenis pekerjaan yang sangat teknis, seperti bisnis pertanian, perkebunan, maka hal-hal yang dilakukan lebih bersifat informal. Prinsipnya siapkan batasan-batasan saat memutuskan bekerja dari rumah untuk mencapai sukses.

Fadjar Ari Dewanto/VMN/BD/MP Business Advisory Division, Vibiz Consulting, Vibiz Consulting Group