(Business Lounge Journal – Special Report)
"Every great architect is – necessarily – a great poet. He must be a great original interpreter of his time, his day, his age." – Frank Lloyd Wright (1867 – 1959)
Colosseum, Thermae Diocletiani (Baths of Diocletian), Torre di Pisa (Tower of Pisa), Duomo di Milano, and Cattedrale di Santa Maria del Fiore tell us how Italian architecture flourished fast which then affects Europe, and even the world. It has become historical evidence that Italy has been one of the world forerunners in architecture. Romanesque architecture era was one of the most fruitful and creative periods in Italian architecture, with several masterpieces as well as Renaissance architectural movement in the late-14th to the 16th century have graced how Italy and countries in Europe look today.
Arches, domes, stained glass windows, also columns have colored Italian cities with about 100,000 monuments of all varieties (museums, palaces, buildings, statues, churches, art galleries, fountains, historic houses and archaeological remains).
Italian architecture continues to grow until the time of Neoclassical and 19th-century architecture and modern architecture which also affect global architecture.
Italy is at the forefront of modernist and sustainable design with a series of names such as Giò Ponti (1891), Carlo Scarpa (1906), Giuseppe Terragni (1904), Ludovico Quaroni (1911), Giancarlo De Carlo (1919), Gino Valle (1923), Aldo Rossi (1931), Renzo Piano (1937), Massimo Scolari (1943), and many others. They made a lot of spectacular building and design in their era.
Now, Italian architect list keeps increasing, also with the name of Claudio Lazzarini, one of Italian architect who founded Lazzarini Pickering Architetti on 34 years ago together with Carl Pickering who was born in Sydney and moved to Italy in 1980 where he completed his degree in architecture.
Lazzarini Pickering Architetti which founded in Rome, Italy, has earned international recognition for its successes in various fields of design: from architecture to the renovation of historic buildings, from the design of restaurants and hotels to the fields of nautical design, industrial design, graphic design, and branding. Lazzarini Pickering Architetti has recently designed Da Maria, Italian Pizzeria & Bar located in Petitenget, Bali.
Both architects are completely aware that now the public has more awareness of architecture and design and this reality affects the architectural world. Architecture has also since become a status symbol.
Claudio Lazzarini and Carl Pickering tell us about their customer, design, and dream. They also have to listen to their clients' idiosyncratic desiderata, so they can take the designs in unheard of directions.
Generally, people are more interested now to live in a cutting-edge contemporary home. This is a fortunate result of wanting to be part of contemporary culture around us, to live daily in "L'ésprit du temps".
BL: Business Lounge Journal
CL: Claudio Lazzarini
CP: Carl Pickering
BLJ: Lazzarini Pickering Architetti was established in 1982, would you please describe the difference of people awareness about of the art of architecture and interior design in that period compared to current period?
CP: We began in an age when not even the telefax existed. I think we received our first telefax (through a post office) in 1985. Today everything is instant. Now with Instagram, there is an overdose of images. On one hand, it is very exciting, on the other, there is a need to decipher those images, to understand what will remain. We try to keep out of this constant flow and acceleration of the visual. We try to patiently create beautiful buildings for clients we like who normally become friends.

I think we have always been lucky in finding clients on our same wavelength.  We are very good listeners and our design approach is very elastic. The interaction with the client is essential, we create our projects together with our clients. I would say our clients have always been very aware of architecture and design. Most of our clients are/were art collectors in one way or another. Perhaps generally there is now more awareness of architecture and design.

Architecture has also since become a status symbol. The private museum or foundation has become "de rigeur" for the super-rich. The creation of a contemporary art collection goes hand in hand with the desire for a spectacular building to house it in. Unfortunately, these buildings are often designed more as monuments to the architects rather than spaces to exhibit art in.

Generally, people are more interested now to live in a cutting edge contemporary home. This is a fortunate result of wanting to be part of contemporary culture around us, to live daily in "L'ésprit du temps".
BLJ: Do you have the millennial customer? Can you describe millennial preference of architecture? Does their unique perspective affect architecture and interior design?
CP: Our clients are traditionally older (as we are!). Clients normally arrive at us by word of mouth. We don't publish that much, quite often our clients won't allow us to for reasons of privacy. I think we would collaborate well with millennials. We are certainly very curious about the world around us.
BLJ: What is the biggest challenge on doing your design?
CP: We are proud Jack-of-all-trades. We work in many different fields: from masterplans to new buildings and villas; retail, hotel and restaurant design without forgetting the groundbreaking boats such as Wallypower 118 that we have designed. We design furniture as well as we have also worked in branding with our long involvement with Fendi and later Valentino, Montblanc and even a relaunch strategy for the Ferrero Rocher that Pietro Ferrero requested us to do. Working in these different disciplines requires a very fresh and strategic approach. In fact, we call ourselves "design strategists". Creating the right strategy and design of a project is very challenging if you aren't interested in existing formulae.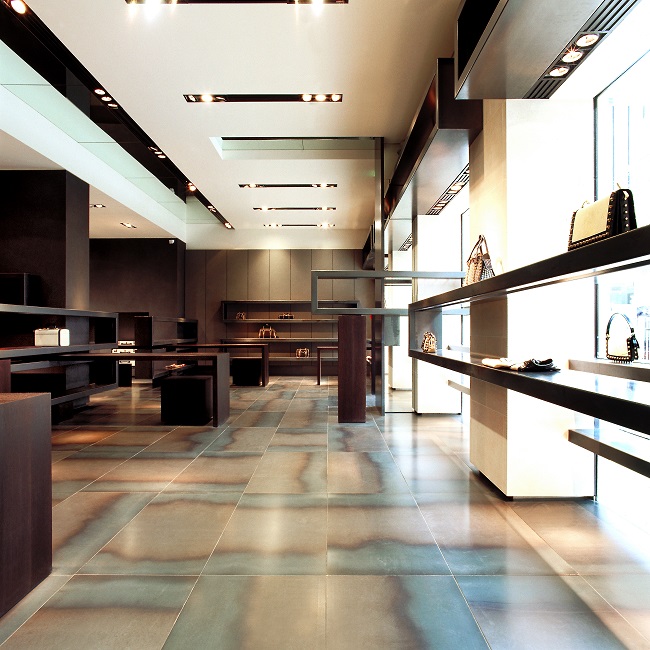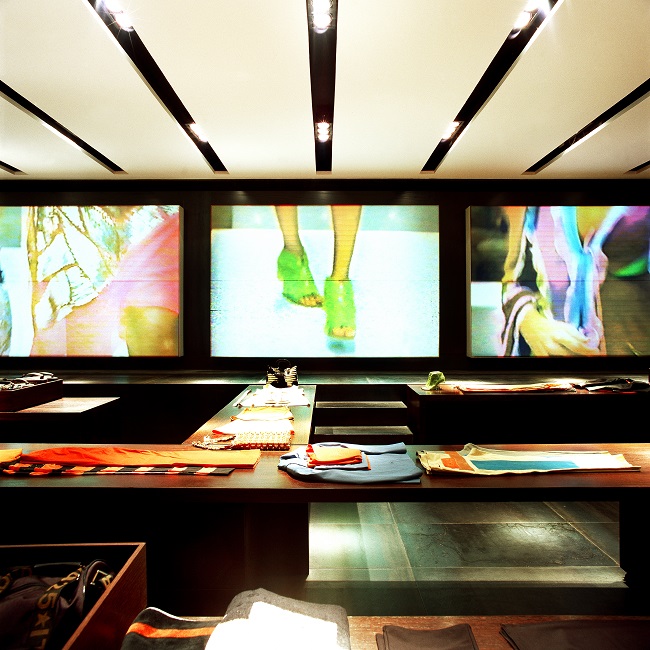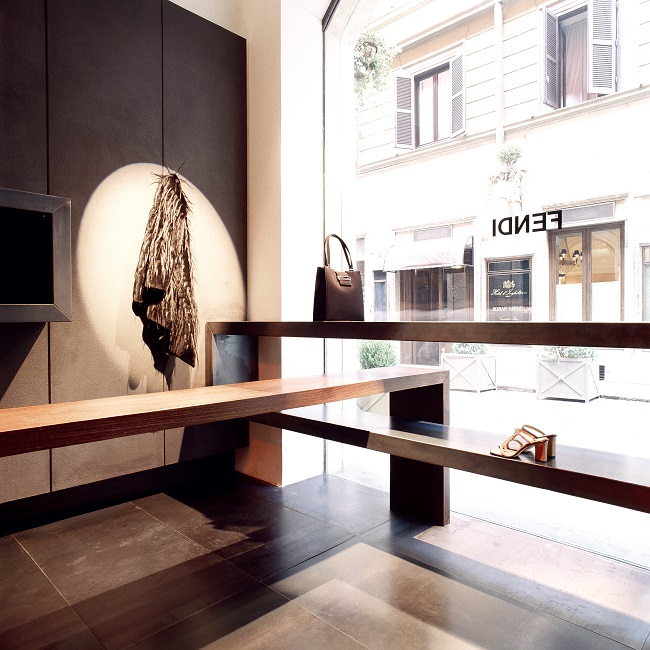 BLJ: Three things that influence your design? How to get a maximum result? Any research prior to design?
CP: We call our work "site specific portraits of clients". Where we build is very important: the traditions and "Genius Loci" or spirit of place of the city town or region are very interesting to study and we reinterpret this in a contemporary, third millennium way. Listening to our clients and interpreting their often idiosyncratic desiderata is very interesting and takes our designs in unheard of directions. These are two vital influences. We are naturally curious, especially towards contemporary art. The creative processes of art affect our work subconsciously. We respect art enormously. We don't copy it which unfortunately others do.
BLJ: "Lazzarini Pickering Architetti (LPA) has gained international recognition for its successes in various fields of design: from architecture to the renovation of historic buildings,…". What is the most memorable historic building that was renovated and why?
CP: I think Positano is our favourite historical building we have worked on. It represents everything we strive for. The collection of antique Vietri tiles from 1700-1890 we put together that decorate the contemporary figures that structure the very classical spaces is one of our most beautiful projects. We visited it again after twelve years and we were touched by how timeless the design was and how beautifully detailed and built it was. We were actually a bit teary when we entered and we started walking around. It is perfect, and we don't use that adjective lightly.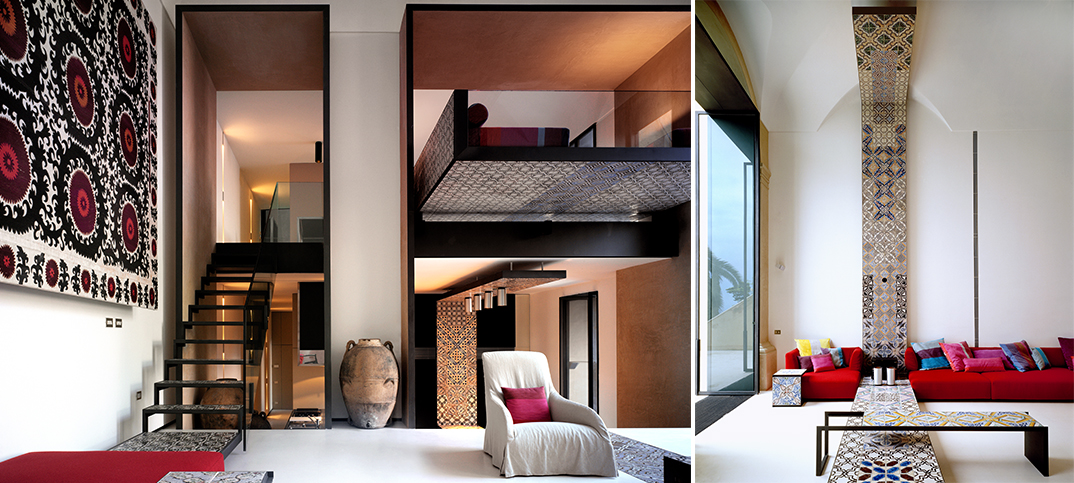 Listening to our clients and interpreting their often idiosyncratic desiderata is very interesting and takes our designs in unheard of directions. These are two vital influences.
BLJ: Tell us about Da Maria design? What inspires you in designing Da Maria?
CL: Maurice Terzini has created some of the most important and famous restaurants in Australia. We needed to create the right portrait of Maurice in Bali. We have created a very Balinese influenced project without looking Balinese. We worked on the strong transitional sense of space in Bali and the enclosed garden paradises one finds there. We have created a timeless Italian reinterpretation of these principles. We used a super graphic on all the surfaces that ties everything in. We have a central axis focused on three fountains.

CP: The central concept was to create an Italian courtyard garden restaurant inspired by those from the 1960's on Capri and the Amalfi Coast. They normally had simple fountains. Rubber trees were also popular at that time with their lush, dark green leaves. Bali is also full of fountains and also rubber trees so there is also a local connection but with an Italian twist.

Giò Ponti created an iconic hotel in Sorrento called il Parco dei Principi in 1960, the first "Design Hotel". He designed everything including the magnificent graphic tiles. It is an iconic riviera hotel.
Da Maria in Bali is very today but timeless. As in all of our projects it has a  classical  quality to it, that won't date. It already feels like it has always been there, that it was the only logical thing to do on that site. A timeless classic, as the other restaurants we have designed for Maurice, without doubt, one of the world's greatest restaurateurs and a continuous inspiration to us".
BLJ: Do you feel that it would appropriate with the Indonesian people ? Or do you have any concern?
CP: We don't really design for particular nationalities. I think our work exudes a serenity that arrives at who experiences it. People sense the seemingly effortless logic and beauty of our projects. This very natural approach creates and makes spaces people enjoy being in: eight to eighty (and beyond) we say.

We didn't want to create a restaurant for Maurice in "Balinese Style". He is about Europe and Italy in particular. We found an idea that was both very Italian and also Balinese: a cool courtyard space that feels like one is in a tropical garden perhaps in Capri o Amalfi. Rubber trees were very fashionable in the 60's in Italy and Bali is also full of them. Passion fruit vines and local creepers, as well as the enormous rubber trees we have planted, will slowly overtake the architecture and soon it will look like a magical garden.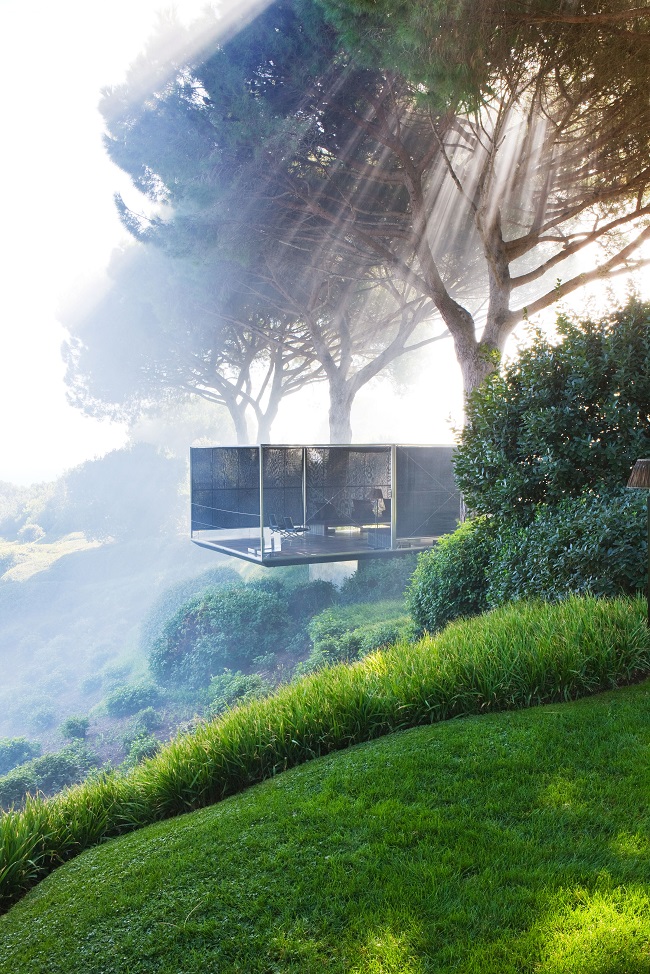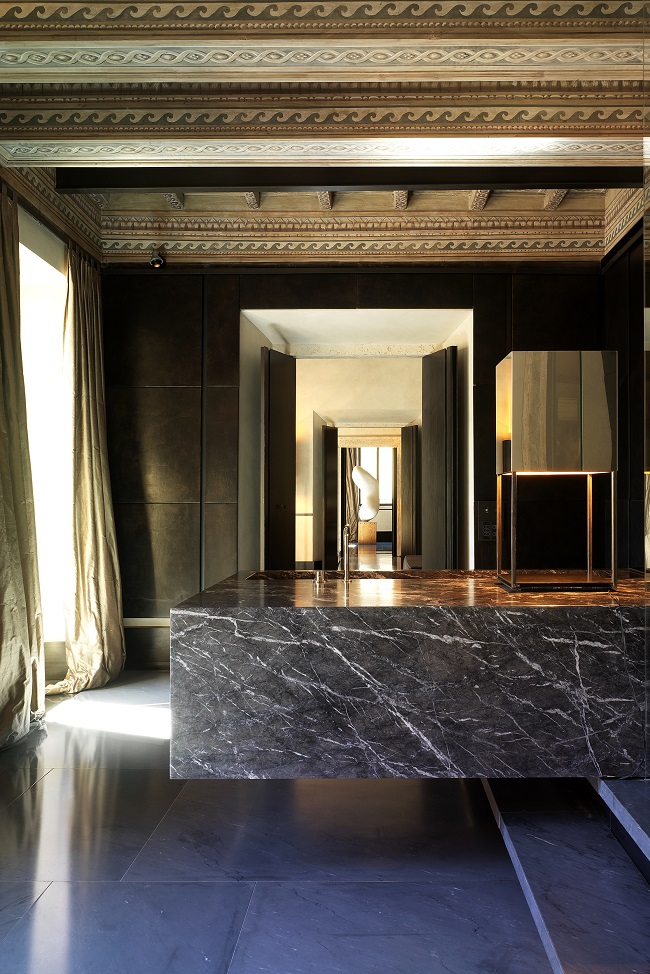 BLJ: If there is one thing, you would want us to know about you, what would it be?
CL: That I am happy and healthy, I love my job and I live in a beautiful house not designed by us and I work in a wonderful space in the centre of Rome with a lovely group of architects, most of whom have been with LPA for ten, fifteen and even twenty years. We like to think we are a family.

CP: I cook very well and I have a very open house. I came to Italy to study architecture in Venice. I met Claudio and stayed
BLJ: Do you have any spectacular idea that has not been realized yet?
CL: We would like to design a city or a suburb. We believe architecture should reconnect with urban design again. We would like to work at a larger scale and with limited budgets. We would like to improve the everyday lives of many more people than we currently do, working as we do in a primarily luxury market.

CP: We would love to design a car. We find the cars on the market now all look the same. They do not inspire the passion that cars did in the 50's, 60's and 70's. A Lancia was different to an Alfa, Lamborghini, Bentley, Rover, Citroen, Porsche, Audi or Renault. Cars need to be different and begin inspiring emotions again.
BLJ: What does art mean for you in architecture?
CL: Art occurs rarely in architecture. We are humble artisans working in a wonderful trade. We are not artists. Unfortunately, the archistar mentality has infected a lot of people and parts of the architectural profession have lost touch with reality. Without talking about the silly sculptures that many architects design as museums with no respect for the art that will be exhibited there.

We are collectors of contemporary art, it is part of our everyday lives. We can't live without it. We don't want to seem like conservatives but we don't really agree with the blurring between disciplines. If you look at many architecture exhibitions the architects see themselves as artists. These installations often invade the field of art for which we have enormous respect. Art is one thing, created without limits; architecture is another and should work wonders with limits, whether physical, geographical, spatial or economic. When the result transcends these limits architecture can become art but not by wanting or intending to be art.

CP: I fully agree with Claudio's previous comment. I prefer art in architecture to architecture as art… 
BLJ: What is the most challenging part of being an architect for you? What has been your most memorable experience and why?
CL: Designing work we love but also managing a small office of fifteen. I think meeting Carl as it is very special and rare to meet someone with whom there is total understanding and agreement on existential, ethical and also creative principles.

CP: Coming up with the right idea. There is a lot of cut and paste architecture and design out there these days. Internet has revolutionized the amount of images we come into contact with. We don't even look at magazines. We believe in "slow architecture ", the patient research to create something unique to the place and for the client. Certainly arriving in Italy at the age of twenty to study architecture in Venice. I needed a challenge, my life in Australia was very easy. My degree course in Venice was tough, very tough, but it taught me how to create my own very specific approach to architecture that luckily enough also corresponds to that of Claudio.
BLJ: What is your philosophy?
CL: Love life, friends, and work and try to be kind to people.

CP: Be positive.
Ruth Berliana/VMN/BLJ-Editor
Image: Lazzarini Pickering Architetti