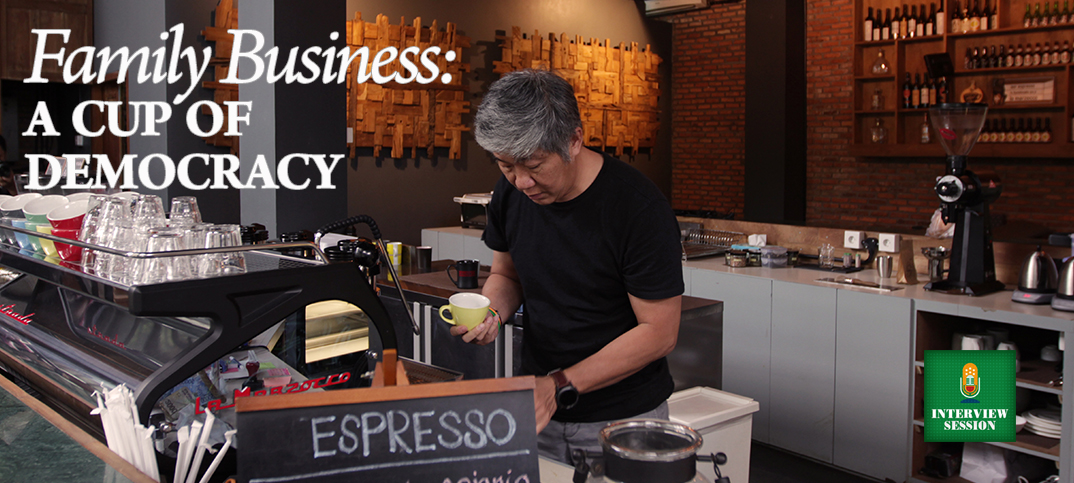 (Business Lounge Journal – Family Business)
Tiga hal menggambarkan sosok Jason Leo: laidback, sporty, dan murah senyum.
Pemilik dari tiga coffee shop di Jakarta ini adalah sosok yang tampil selalu enerjik dengan t-shirt dan sneakers. Gemar berolahraga lari dan bahkan pernah berpartisipasi dalam marathon, Jason Leo, yang juga akrab dipanggil 'Om Jason' tidak kelihatan seperti kebanyakan orang-orang sebayanya.
Pribadinya yang unik inilah juga yang mungkin mendorongnya menjadi pioneer specialty coffee shop di Jakarta Utara, Ombe. Specialty coffee shop adalah sesuatu yang awalnya sangat digandrungi anak Jakarta Selatan, tempat budaya ngopi specialty coffee shop tumbuh.
Bisa dibilang, budaya meminum specialty coffee awalnya bukan budaya Indonesia, yang walaupun adalah pengekspor biji kopi nomor empat terbesar di dunia, masyarakatnya pada tiga tahun lalu tidak pernah menyeruput kopi specialty/pilihan dan memiliki stigma bahwa kopi sama dengan pahit. Namun berkat pengaruh dari millennial Indonesia yang mengemban ilmu di Australia, budaya ini masuk, dan merambah dengan cepat, dimulai di Jakarta Selatan.
Perbedaan budaya yang cukup kentara antara orang Jakarta Utara dan Selatan, dari segi preferensi gaya hidup, fashion dan kuliner seringkali membuat tren yang dilahirkan di Selatan sulit diterima di Utara, dan begitu pula sebaliknya.
Namun seperti specialty coffee menemukan jalannya dari Australia ke Indonesia, begitu pula budaya ini menemukan jalannya dari Selatan ke Utara. Berkat Om Jason.
Ombe yang awalnya dibuka untuk tujuan iseng, ternyata membludak dengan banyak sekali pelanggan dan dengan cepat, trend ini merasuk entrepreneur muda Jakarta Utara lain, dan bermunculanlah kedai-kedai serupa di Jakarta Utara. Mulai dari daerah pelabuhan Pluit, sampai kawasan gated community Pantai Indah Kapuk dan Kelapa Gading.
NNamun satu hal lagi yang membuat Om Jason berbeda dengan entrepreneur lain: Jason Leo adalah seorang family man. Dalam bisnisnya ini, ia melibatkan istri dan kedua anaknya, Jordy dan Josephine.
"I give them freedom, you guys decide whatever you guys wanna do. You guys can talk to me, you guys can give me suggestion, then you guys decide… I will never say no, I just give them my consideration, then you guys decide."
Jason menceritakan bagaimana Ia memberikan kebebasan penuh bagi anak-anaknya untuk berkreativitas, berpendapat dan berkarya sesuai talenta dan kemampuan masing-masing, layaknya prinsip demokrasi.
"Yes, I give them guidance, this is what do you supposed to do. Terus kalau mereka decide … you guys must be responsible, … I will back you up 100 %."
Hobi iseng ini cepat berkembang pesat. Kini Om Jason sudah membuka coffee shop baru, Djule (berarti "Halo" dalam bahasa Nepal) di Jakarta Selatan, tempat budaya specialty coffee lahir, dan Markeeze (Markas) di mall Grand Indonesia, Jakarta Pusat.
Saya percaya, pribadi Om Jason yang murah senyum dan selalu positif, yang juga ditularkan ke Jordy dan Josephine adalah yang membuat specialty coffee culture berkembang pesat di Jakarta Utara. Namun Om Jason akan selalu menampik pendapat saya dengan berkata "Ah enggak lah".
Well, namun saya rasa, saya akan tetap ngotot dengan pendapat saya yang satu ini.
Pertama kali suka kopi, because of the market, demand, terus saya musti learn, then begitu learn baru tahu bahwa kopi itu very very unique, very unique type of drink. Everybody has a different experience about kopi.
"I give them freedom, you guys decide. You guys decide, whatever you guys wanna do, you guys can talk to me, you guys can give me suggestion, then you guys decide… I will never say no, I just give them my consideration, then you guys decide."
Basically, you have to listen to people before you ask question. You listen what they say then you ask.
Michael Judah Sumbayak adalah pengajar di Vibiz LearningCenter (VbLC) untuk entrepreneurship dan branding. Seorang penggemar jas dan kopi hitam. Follow instagram nya di @michaeljudahsumbek