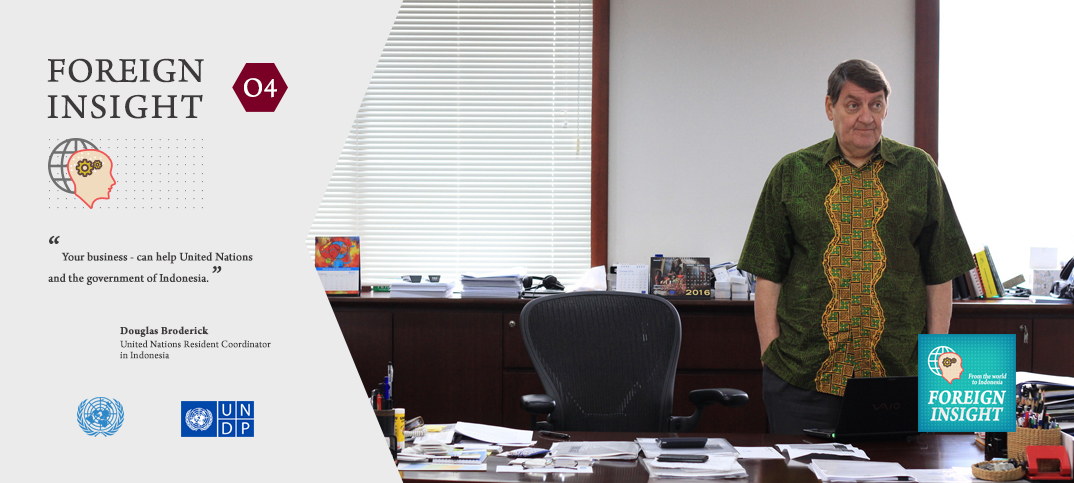 (Business Lounge Journal – Foreign Insight) Despite the current world situation today, the United Nations continues to actively involve in peace, sustainable development and better tomorrow for humanity, like it has always been for decades. The stoic organization endures as a beacon of hope for many people across the globe, providing assistance for any nations who cried for help, in any, and every way they could. Although it must be not an easy task for the highly-diverse humanity to set aside their differences altogether, to work toward the same goal, the endured existence of United Nations until now, is a testament that humanity are capable to work together towards good.
In the year 2000, the United Nations laid bare eight goals hope to achieve a better tomorrow for nations across the globe, called the Millennium Development Goals. From the eradication of extreme poverty and hunger, to the improvement of maternal health, sustainability and more, the commitment has seen tremendous help for various International Organizations and nations around the world.
And as an Indonesian, who's proudly a part of the global citizen, It should be a moment of great excitement for all of us to see the new Sustainable Development Goals Program were finally set in 2015 to be the herald of Millennium Development Goals, giving a closure to the 15-year long UN program.
The new program were set with seventeen goals, that besides bringing more clarity to tackle each specific world problems, it also brings more excitements to the young entrepreneurs, as United Nations now actively seeking the cooperation from young entrepreneurs to participate and take a more active role in society.
We interviewed Mr. Douglas Broderick, the Resident Coordinator for United Nations in Indonesia. As the UN Secretary-General's designated representative in Indonesia, Mr. Broderick will talk about the importance of Sustainable Development Goals for Indonesia, the stability of Indonesia for entrepreneurship and foreign investment, notable current government's efforts for better economic situation and also, how this program calls for all the creative people, bright thinkers and millennial entrepreneurs, to aid their own countrymen towards a greater good and better tomorrow.
Text by: Michael Judah
Editor-in-Chief
"I first bring up the fact that Indonesia is the largest economy. Indonesia is one third to a half of South East Asia in economies. So, first of all it's a largest in South East Asia. So, it has had those achievement in everything.… And obviously Indonesia has a large demographic population. Indonesia has commodities base that they can use in terms of that. Indonesia has democratic governance system. … So, I don't necessarily agree that, there is some countries that seem to have advantage. But Indonesia has tremendous assets that they can use. And I think they will be utilized."
So, we all have to find ways with the sustainable development goals as an aspirational goals, to help young people move into the economy; to help young people get the appropriate education that they can have to move into the economy and have a business climate and environment that they can succeed and with less bureaucracy, stronger government services and skills and talent to help them and Indonesia move stronger into the future.
Obviously Indonesia is the third largest democracy in the world. And we're all very proud of that. And we congratulate Indonesia on the 2014 election which was landmark election, which is extremely beneficial for the economy, and beneficial for the country. I think that Indonesia is working improving the investment climate. … And the other aspect that's very important is, you know, the government has gone out with a very important tax amnesty program. And we're hoping right now, it's been very positive in term of the investment, in terms of the way that that money is coming in. And we hope and look forward that money being invested in infrastructure, in processing, in light manufacturing, in some of maritime interest going on. So we look forward to that in the future.
And the other thing that extremely important for entrepreneurs on the Sustainable Development Goals is for them to be aware the education goals. And if there is way that they can work together locally, regionally and nationally, to improve education; to do events around education; to educate the masses to do socialization; to do creative advertising for their products that links to the sustainable development goals—I think that would be very useful.
So there is 17 different sectors that the young entrepreneurs and millennial of Indonesia can work on. I think the other concentration that they need to look at is how their business can holistically help people. So, if they're in education sector, how this educate more people in Indonesia. Or if they're in health sector, how will this keep people healthier. Or if they're in environment sector, will my business cut down less trees. … And businesses can help the UN and the government of Indonesia who signed on to the Sustainable Development Goals; to publicize, to advertise, to create awareness and campaign for sustainable development goals which is very important for the 250 million people in Indonesia to learn what the Sustainable Development Goals are. And to adapt them, and to embrace them as their own in the future.
These are ten ideas from Mr. Douglas Broderick, that can be able to embrace your idea, suggestions, and tips to incorporate the SDGs in your work, create the awareness of the SDGs, and adapt some the SDGs in your entrepreneurship, companies, and ventures that you're gonna invent, manage, and lead in the future.
Entrepreneurs brainstorm the ideas with the sustainable development goals, to promote social entrepreneurship.
Do something every day to save one tree.
Encourage and promote education in your family, your friends, and your colleagues.
Work hard to find a role, to find a way that you can enter and promote the Sustainable Development Goals (the SDGs).
Remember your job in a democracy is not to get from your country, but to give to your country.
Be brave and outgoing.
Reach out to leaders and colleagues who are changing the world.
Realize and make opportunities in the green economy which are very, very big opportunities. Dig and discover.
Don't be afraid to point out governance failures in a lawful and appropriate way with solutions.
Incorporate study and envision big data your work. Big data is your work, not only the work of computer scientist.
Michael Judah Sumbayak adalah pengajar di Vibiz LearningCenter (VbLC) untuk entrepreneurship dan branding. Seorang penggemar jas dan kopi hitam. Follow instagram nya di @michaeljudahsumbek