(Business Lounge Journal – News and Insight) Astronot Scott Kelly dan kosmonot Mikhail Kornienko serta Sergey Volkov yang tergabung pada Expedition 46 meninggalkan stasiun pada Selasa (1/3) pada pukul 8:02 p.m. EST atau sekitar Rabu (2/3) pk 08.02 wib, untuk memulai perjalanan pulang mereka, demikian seperti diumumkan pada blog NASA. Volkov bertindak sebagai komandan Soyuz memegang kendali pesawat ruang angkasa Soyuz TMA-18M. Mereka dijadwalkan akan mendarat pada Selasa (1/3) pukul 11.25 pm di wilayah Tenggara Dzhezkazgan, Kazakhstan.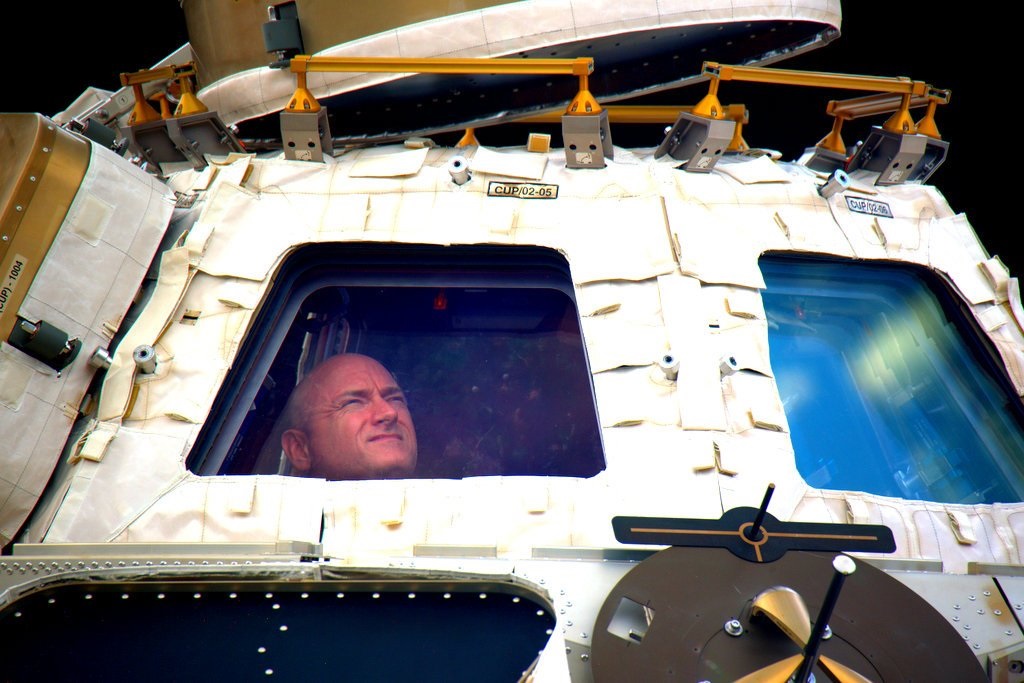 Scott Kelly – hidup 340 hari di luar angkasa
Sedangkan Scott Kelly telah menjadi astronot Amerika yang telah tinggal di stasiun luar angkasa untuk 340 hari lamanya. Selama Kelly berada di sana, ia membagikan gambar-gambar bumi yang luar biasa lewat Twitter dan Instagram serta merekam kehidupannya sehari-hari lewat video.
Gambar-gambar yang didapatkannya sangat indah bahkan ia pun sangat menyayangkan bahwa ia berhasil melukis dengan cat air di sana.
Pada bulan Oktober, Kapten Kelly menjadi salah satu dari dua astronot yang tinggal di Stasiun Luar Angkasa Internasional yang berjalan ke luar stasiun untuk melakukan beberapa perbaikan dan pemeliharaan. Kapten Kelly dan Dr Kjell Lindgren harus meminyaki lengan robot raksasa, mengalihkan beberapa kabel, dan membuang beberapa insulasi.
Kapten Kelly mengorbit bumi belasan kali dalam satu hari pada ketinggian 17,500mph atau lebih dari 220 mill di atas bumi.

Indahnya bumi kita dan alam semesta

Beberapa foto pada instagram Kelly berbicara betapa indahnya bumi kta.
Proses matahari terbit pada hari terakhir Kelly sebelum meninggalkan Stasiun Luar Angkasa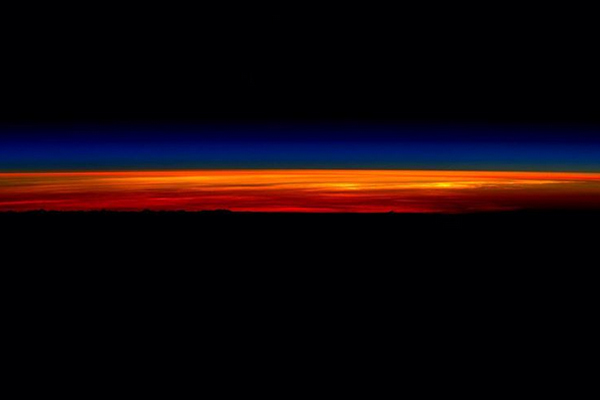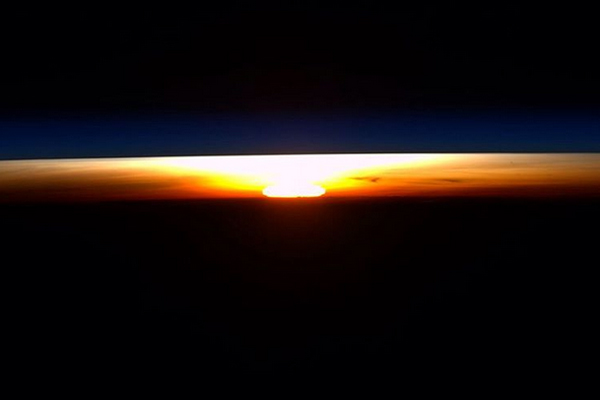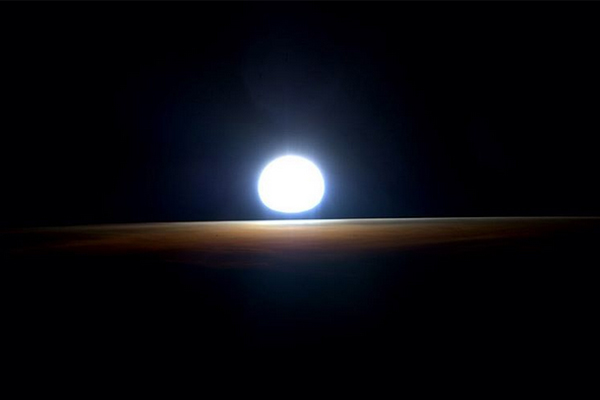 Rasa kagum Scott Kelly juga terefleksikan pada gambar-gambar yang di-posting-nya.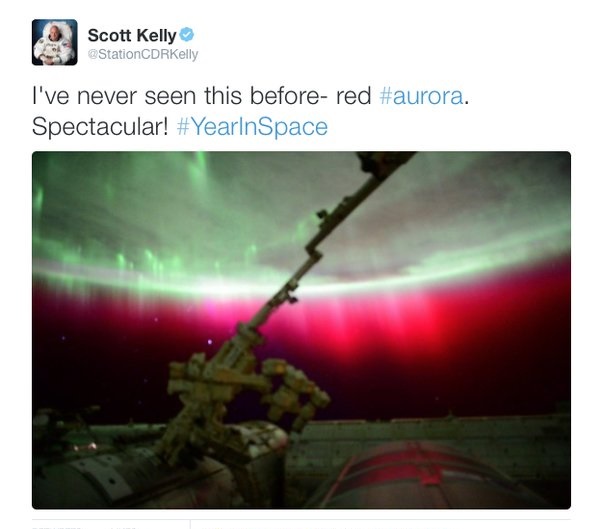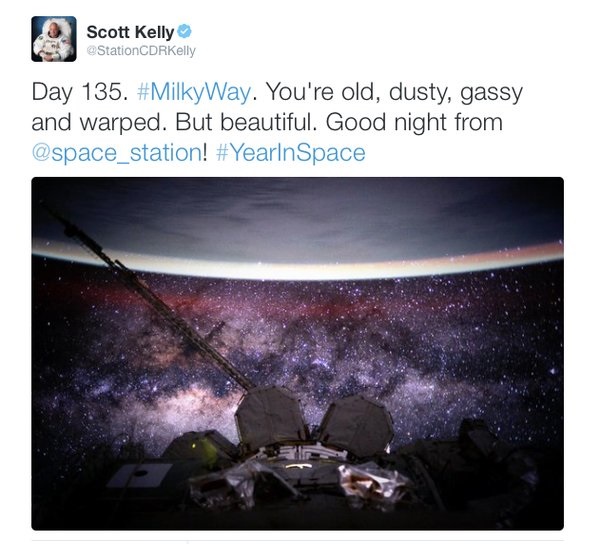 Beberapa negara dilihat dari Stasiun Luar Angkasa.

#EarthArt


Colorful Africa

Misi NASA
Scott Kelly tinggal untuk waktu yang cukup lama di stasiun ruang angkasa sebagai bagian dari misi NASA untuk meneliti apakah yang terjadi pada tubuh manusia jika tinggal pada tempat tanpa gravitasi. Kelly memiliki saudara kembar identik, yang tinggal di bumi. NASA akan melakukan penelitian untuk membandingkan kedua tubuh saudara kembar ini. Karena itu segera setelah mendarat, ketiga kru akan menjalani serangkaian tes.
Scott Kelly akan menjalani Functional Task Tests di Johnson Space Center  milik NASA untuk mengkaji bagaimana respon tubuh manusia setelah tinggal untuk waktu yang panjang pada wilayah dengan microgravity. Hal ini juga merupakan bagian penting dari penelitian yang dilakukan NASA.
The Expedition 46 kemudian akan dilanjutkan dengan Expedition 47 yang akan dikomandoi oleh Yuri Malenchenko dari Roscosmos, dan Tim Peake of ESA (European Space Agency) pada 18 Maret 2016 dengan 3 tambahan kru astornot NASA, Jeff Williams dan kosmonot Rusia Oleg Skriprochka dan Alexey Ovchinin.
citra/VMN/BL/Journalist
Editor: Ruth Berliana
Image : Scott Kelly