(Business Lounge Journal – Culture) – Kalimantan, memang pulau yang penuh dengan warna dan cerita. Seperti cerita para ibu pedagang dengan sampannya di Lok Baintan, Kalimantan Selatan. Di atas sungai Martapura yang jernih, sebuah kehidupan yang menarik terlihat jelas. Mereka duduk di atas perahu klotok, dengan ditemani beragam dagangannya, mulai dari buah-buahan, sayur mayur, kue tradisional, dan dagangan lainnya, sambil menanti pembeli dengan penuh harap.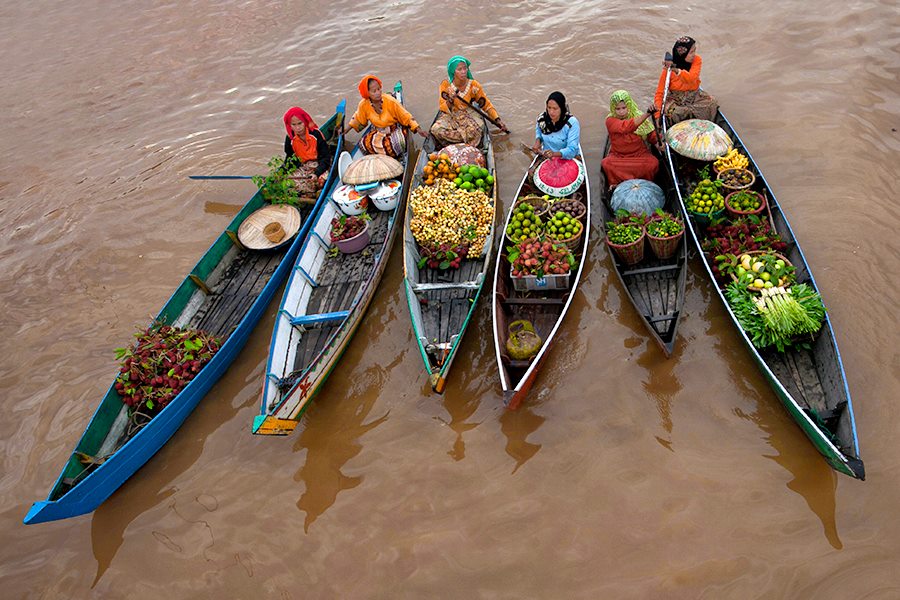 Adalah kisah dari Pasar Terapung Lok Baintan, yang biasanya dimulai dari pukul 6 pagi, sampai pukul 09.30 malam WITA. Kisah tentang kegigihan para ibu sederhana yang mencari sesuap nasi di atas Sungai Martapura, dengan tanggui atau tutup kepala yang selalu menyertai keseharian mereka. Tanpa memperdulikan panas matahari yang menyengat, mereka tetap terus mencari nafkah dengan sahabat mereka, perahu klotok.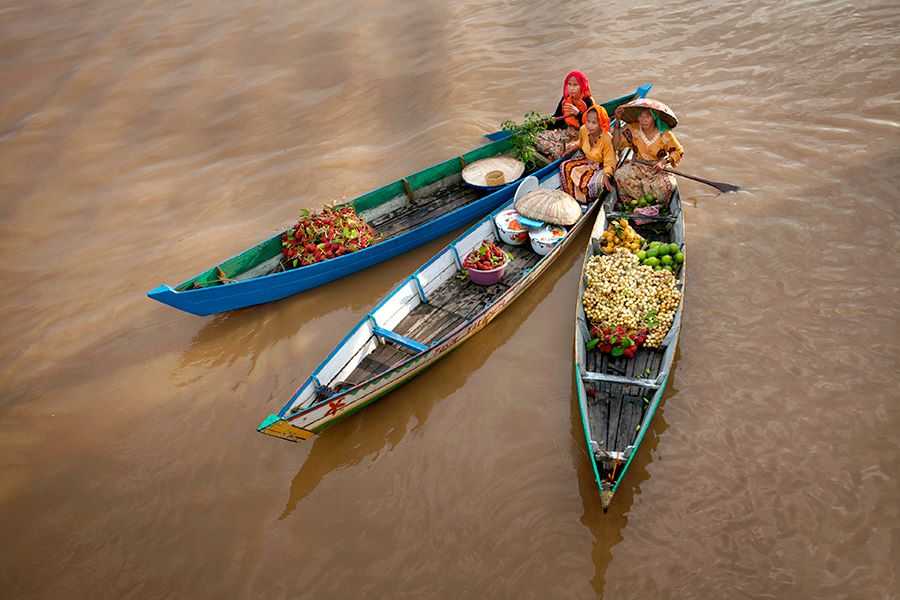 Sungai Martapura dan Pasar Terapung Lok Baintan, memang begitu mewarnai kehidupan masyarakat Kalimantan Selatan. Pasar Terapung Lok Baintan, bukan hanya bicara tentang kegigihan para ibu yang begitu menginspirasi, tetapi juga bicara tentang sebuah fakta unik, dimana di Pasar Terapung Lok Baintan, terkadang masih menggunakan sistem barter ketika melakukan transaksi.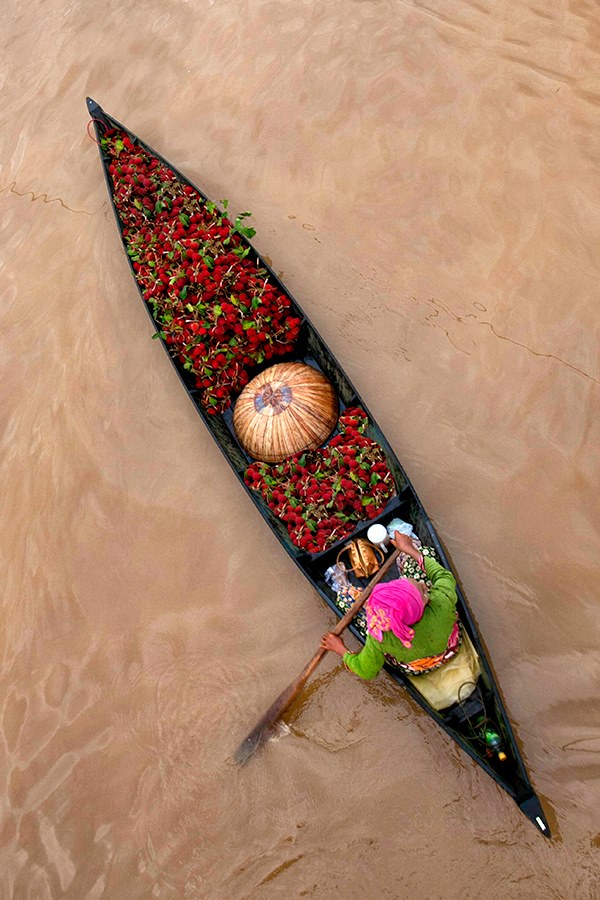 Rambutan merupakan salah satu dagangan andalan yang ada di Pasar Lok Baintan. Dengan perahu klotok yang penuh dengan buah rambutan, sang ibu terus mendayung sambil menunggu calon pembeli. Layaknya dekorasi sebuah kapal pesiar, warna merah merona dari banyaknya buah rambutan, memberi keindahan tersendiri pada perahu klotok sederhana yang didayung sang ibu.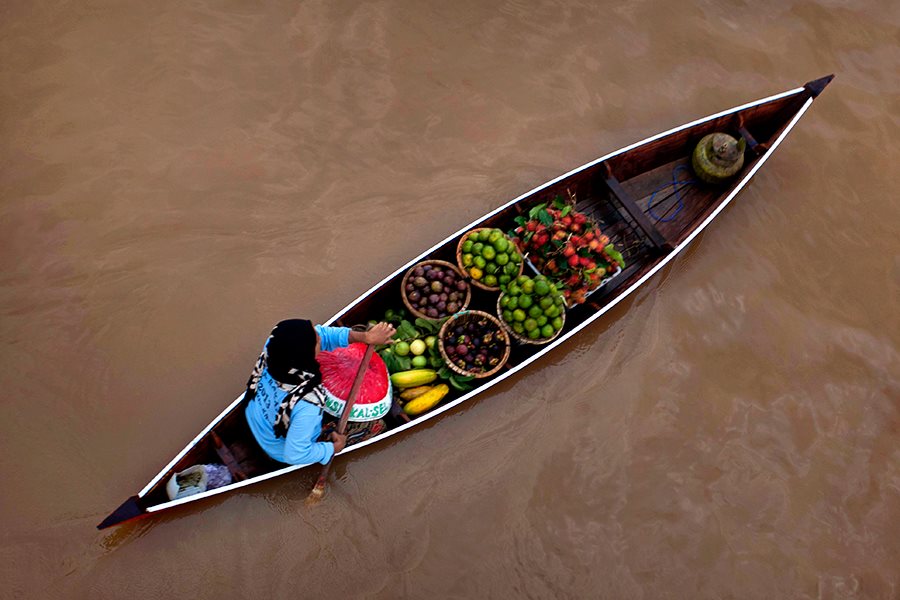 Sebagai negara tropis, Indonesia memang kaya akan buah-buahan. Itu jugalah yang menjadi dagangan andalan para ibu di Pasar Terapung Lok Baintan, Kalimantan Selatan. Bukan hanya buah rambutan saja, tetapi disana juga bisa ditemukan buah lainnya, seperti buah langka kasturi atau mangga Kalimantan, yang sudah masuk dalam daftar International Union for Conservation of Nature (IUCN) Red List of Threatened Species. Selain itu, berbagai buah lainnya juga mewarnai perahu klotok di Pasar Terapung Lok Baintan, seperti buah rambai, duku, dan menteng.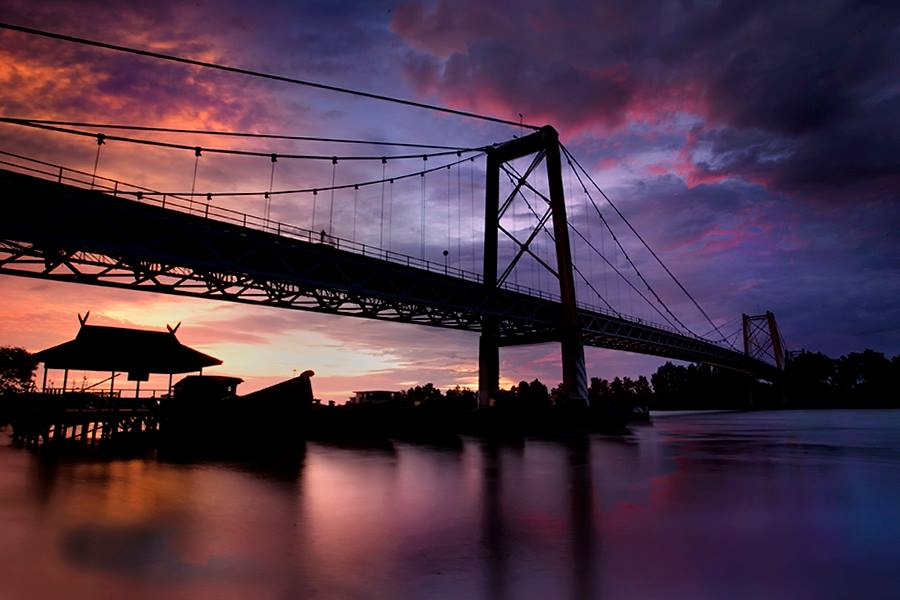 Cerita dan warna Kalimantan Selatan, tidak hanya berhenti sampai Pasar Terapung Lok Baintan saja. Tetapi semarak warna-warni Kalimantan Selatan, juga terlihat ketika sore hari dari Jembatan Barito. Ya, simfoni warna langit di sore hari, memang tergambar di langit Kalimantan Selatan. Mempesona, dan memberikan kenangan yang tak terlupakan. Kalimantan Selatan, selalu penuh cerita dan warna-warni yang memberikan inspirasi.
Fanny Sue/Journalist/VMN/BL
Images : Mr. Jeffry Surianto

Editor : Michael Judah