(Business Lounge Journal – Fine Culinary) – Siapa yang tidak suka makan Dak Galbi? Ini adalah salah satu makanan favorit saya, dan saat ini saya mencicipi Yoogane DakGalbi, yang dulunya berlokasi di Citywalk Sudirman, tetapi sekarang sudah pindah ke Lotte Shopping Avenue (sebelah Menya Sakura).
Bagaimanapun, Dak Galbi adalah masakan Korea yang terkenal dengan ayam goreng yang diaduk dengan saus gochujang dan sayuran segar, dan disajikan dalam hot plate. Dan sekarang, Yoogane Dakgalbi dikenal sebagai "chicken galbi brand" yang populer di Korea, terutama di Busan, tempat mereka memulai Yoogane.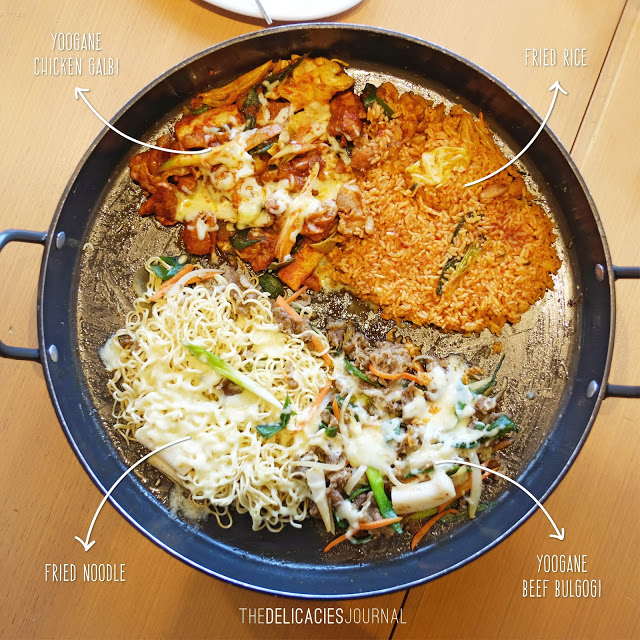 Jadi, inilah menu yang kami pesan : Yoogane Chicken Galbi with Fried Rice dan Yoogane Beef Bulgogi with Fried Noodle. Dan kami tidak pernah lupa menambahkan mozarella cheese diatasnya. Dan semuanya dihidangkan dalam hot plate berukuran besar. WOW!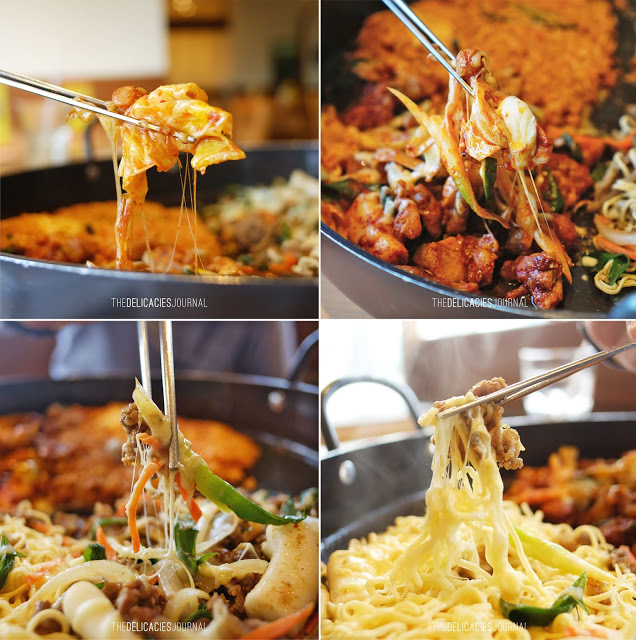 Dan, inilah keunikan dari restoran ini, Anda bisa membuatnya dengan langkah-langkah sendiri!
Langkah 1 : Pilihlah Favorite of Chef's Teppan Specialty Anda :
– Yoogane Chicken Galbi
– Yoogane Seafood Chicken
– Yoogane Chicken Bulgogi
– Yoogane Beef Bulgogi
Langkah 2 : Tambahkan Untuk Side Dishes Anda : 
– Fried Rice
– Fried Noodle
– Fried Udon
– White Rice
Langkah 3 : Tambahkan Untuk Topping Anda :
– Mozzarella Cheese
– Topokki (Rice Cake) / Tteokbokki
– Enoki Mushrooms
Korean Japchae, mie khas Korea yang dihidangkan dengan irisan wortel, bawang, jamur, beef, dan lainnya, serta soy sauce yang dimaniskan dengan gula (biasanya disajikan dengan dihiasi biji wijen).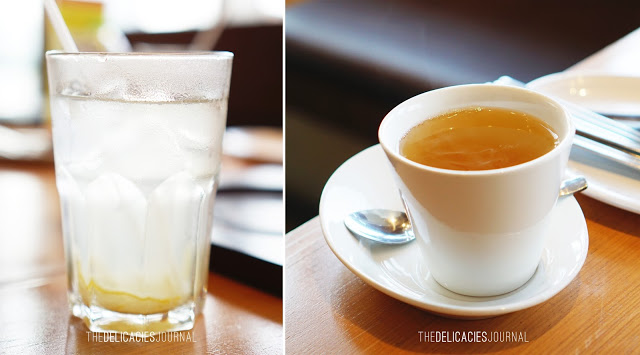 Dan kami juga memesan minuman, seperti Honey Lemon Tea dan Honey Ginger Tea. Semua minuman ini terasa menyegarkan setelah mengkonsumsi makanan yang pedas dan berbumbu.
Dan restoran ini, terlihat sederhana dengan elemen kayu dan sentuhan warna merah disana. Restoran yang terletak di Lotte Shopping Avenue ini, berada di Lantai 2, dan beralamat di Jl. Prof. Dr. Satrio Kav. 3-5, Kuningan – Jakarta Selatan.
Shelmi Setiawan / Culinary Expert
Editor : Fanya Jodie