(Business Lounge Journal – News and Insight) Sejumlah 11 kota di Tiongkok mendominasi daftar Top 20 kota Asia-Pasifik yang paling mahal bagi ekspatriat, demikian menurut ECA International, sebuah konsultan global penyedia solusi HR yang berbasis di London.
Shanghai, pusat perekonomian Tiongkok pada tahun ini menduduki tempat pertama sebagai kota termahal untuk para ekspatriat di Asia-Pasifik setelah pada tahun lalu berada di posisi ketiga pada tahun 2014. Dengan demikian mahalnya hidup di Shanghai telah melampaui biaya hidup di Seoul yang pada tahun lalu berada pada posisi pertama namun pada tahun ini turun ke tempat keempat. Tetapi tidak hanya Shanghai yang menempati tempat teratas sebagai kota termahal untuk para ekspatriat dan sebagai peringkat ke-7 secara global, namun Beijing naik 2 peringkat ke posisi kedua termahal, Hong Kong SAR naik ke tempat ketiga melampaui Tokyo yang menempati peringkat ke-5 tahun ini. Sedangkan Guangzhou menempati posisi ke-6 dan Shenzen berada pada posisi ke-7.
Macau SAR juga telah mengalami lonjakan tertinggi sebagai kota paling mahal bagi ekspatriat pada daftar kota asia-pasifik pada tahun ini setelah sebelumnya berada pada posisi ke-13 dari posisi ke-34 pada tahun lalu. Lima kota lainnya adalah Dalian (posisi ke-14), Suzhou (posisi ke-16), Chengdu (posisi ke-18), Nanjing (posisi ke-19), dan Tianjin (posisi ke-20).
Lee Quane, Direktur Regional Asia ECA, menjelaskan bahwa meskipun depresiasi kecil dalam renminbi (yuan) terhadap dolar selama musim panas, namun telah menguat terhadap sebagian besar mata uang lainnya yang menyebabkan Shanghai menjadi kota Asia yang paling mahal untuk assignees internasional.
ECA International menciptakan dua survey mengenai cost of living yang terkenal setiap tahunnya untuk membantu perusahaan menghitung biaya tunjangan hidup sehingga daya beli karyawan mereka 'tidak terganggu saat ditugaskan secara internasional.
Berikut tabel kota termahal untuk Asia-Pasifik.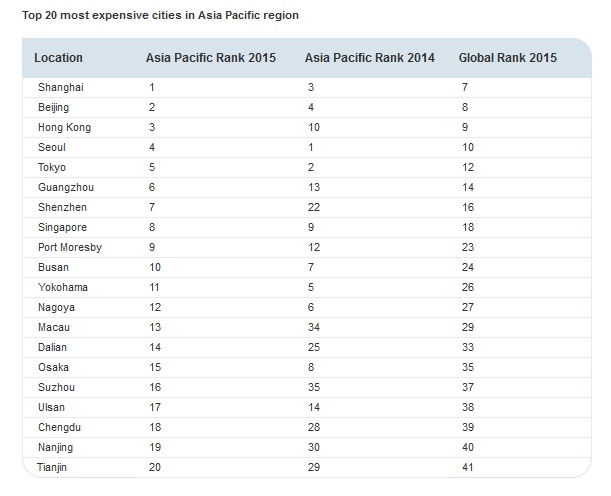 Secara global, maka Zurich di Swiss menempati posisi pertama setelah sebelumnya berada pada peringkat ke-4 tahun 2014. Sedangkan Luanda di Angola yang sebelumnya berada pada posisi pertama sebagai kota termahal untuk ekspatriat pada tahun lalu, kini menempati posisi ke-5.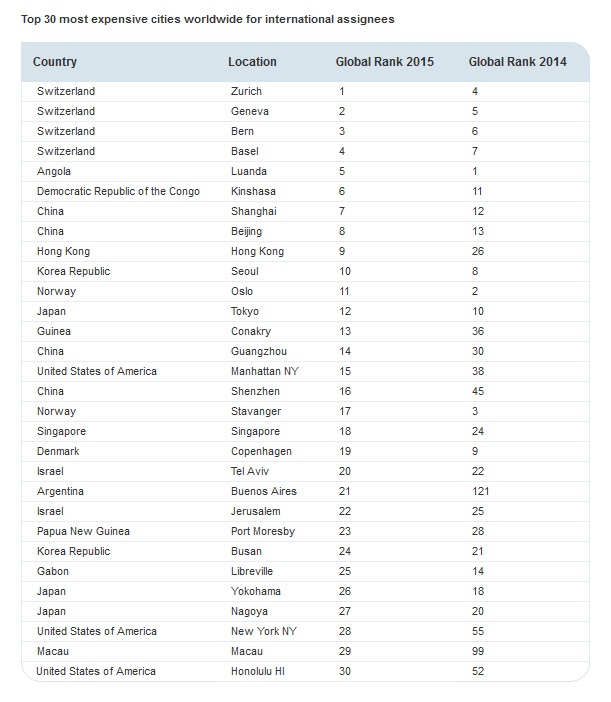 Kota-kota di Indonesia tidak menempati salah satu posisi yang diidentifikasi sebagai kota termahal baik di dunia maupun di Asia-Pasifik.
citra/VMN/BL/Journalist
Editor: Ruth Berliana
Image : wikipedia