(Business Lounge Journal – Operate Efficiently) Seperti sudah kita bahas sebelumnya salah satu cara untuk membantu Anda dapat produktif, adalah membuat pengingat yang dapat mengingatkan Anda setiap jamnya. (Baca: Keluarlah dari Rutinitas Anda dan Jadilah Produktif). Jika Anda membutuhkan pengingat ini, Windows dapat membantu Anda untuk memberikan pengingat setiap jamnya.
Mungkin Anda baru mengetahui bahwa Anda dapat membuat Windows menyambut Anda dengan pesan suara audio ketika Anda logon. Demikian juga Windows 10/8/7 juga dapat membantu Anda utnuk memberitahu waktu setiap jam. Hal ini akan sangat berguna bagi Anda yang cenderung lupa waktu saat bekerja.
Sekarang mari kita coba membuat Windows mengingatkan Anda.
– Pertama buka Notepad dan copy-paste instruksi berikut:
Dim speaks, speech 
speaks=hour(time) 
Set speech=CreateObject("sapi.spvoice") 
speech.Speak speaks
Kemudian simpanlah file tersebut dalam bentuk  .vbs.
Berikutnya carilah schedule tasks dengan mencari dan meng-klik pada hasil schedule tasks, untuk membuka Task Scheduler.
Pilihalah Action, kemudian Create Task. Berikan task tersebut nama. Atau Anda dapat memberikannya nama SpeakTime.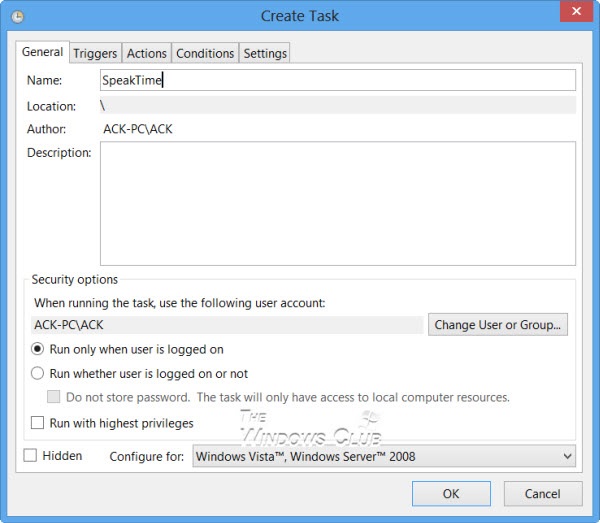 Kemudian aturlah parameter seperti yang ditunjukkan pada gambar. Satu kali – tanggal & waktu, dan akan berulang setiap 1 jam, Durasi – Tidak terbatas, dan sebagainya.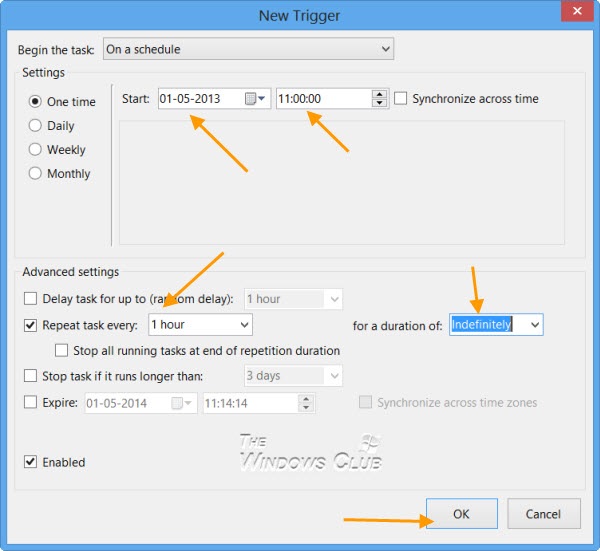 Kemudian pilihlah Actions, lalu klik New Button dan kotak New Action akan terbuka. Pada action pilihlah  Start a program dan browse file VBS yangtadi Anda buat untuk membuat pengaturan.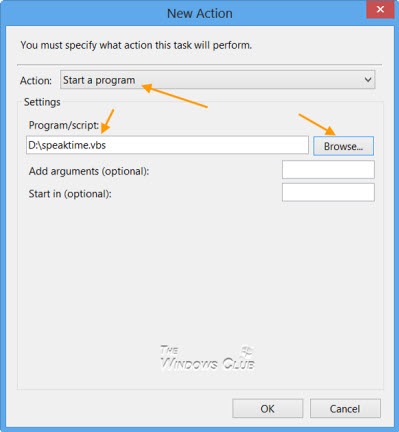 Anda dapat membuat perubahan pada beberapa parameter di bawah tab Conditions and Settings – atau Anda dapat membiarkannya sesuai dengan default-nya.
Kemudian pilihlah OK dan Exit.
Sekarang setiap jam, Windows atau lebih tepatnya Microsoft David akan berbicara kepada Anda … 11 … 12 …! Jika Anda tidak menyukai Microsoft David, Anda dapat memilih untuk mendengar suara Microsoft Hazel atau Microsoft Zira, melalui Control Panel> Text to Speech tab dengan memilih Speech Properties. Anda juga dapat Membuat Windows Berbicara dengan Anda!
Ini tentu saja akan bekerja pada Windows 7 dan versi sebelumnya juga.
Selamat mencoba ya!
nancy/VMN/BL/Journalist
Editor: Ruth Berliana