(Business Lounge Journal – Empower People) Ernst & Young pernah membuat sebuah penelitian pada dua tahun yang lalu dengan judul "The Power of Many". Penelitian ini dilakukan kepada 821 orang eksekutif bisnis dengan tujuan mengeksplorasi bagaimana menggunakan tim untuk mendorong mencapai kinerja perusahaan yang terbaik.
Kerjasama tim atau teamwork pada kenyataannya sangat berpengaruh pada meningkatnya kinerja perusahaan, demikian seperti yang disimpulkan penelitian tersebut. Semakin beragam anggota sebuah tim, baik beragam dalam disiplin ilmu, bahkan sampai suku bangsa, maka semakin baik kerjasama dapat dibentuk.
Perusahaan yang menjunjung tinggi keanekaragaman dalam latar belakang dan pengalaman cenderung memiliki tingkat pertumbuhan EBITDA (earnings before interest, taxes, depreciation and amortization) yang lebih tinggi.
Selain itu, ada beberapa hal yang digarisbawahi sebagai hasil penelitian ini:
– Komposisi tim selalu mengalami perubahan. Hampir 60% responden mengatakan bahwa tim mereka telah menjadi lebih beragam dalam tiga tahun terakhir.
– Budaya mempengaruhi berapa banyak waktu dari eksekutif yang dialokasikan untuk kegiatan tim. Negara-negara BRIC (Brazil, Russia, India and China) menghabiskan lebih banyak waktu pada kegiatan tim, sementara negara-negara Anglophone (negara yang berbahasa Inggris), termasuk Amerika Serikat dan Kanada, cenderung lebih individualistis.
– Namun budaya mempengaruhi cara tim berkolaborasi dan membentuk struktur mereka sendiri, sehingga negara-negara anglophone memiliki kemungkinan tertinggi untuk dapat melihat peran dengan jelas serta tanggung jawab sebagai fitur penting dari tim yang berkinerja tinggi. Hal ini berkaitan dengan adanya tingkat spontanitas yang lebih tinggi dari tim terkait.
Ciri Utama Tim dengan Kinerja yang Tinggi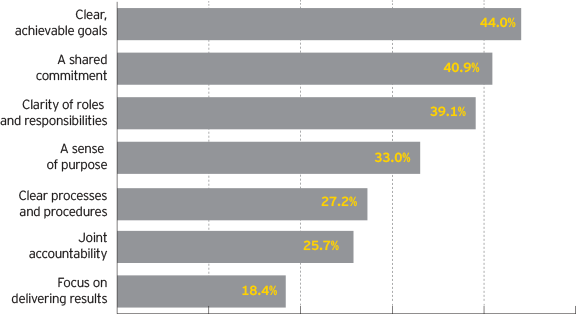 Source: The power of many, EY, 2013
Ciri utama tim yang berkinerja tinggi dengan persentase tertinggi adalah memiliki tujuan yang jelas dan dapat dicapai. Selain itu, adanya komitmen, serta peranan dan tanggung jawab yang jelas akan sangat membantu dalam melangsungkan teamwork. Sedangkan persentase terendah sebagai ciri tim berkinerja tinggi adalah adalah fokus untuk menghasilkan. Sehingga dapat dipahami bahwa adanya tujuan yang jelas dan dapat dicapai merupakan hal yang dapat dengan mudah mempersatukan anggota tim yang beranekaragam. Sedangkan beberapa ciri lainnya adalah kesadaran memiliki tujuan, proses dan prosedur yang jelas, serta adanya akuntabilitas bersama.
Penelitian ini juga menunjukkan perlunya kepemimpinan yang kuat untuk membuat tim yang beragam dapat berfungsi secara efektif.
"Sebuah pendekatan kolaboratif memungkinkan Anda untuk mengetahui secara terarah ke mana Anda harus pergi," demikian dikatakan Dina Pyron, Global Direktur Human Capital di EY, dalam laporan tersebut. "Tapi seseorang harus mengambil keputusan, dan hal ini tentu saja memutuhkan kepemimpinan. Anda juga perlu akuntabilitas untuk memastikan bahwa setiap orang memahami peran dan tanggung jawab mereka."
Ruth Berliana/VMN/BL/MP Human Capital Development, Vibiz Consulting, Vibiz Consulting Group