(Business Lounge Journal – Manage Your Business) Saat ini pelanggan sudah tidak seperti dahulu ketika internet belum ada dan informasi terbatas pada lokasi dan tidak secepat sekarang ini, juga pelanggan belum memiliki mindset seperti saat ini. Kondisi ini membuat perusahaan bergerak dari era tanpa kompetisi kepada era berkompetisi penuh. Mungin kondisi ini tidak terjadi di seluruh daerah, salah satu klien saya memiliki keunggulan komparatif karena mereka memiliki pabrik produknya yang tersebar di 20 provinsi. Provinsi di Indonesia belum semuanya bersentuhan dengan internet maka persaingan terbatas dan masalah akomodasi menjadi kendala untuk bisa mencapai lokasi dengan biaya yang murah.
Namun untuk perusahaan setingkat Garuda Indonesia misalnya, memang diperlukan satu pendekatan yang berbeda, karena pelanggannya memang sudah sadar informasi. Perusahaan ini menghadapi pelanggan yang smarter, karena kemudahan untuk belajar segala sesuatu saat ini, hal ini disebabkan karena mereka easier access to information, mudah mendapatkan informasi dimana saja. Akibatnya pelanggan juga wiser in spending money, tidak begitu saja mengeluarkan uang, pilihan banyak mereka miliki. Kalau sudah banyak pilihan jadinya more difficult to satisfy, sulit untuk dipuaskan, tingka ekspektasinya tinggi dan yang pasti mereka menjadi disloyal akan cepat pindah kelain hati, karena tawaran yang begitu banyak.
Pada awalnya persaingan perusahaan terjadi pada tingkat produk, perusahaan berkompetisi dari kualitas produk dan juga harga, biasanya terjadi kompetisi menambah features dan benefit yang seterusnya akan tiba pada batas maksimal, dan hanya ada perbedaan tipis antara produk yang satu dengan yang lain.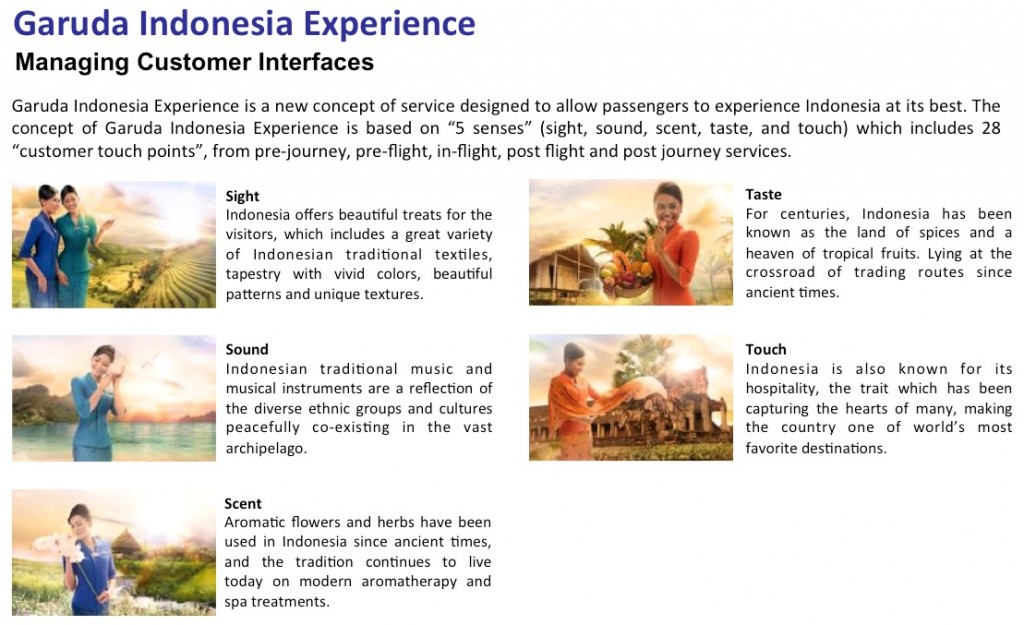 Tahap selanjutnya mulailah perusahaan mengembangkan pelayanan terhadap pelanggan, sehingga persaingan bergerak dari product oriented kepada customer oriented. Persaingan tidak lagi pada tingkat produk namun pada tingkat cara perusahaan memberikan pelayanan, bagaimana perusahaan mengelola product, people, premises, dengan orientasi pelayanan pelanggan. Pada tingkat yang terjadi saat ini maka bukan lagi pelayanan pelanggan yang menjadi persaingan, sebab banyak perusahaan sudah masuk pada pelayanan pelanggan yang sama. Kompetisi saat ini pada tingkat value-driven competition, dan persaingan ini sudah di atas pelayanan pelanggan.
Garuda Indonesia adalah contoh bagaimana persaingan ini mereka sadari, bahkan menawarkan kepada pelanggan sebuah value tentang Indonesia yang diwujudkan pada sight, sound, scent, taste, & touch. Sight, Garuda Indonesia menawarkan pelanggan melihat Indonesia melalui kain, tenunan, textures yang ada pada awak kabin atau pesawat itu sendiri. Sound, musik yang digunakan adalah musik khas Indonesia. Scent, aroma yang digunakan dari bunga, rempah-rempah asli Indonesia. Taste, makanan yang disajikan adalah jenis makanan khas Indonesia. Touch adalah layanan awak kabin melalui senyuman, sapaan, dan layanan yang ramah kepada pelanggan. Dengan layanan ini diharapkan Garuda Indonesia akan memenangkan pelanggan seluruh dunia melalui nilai-nilai Indonesia.

Fadjar Ari Dewanto/VMN/BD/Regional Head-Vibiz Research Center, Vibiz Consulting, Vibiz Consulting Group